printer friendly version
Get full value from data science
October 2020
IT in Manufacturing
Data is easily collected and stored, but in most cases the data pipeline stops here and there is hardly any value extracted from the data. The data pipeline is often not completed in a proper way so that the right person(s) can easily exploit the value inside the data. It is a challenge to extract the value from the huge stream of data and not to drown in the flood. Simply collecting and storing data is not enough to monetise any investments in Industry 4.0 and IIoT infrastructure.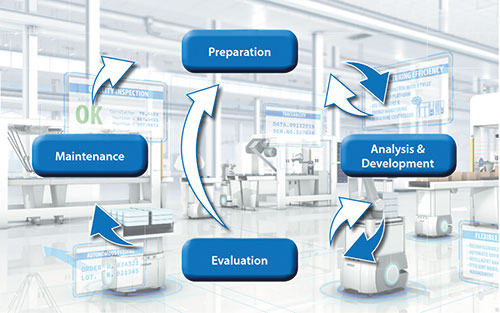 Getting the maximum value out of the data and keeping an overview of data streams goes beyond standard statistical methods and tooling. Manual analysis and creation of dashboards and reports are not sufficient. The dashboards become too complicated and often do not show the right information at the right time, in the right way, to be able to see at a glance what is going on and be able to act. The routines implemented in a normal machine controller to observe the production process and to detect errors can detect present deviations and problems, but are not suitable to predict future problems. Machine controllers are not suitable to combine all available information and to perform advanced analytics on it.
IT vs OT
Most organisations understand the roles and functions of Information Technology (IT), but in the context of its relationship to Operational Technology (OT), it is probably worth expanding. In simple business terms, IT refers to the application of network, storage, and compute resources toward the generation, management, storage, and delivery of data throughout and between organisations.
Compared with IT, OT is unique in that related hardware and software is historically designed to do specific things, i.e., control heat, monitor mechanical performance, and trigger emergency shutoffs, to name a few. Typically, this is done through industrial control systems (ICS) and supervisory control and data acquisition (scada).
While IT and OT have historically made up separate aspects of modern organisations, a phenomenon known as IT-OT convergence is changing this. Since IIoT technology takes assets not typically connected to the Internet – such as assembly line machinery – and bringing them online, enterprises now have the opportunity to create new efficiencies by applying the intelligence of IT to the physical assets of OT systems.
Transforming data into information
The valuable information needs to be extracted from the data and presented to the right audience, at the right time, and in the right way. The key is to put enough effort into the transformation process of the data into useful information, which should be done in close collaboration between data scientists, who know how to tame the data, and domain experts of the manufacturing process, who know the story behind the data. Once data is transformed into information, a solution can be developed that brings value in the long run.
Industrial Data Science is a fairly new discipline and there is no one-size-fits-all solution as of yet. Each solution and application needs tailored data analysis and modelling to obtain the maximum result. Data scientists at Omron follow a standard approach to obtain the best project results and to manage the expectations. The approach is based on the CRISP-DM model. CRISP-DM is the acronym for Cross-Industry Standard Process for Data Mining and is widely used.
It is challenging to use the potential of big data. Just collecting it and displaying some graphs is not sufficient. The valuable information needs to be extracted from the data and presented to the right audience, at the right time and in the right way.
Credit(s)
Further reading:
SA company launches AI-based risk screening mobile app
October 2020 , IT in Manufacturing
The Instant Vitals app converts a mobile phone into a key vital signs medical device that could save lives when screening for Covid-19 symptoms.
Read more...
---
Danfoss debuts Alsense
November 2020, Danfoss , IT in Manufacturing
Danfoss has updated and enhanced its service offering to create a more sustainable, scalable and secure cloud-based portal for managing food retail operations.
Read more...
---
Digitalising mineral processing operations
November 2020 , IT in Manufacturing
Mining's accelerated move toward digital solutions is being supported by FLSmidth's decades of research and development. The company has over 80 projects underway to improve its mining-related offerings.
Read more...
---
Schneider Electric provides digital technologies to the mining industry
November 2020, Schneider Electric South Africa , IT in Manufacturing
"The organisation has invested significantly to develop a specialised competence in mining applications," explains Marc Ramsay, vice president industry business unit at Schneider Electric South Africa. 
...
Read more...
---
Omron launches HD-1500 mobile robot
November 2020, Omron Electronics , Motion Control & Drives
Industry-leading HD-1500 expands the possibilities for autonomous material transport.
Read more...
---
Smart manufacturing and the new normal
November 2020, Absolute Perspectives , IT in Manufacturing
In manufacturing, it is likely that billions of dollars have been lost in 2020, while a high percentage of manufacturing jobs have been negatively impacted.
Read more...
---
Will OT take over MES?
October 2020 , IT in Manufacturing
Industry 4.0 forces the convergence where IT needs to knock on the door of a manufacturing plant and sell OT, not IT or MES.
Read more...
---
Predictive analytics for artificial lifts
October 2020, Emerson Automation Solutions , IT in Manufacturing
Machine learning and artificial intelligence applications in artificial lift systems have seen a growth in importance recently and are no longer a nice to have, but essential tools for well optimisation.
Read more...
---
How can manufacturers survive under the new normal to 2021 and beyond?
October 2020, RJ Connect , IT in Manufacturing
Thanks to COVID-19, the manufacturing industry is entering the era of unmanned operations. How best can companies adapt to the new normal and maintain efficient operations?
Read more...
---
MicroHAWK smart cameras simplify code reading and inspection
October 2020, Omron Electronics , Sensors & Transducers
Omron's powerful new smart cameras simplify applications by combining code reading and vision inspection into a single, highly compact device.
Read more...
---