printer friendly version
Will OT take over MES?
October 2020
IT in Manufacturing
I don't know. I'm in MES so I'm biased. No it will not. But if I were to look at it from a current reality and trend analysis, even a requirements analysis, I'd say maybe.
I don't know. I'm in MES so I'm biased. No it will not. But if I were to look at it from a current reality and trend analysis, even a requirements analysis, I'd say maybe.
What is MES? Manufacturing Execution Systems (MES) in South Africa are based on computerised platforms that assist the manufacturing of products. The work in progress on equipment and machinery on the factory production floor is thus constantly monitored and information is recorded for analysis and evaluation.(Stolen from www.age.co.za).
What is OT? Operational Technology (OT) is a category of computing and communication systems designed to manage, monitor and control industrial operations, with a focus on the physical devices and processes they use. OT monitors and manages industrial process assets and manufacturing/industrial equipment. (Stolen from www.i-scoop.eu).
When I need to build relationships with plant guys, I do not differentiate MES from traditional IT, since traditional IT is what all of them know – computers and things. My go-to explanation is always, "It's IT, just for your plant, designed and supported to your needs." Traditionally MES features on the plant organogram just above the scada layer. The plant network is the de facto layer of IT that fetches plant data and streams it to the various MES systems, to feed and visualise the information to the enterprise levels above. In this depiction there is no MES. It's IT and then it's OT – interesting.
One can probably argue that OT might include MES, or it can operate simultaneously alongside the MES systems. I can subscribe to that definition, but at the same time, I feel it's a waste of space and an unnecessary increase in complexity.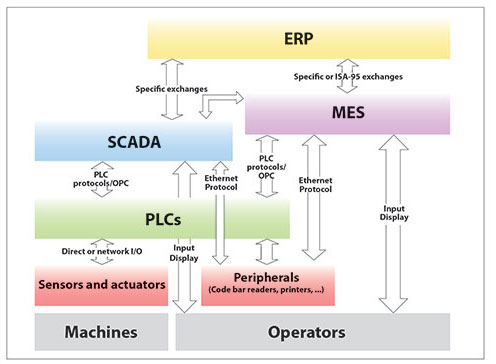 Scada vs MES integration with plant floor data – OT added.
IT/OT convergence
MES has been at the helm of steering manufacturing data to the business for decades. OT is an advancement of MES, so, unless we box MES as specifically designed for certain manufacturing processes and outcomes, I see no future for dedicated MES teams or systems, unless those teams and systems adopt the methodologies of converging IT and OT on the plant floor. I have yet to see a company that has three different technology departments: IT, MES and OT.
Data is an important commodity in any manufacturing company since it opens up insights they never thought they had. Data drives value, and evolves from the bottom up into meaningful information. Just so, I think MES needs to evolve into OT. MES leaders can leverage the foundation they have already established, and bring the manufacturing plant closer to the IT offerings of corporate. Or should MES serve as the bridge from OT to IT?
In this article, I do not address the skills required, the differences in protocols, the differences in networked security requirements, or the types of technology, I merely throw an idea out there to the IT in manufacturing community. An idea that I think could either solve the convergence of IT and OT or force the evolution of MES to OT, or increase the scope of MES to include OT technology. Whichever it is, the requirement for a convergence of technologies for the value of manufacturing plants is increasing, and companies are not necessarily concerned about what we in the MES industry call it. They simply want solutions that will help them dive deeper into specialised systems they need to keep up with the demands Industry 4.0 is throwing at them.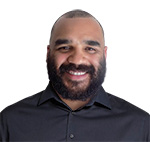 Lance Turner
Lance Turner is an MES specialist employed at Sasol's Secunda plant. He has an honours degree in Information Systems with a focus on Enterprise Architecture design and solutions. A certified MESA MES/MOM student, his passion is amalgamating general IT across the manufacturing spectrum. Lance's vision is for a converged IT and manufacturing discipline that will become the reality of Industry 4.0. His team motto is MES services that are always available, always stable, and always dependable.
For more information contact Lance Turner, Sasol, +27 17 610 6947, lance.turner@sasol.com, www.sasol.com
Further reading:
SA company launches AI-based risk screening mobile app
October 2020 , IT in Manufacturing
The Instant Vitals app converts a mobile phone into a key vital signs medical device that could save lives when screening for Covid-19 symptoms.
Read more...
---
Danfoss debuts Alsense
November 2020, Danfoss , IT in Manufacturing
Danfoss has updated and enhanced its service offering to create a more sustainable, scalable and secure cloud-based portal for managing food retail operations.
Read more...
---
Digitalising mineral processing operations
November 2020 , IT in Manufacturing
Mining's accelerated move toward digital solutions is being supported by FLSmidth's decades of research and development. The company has over 80 projects underway to improve its mining-related offerings.
Read more...
---
Schneider Electric provides digital technologies to the mining industry
November 2020, Schneider Electric South Africa , IT in Manufacturing
"The organisation has invested significantly to develop a specialised competence in mining applications," explains Marc Ramsay, vice president industry business unit at Schneider Electric South Africa. 
...
Read more...
---
Smart manufacturing and the new normal
November 2020, Absolute Perspectives , IT in Manufacturing
In manufacturing, it is likely that billions of dollars have been lost in 2020, while a high percentage of manufacturing jobs have been negatively impacted.
Read more...
---
Get full value from data science
October 2020, Omron Electronics , IT in Manufacturing
As huge amounts of data become available from the factory floor, information must be extracted and presented to the right audience, at the right time, and in the right way.
Read more...
---
Predictive analytics for artificial lifts
October 2020, Emerson Automation Solutions , IT in Manufacturing
Machine learning and artificial intelligence applications in artificial lift systems have seen a growth in importance recently and are no longer a nice to have, but essential tools for well optimisation.
Read more...
---
How can manufacturers survive under the new normal to 2021 and beyond?
October 2020, RJ Connect , IT in Manufacturing
Thanks to COVID-19, the manufacturing industry is entering the era of unmanned operations. How best can companies adapt to the new normal and maintain efficient operations?
Read more...
---
Artificial intelligence in manufacturing
October 2020 , IT in Manufacturing
This article summarises the case studies presented at ARC's recent virtual European Industry Forum and shows potential usage of AI in today's smart factories.
Read more...
---
Bringing intelligence to the shop floor with Siemens Industrial Edge
October 2020, Siemens Digital Industries , IT in Manufacturing
Siemens Industrial Edge closes the gap between local and cloud computing and enables high-frequency data exchange at field level.
Read more...
---