printer friendly version
Energy efficient drive technology for the mining industry
October 2020
Motion Control & Drives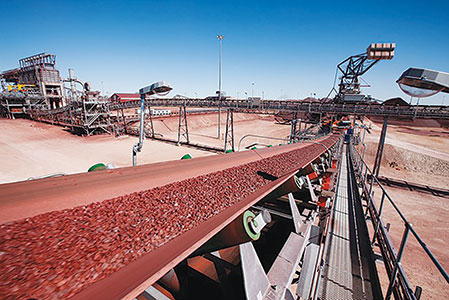 The mining industry must forgo its traditional energy consumption patterns in a bid to ensure that the sector de-carbonises towards a greener and more sustainable method of extraction. Given the need to increase energy supply in a globally carbon constrained environment, mining needs to improve its energy efficient technologies, such as variable speed drives (VSDs), which could reduce energy consumption drastically.
The fundamentals of VSD technology remain, but many elements are rapidly changing in order to move towards a more sustainable future. Increasingly, software is embedded in today's mine processing components, offering new functionalities and enabling the AC drive to play a larger role in the processing plant.
"Conventionally, motors run at a fixed speed, regardless of actual output requirement, wasting a tremendous amount of energy," says Danfoss business development manager, Stephen Brown. "Energy output use can be reduced by up to 60% by controlling motors with electrical VSDs."
New motor types
New motor types are appearing, placing additional demands on motor-drive control. This in turn means that the AC drive needs to be able to control an expanding variety of motor types, without burdening the end user with more complexity. In addition, new energy efficiency requirements lead to more variable speed applications.
Certain AC drives are designed for exactly the needs of mining and mineral processing plants, coping with the extreme conditions, heavy loading and controlling equipment installed a long distance away. No matter how well the plant design has been optimised, there is always a way to drive down costs even further. AC Drives are used extensively for this purpose, extending equipment lifetime, optimising processes, reducing maintenance and saving energy costs. The mining and minerals industry presents some of the most challenging environments for production. Mine sites, mineral processing plants, and associated stockyards and port facilities are large scale and often in remote locations.
Innovative cooling features
All Danfoss drives (above 90 kW) incorporate a back-channel cooling design, with separate cooling paths for the power components, control electronics and an IP54 seal between these two paths. This back-channel cooling removes approximately 90% of the power lost directly through the heatsink, leaving only 10% of it to be dissipated in the switch room. Consideration has to be given to the outside air quality, but if it is suitable, using the heatsink cooling fans and appropriate mounting and ducting, filtered external air at temperatures of up to 50°C can be used to exhaust the heat loss from the VSDs directly outside the switch room, without affecting the switch room pressurisation. Utilising this feature can dramatically reduce the air conditioning requirements of the switch rooms and provide significant project cost savings, along with ongoing operational cost savings, compared to VSDs without such a design feature.
The mining industry is a major consumer of energy and is responsible for around 40% of South Africa's total industrial energy consumption. In sub-Saharan Africa, the energy intensive users group alone consumes over 40% of the electricity produced in South Africa. Just less than 50% of the energy intensive users in South Africa are the mines.
It is with this need for energy efficient technology that Danfoss South Africa is embarking on a series of informative webinars, geared towards mining engineers, specifiers, buyers, mining houses and investors alike. These interactive sessions will enable mining experts and learners alike to think differently about their current energy usage, and how the right drives are enabling energy cost savings. Register at a date and time that will be convenient to you:
27 October – 08:30 CAT https://attendee.gotowebinar.com/register/398985690642486800
27 October – 18:00 CAT https://attendee.gotowebinar.com/register/4310106880316163856
28 October – 11:00 CAT https://attendee.gotowebinar.com/register/8190429649784196368
24 November – 09:30 CAT https://attendee.gotowebinar.com/register/2015984665054629392
For more information contact Lynne McCarthy, Danfoss, +27 11 785 7628, mccarthyl@danfoss.com, www.danfoss.co.za
Credit(s)
Further reading:
Danfoss debuts Alsense
November 2020, Danfoss , IT in Manufacturing
Danfoss has updated and enhanced its service offering to create a more sustainable, scalable and secure cloud-based portal for managing food retail operations.
Read more...
---
Drive configuration made easy
November 2020, Nidec Control Techniques , Motion Control & Drives
Nidec Control Techniques prides itself on offering free software for commissioning, optimising and monitoring drive/system performance.
Read more...
---
Sinumerik One Dynamics for motion control
November 2020, Siemens Digital Industries , Motion Control & Drives
Siemens has launched three powerful technology packages exclusively for the CNC Sinumerik One.
Read more...
---
Heavy-duty wedge belts
November 2020, Bearing Man Group t/a BMG , Motion Control & Drives
Fenner Quattro Plus Twin Wrap wedge belts transmit 30% more power than conventional belts.
Read more...
---
30 years of linear motion technology
November 2020 , Motion Control & Drives
This year, factory automation specialist Bosch Rexroth celebrates 30 years of linear motion technology and innovation.
Read more...
---
Cooling VSDs with inertial spin filters
November 2020, RTS Africa Technologies , Motion Control & Drives
RTS inertial spin filter units are compact and easy to install and RTS Africa offers full service from conceptual design to ongoing support as required.
Read more...
---
Omron launches HD-1500 mobile robot
November 2020, Omron Electronics , Motion Control & Drives
Industry-leading HD-1500 expands the possibilities for autonomous material transport.
Read more...
---
BMG installs Danfoss VSDs to improve energy efficiency on farms
November 2020, Danfoss , Motion Control & Drives
BMG's Boer Slim/Smart Farming agricultural team works closely with farmers, assisting them with the selection and operation of new electromechanical systems.
Read more...
---
What is adaptive acceleration control?
November 2020 , Motion Control & Drives
Adaptive acceleration control (AAC) is a new soft start control type that allows the selection of different acceleration and deceleration profiles according to application needs.
Read more...
---
Danfoss efficiencies help South African farmers to free up energy and achieve production goals
October 2020, Danfoss , Motion Control & Drives
Danfoss, together with engineering components provider BMG, supplied a commercial maize farmer with the technology to combat challenges around irrigation sufficiency.
Read more...
---