printer friendly version
Power supply components and services for marine applications
October 2020
Electrical Power & Protection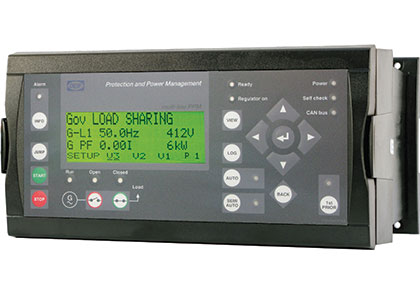 Vert Energy, a specialist in electric power generation (EPG) and electro-mechanical power transmission (EMPT), works closely with the marine and offshore sector offering the supply of quality branded components and the support of a comprehensive repair and maintenance service.
The company's DEIF power management systems encompass diesel, gas and hydro control technology for offshore vessels and on/offshore platforms, as well as commercial, military and leisure vessels. Special vessel applications include dredgers, fishing vessels, heavy lift ships and pipe laying vessels. DEIF's safe and reliable systems ensure optimum performance, high accuracy, minimal maintenance requirements and reduced downtime. The company's 'green technology' focuses on energy efficiency, fuel optimisation and reduced emissions.
DEIF products for marine and offshore applications include analog instrumentation, single- and multi-function controller platforms and engineered solutions for the offshore oil and gas industry's ships and rigs.
These user-friendly controllers, which eliminate the need for external controllers, encompass advanced load dependent stop/start controls, integrated remote control from alarm and monitoring systems, long-time parallel operation diesel/shaft generators and combined emergency/harbour generators.
"An important part of Vert Energy's service to the shipping industry is the highly technical installation and repair work undertaken out at sea by factory trained Vert engineers," says Grant Robertson, managing director, Vert Energy. "A reliable power supply is a top priority in shipping. For this reason, Vert Energy has tailored its capability to assist vessel owners – not only with routine maintenance programmes, but also in emergency breakdown situations – with no interference to the daily activities of the vessel.
"Vert Energy's field services encompass reassembly, installation and commissioning, inspections and diagnostics, as well as on-site maintenance and repair.
"Recent projects include the rewinding of a 750 kVA exciter stator, in situ below deck, on board a vessel out at sea. There were no interruptions to the normal operation of the ship. Vert technicians have also installed and commissioned the retrofitment of new generators on board a vessel. These units were tested under various loads and operating conditions at sea."
Other products in Vert Energy's range include Leroy Somer Alternators, electric motors and drives, ASCO automatic transfer switches, API Covrad radiators and Avtron and Froment load banks, as well as customised control panels. Allight Sykes lighting towers are also available.
For more information contact Ryan Robertson, Vert Energy, 086 11 18378, ryan.robertson@vertgroup.co.za, www.vertgroup.co.za
Further reading:
Simple acquisition of energy consumption values
November 2020, Phoenix Contact , Electrical Power & Protection
By developing the new components of the EMpro product family, Phoenix Contact has found a solution that satisfies most energy data gathering applications.
Read more...
---
Siemens Energy turbines generate low-emission power
November 2020 , Electrical Power & Protection
Siemens Energy helps Total achieve low-emission goals for largest LNG project in Africa.
Read more...
---
Maintaining battery backup systems
November 2020, Comtest , Electrical Power & Protection
Standby battery backup systems play a critical role in keeping essential operations functional in the event of a utility outage.
Read more...
---
Electrical loggers for energy savings
October 2020, Comtest , Electrical Power & Protection
Fluke energy loggers deliver a complete picture to reduce energy costs and improve the bottom line.
Read more...
---
Mines reduce fire hazards
August 2020 , Electrical Power & Protection
Underground mines in southern, central, and west Africa have been seeing the safety benefits of dry-type transformers from Johannesburg-based Trafo Power Solutions. According to managing director 
...
Read more...
---
RS Components stocks Eaton contactors
August 2020, RS Components SA , Electrical Power & Protection
RS Components now stocks Eaton's complete Moeller series of compact DILMT contactors. Easy to integrate in a variety of industrial machines and systems, the contactors enable space savings of up to 40%, 
...
Read more...
---
Power supplies for building automation
June 2020, Phoenix Contact , Electrical Power & Protection
The new Step Power power supplies from Phoenix Contact are specifically tailored to the needs of modern building automation. With their comprehensive approval package, which includes the standard 
...
Read more...
---
Skid-mounted dry-type transformer
June 2020 , Electrical Power & Protection
In a specialised application on a coal mine, Trafo Power Solutions recently supplied a dry-type transformer mounted on a mobile skid. "The harsh environment of a coal mine required us to specially 
...
Read more...
---
Customised transformers for renewables and beyond
June 2020 , Electrical Power & Protection
A focus on application engineering allows Trafo Power Solutions to supply customised dry-type transformers for a range of sectors including renewable energy. "We begin at the proposal stage by engaging 
...
Read more...
---
Electrical certificate of compliance (COC) for instrumentation: non-hazardous installations
June 2020, Everest Equipment & Control , Electrical Power & Protection
An instrument and control installation's scope of work often never makes a request for a certificate of compliance: it is assumed to be an electrical function and hence many installations are non-compliant. 
...
Read more...
---