printer friendly version
SMC's energy efficient vacuum solutions
October 2020
Pneumatics & Hydraulics
SMC'S comprehensive range of vacuum components is focussed on compressed air efficiency. The company can optimise any current system by replacing the existing vacuum components with efficient, state of the art vacuum solutions. SMC has placed great emphasis on the design of its vacuum range and helps its customers select the best vacuum system for their application. Optimisation is achieved through analysis of the current vacuum system and then applying an integrated approach to energy efficiency. Customers are supported through identifying weak points in existing systems, assessing possible areas for energy savings, understanding the flow and pressure requirements, and finally, optimising the selection of vacuum components.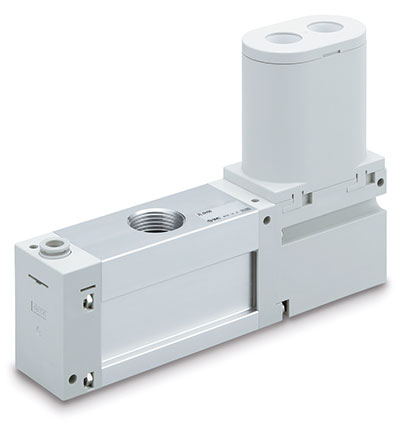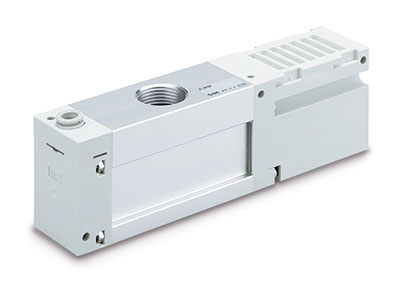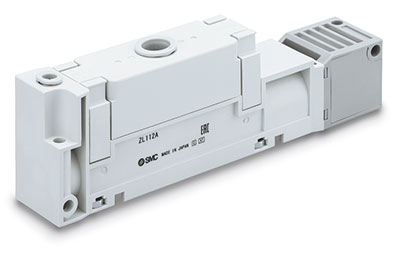 Multi-stage ejection range
SMC has renewed its multistage ejector range with the, ZL1/ZL3/ZL6 series, in response to weight reduction demand that comes from the growing use of robotics. This addition meets the suction flow requirements for workpieces with high levels of leakage, while also delivering energy efficiency. The series offers a high efficiency multistage ejector series that is compact and lightweight in design, but big in terms of suction power.
The three-stage diffuser construction design of the ZL1/ZL3/ZL6 delivers an increased suction flow rate of 250% when compared to a one stage model. Furthermore, the release of the ZL3 and ZL6 comes along with an increase in maximum suction flow rate of up to 600 l/min.
Checkpoints
SMC has identified a few important checkpoints to help customers get the most from their vacuum application. These include:
• A leakage test needs to be performed to ascertain the most suitable vacuum cup for the material style or shape of product.
• The optimum suction flow and vacuum levels need to be known.
• The vacuum system needs to be sized for the worst case scenario.
• Tubing lengths between the vacuum ejector and point of source need to be as short as possible.
• The tubing diameter on the vacuum port must be equal to, or larger than, the tubing diameter on the supply side.
• Filtration needs to be installed to protect downstream vacuum ejectors.
• A vacuum switch needs to be installed in the vacuum line to monitor and detect leaks.
A recent success story
SMC has worked with a multitude of companies on vacuum solutions. More recently, it worked with a leading manufacturing facility in KZN, where it provided an optimal solution using SMC vacuum technology to lift components efficiently. Using the new ZL range, air consumption was drastically reduced, using the energy saving function, and suction flow rate was increased by the efficiency and flexibility in the range. Sales engineer Yattish Jugaroop says this has increased the customer's production levels through downtime in the tool changing and transferring process, and a decrease in electricity usage. In addition, it has improved safety around product handling and reduced the risk of injury.
Credit(s)
Further reading:
SMC's static removal solutions
November 2020, SMC Corporation South Africa , IS & Ex
Around the world, SMC Corporation has a long history in assisting customers in several industries with pneumatic solutions and components. Perhaps less well known in South Africa is the SMC ioniser range, 
...
Read more...
---
Monitoring oil with the power of connectivity
November 2020, Hydrasales , Pneumatics & Hydraulics
The latest innovation in the MP Filtri range of condition monitoring products helps system engineers with the digitalisation of their monitoring processes. It identifies contaminants early in the service 
...
Read more...
---
Parker launches the icount LaserCM30
November 2020, Parker Hannifin - Sales Company South Africa , Pneumatics & Hydraulics
Next generation particle contamination monitor with test procedure in less than 90 seconds.
Read more...
---
Rethinking pneumatic technology for the factories of the future
September 2020, Parker Hannifin - Sales Company South Africa , Pneumatics & Hydraulics
Does a technology such as pneumatics have a central role to play in the flexible, smart production lines of the factories of the future?
Read more...
---
Hydraulic hose installation and maintenance
September 2020, Bearing Man Group t/a BMG , Pneumatics & Hydraulics
BMG's portfolio of components includes the full range of Eaton Winner hydraulic braided and spiral hose and fittings.
Read more...
---
New product releases from SMC Corporation International Training
September 2020, SMC Corporation South Africa , Training & Education
To ensure a smooth transition and integration for learners from education institutes into industry, SMC International Training equipment is designed based on the latest automation technology used in industry.
Read more...
---
SMC launches wireless valve bank in SA
July 2020, SMC Corporation South Africa , Industrial Wireless
In response to customer demand for a reliable communication system, which could limit the number of cables needed to communicate between multiple valve banks/field sensors and a PLC, a wireless communication 
...
Read more...
---
SMC steps up to support essential service customers through lockdown
June 2020, SMC Corporation South Africa , News
SMC Corporation South Africa, as a leading supplier of advanced pneumatic and electrical automation technology, has remained open and certified as an essential services supplier throughout lockdown. We 
...
Read more...
---
SMC offers services as well as components
April 2020, SMC Corporation South Africa , Enclosures, Cabling & Connectors
Besides being a leading supplier of industrial automation components, SMC South Africa also offers value-added services. One of these is in-house control panel design and construction. This takes a labour 
...
Read more...
---
RS adds self-adjusting double-acting air cylinders
December 2019, RS Components SA , Pneumatics & Hydraulics
RS Components has expanded its offering from factory automation manufacturer Festo to include new double-acting pneumatic cylinders in the DSBC product range. Aimed at both machine builders and maintenance 
...
Read more...
---