printer friendly version
Ceramic and metallic measuring cells optimise additive production at BASF
September 2020
Pressure Measurement & Control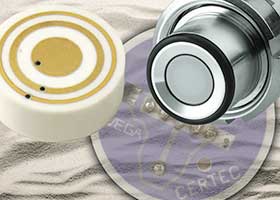 There is a small but important building block at BASF's highly efficient Swiss production site in Kaisten. It is a guarantee that all processes are completely free of silicone oil. This is why traditional differential pressure transmitters can reach their limits when monitoring the levels during the production of additives for paints and plastics. They work by means of capillary lines filled with silicone oil, which – in the unlikely event of an accident – could come into contact with the medium. In contrast, VEGA electronic differential pressure measuring systems provide additional safety through the innovative combination of ceramic and metallic measuring cells.
Plastics today can be colourfast and elastic, crystal clear, high gloss, abrasion-resistant or even heat-resistant, thanks to a variety of special additives. The vapour pressure of liquids plays a decisive role in the production of such additives. Their precise measurement not only contributes to BASF's highly efficient control of special processes, but also provides additional information on how process components can be optimised and plant availability increased.
Silicone oil-free measurement
While conventional differential pressure transmitters were previously used for level measurement, BASF's measurement and control engineers in Kaisten have now decided to replace their instrumentation. They have switched their process control over to electronic differential pressure, which is silicone oil-free, without capillary lines and therefore without mechanical pressure diaphragms. Thanks to the ceramic measuring cell, this system is ideal for vacuum and high temperatures. "The decision for electronic differential pressure on the basis of ceramic Certec measuring cells was obvious, in view of their reliability in withstanding abrasive substances," emphasises Markus Stoll, BASF's head of Specialist Workshops. "Our plant is completely automated and operates 24 hours a day, 7 days a week."
One system for two extremes
The highly robust ceramic Certec measuring cell was ideal for the perfectly flush application in hot, aggressive solvents in the lower reactor section of the BASF vacuum reactor. In the upper reactor area, however, completely different conditions prevailed: here, the extreme steam caused condensation in the measuring cell and led to inaccuracies. Initially, the obvious solution was to use the differential pressure system based on metallic Metec measuring cells. Condensate and humidity no longer had any negative influence. "The upper measured value remained acceptable and highly accurate in all situations," recalls Stoll. "However, the high temperature of the solvent in the lower reactor area repeatedly caused measured value drifts."
Dream team for heat and condensate
It took expertise, willingness to experiment and above all, close cooperation between BASF's Measuring and Control Technology department and Jürgen Feser, the key account manager at VEGA, until everything was running smoothly. The surprising solution was to use an innovative electronic differential pressure measurement system with a combination of a ceramic and a metallic measuring cell.
Both pressure transmitters record their respective values separately and calculate the differential in the master sensor. This is made possible by structurally identical instrument electronics behind the two very different measuring cells. They work perfectly, even in a mixed team. "For our application, this combination is a real dream team," says Stoll with satisfaction. "As far as I know, only VEGA offers this combination capability. The bottom line result is one solution for two challenges: the ceramic measuring cell easily handles the high temperatures and aggressive substances in the lower reactor area (HP side). In the upper part, or LP side, the metallic measuring cell performs perfectly in the presence of condensation."
Conclusion
Even the most ingenious manufacturing process for additives is only as good as the equipment of the production plant. In the case of BASF's distillation reactors in Kaisten, the sensors of the pressure transmitters really get the job done, even in the most inhospitable locations. The combination of a ceramic Certec and a metallic Metec measuring cell has proved to be the perfect combination from VEGA.
Credit(s)
Further reading:
PACTware further refines user interface
VEGA Controls SA IT in Manufacturing
Optimising a user interface for multiple sensor equipment manufacturers is possible in such a way that industrial users can use it similarly to everyday smart devices.
Read more...
---
Small flush-mount pressure sensor
ifm - South Africa Pressure Measurement & Control
Performance figures include high measuring accuracy to within ±0,5% and precise repeatability with ±0,05% tolerance.
Read more...
---
How's our plant doing today?
VEGA Controls SA IT in Manufacturing
Three VEGA initiatives for secure and flexible process automation lead straight to Industry 4.0.
Read more...
---
Digital manometer in standard and ATEX-approved models
Instrotech Pressure Measurement & Control
The instrument is available with two practice-based measuring ranges of -1 to 30 bar and 0 to 300 bar in the compensated temperature range from 0°C to 50°C.
Read more...
---
Pressure measuring cells
ASSTech Process Electronics + Instrumentation Pressure Measurement & Control
The Jumo Ceros measuring cells can be used in such devices as pressure transmitters, level probes, data loggers or digital manometers.
Read more...
---
Hydraulic deadweight tester for pressure instrument calibration
Instrotech Pressure Measurement & Control Maintenance, Test & Measurement, Calibration
The high-quality piston/cylinder units are manufactured from tungsten carbide, which is known for its low thermal coefficient of expansion.
Read more...
---
Digital pressure gauge for refrigeration performance monitoring
Instrotech Pressure Measurement & Control
Two versions of the digital pressure gauge are available: for absolute pressures within the ranges of -1 bar to 40 bar, and -1 bar to 80 bar, respectively.
Read more...
---
Radar level sensores
VEGA Controls SA Level Measurement & Control
The VEGAPULS 6X offers advanced features such as a self-diagnosis system that immediately detects damage or interference, to ensure significantly higher availability and safety.
Read more...
---
Pressure sensor for industrial applications
WIKA Instruments Pressure Measurement & Control
WIKA's model MTF-1 pressure sensor module is a simple and flexible option for integrating pressure measurement into a wide variety of applications.
Read more...
---
Radar instruments in mining
VEGA Controls SA Level Measurement & Control
VEGA radar measuring instruments hold their own in the difficult environments of gold and platinum mining.
Read more...
---