printer friendly version
WearCheck launches disinfectant tunnel
September 2020
News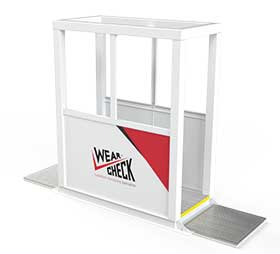 To help South African companies ensure the health of their employees, WearCheck has created a unique HealthCheck disinfectant tunnel which can be situated at the entrance to work-sites or public spaces and which sprays every person who enters with human-friendly disinfectant.
Designer Chris Hattingh, a technical consultant at WearCheck, believes the tunnel will assist mines, transport and construction companies, airports, stations, hospitals, schools and other industries to reopen safely by ensuring employees do not bring the virus into the workplace. The HealthCheck system sprays people with a non-harmful sanitiser that kills all pathogens, including COVID-19. It is 100% safe for use on humans, including the hands and face and even on food.
"This is a practical solution for companies once the lockdown restrictions are eased," explains Hattingh. "It is a sure way to limit the risk of viral transmission, thereby keeping the workforce healthier and helping South Africa's hard-hit economy to make a come-back."
The HealthCheck d-tunnel is available in two versions – a heavily-engineered model designed to accommodate large volumes of foot traffic, as well as a 'light' option for smaller organisations. Companies have the option to personalise the light version with their own logo and slogan.
No operator is required as a simple 230 volt pressure pump dispenses the spray, while the tunnel is corrosion-resistant and has variable settings for the misting intervals and spray times. The sanitiser is non-flammable, non-toxic, ecologically friendly and can be disposed of in municipal drains. There are no known health hazards and no dermal irritation factors and/or eye-irritants. The disinfectant can be dispensed to other locations using WearCheck's range of portable systems and pumps, ensuring that on-site spaces such as offices, training centres and meeting places are virus-free.
Further reading:
From the editor's desk: Is additive manufacturing poised to go mainstream?
Technews Publishing (SA Instrumentation & Control) News
As digital manufacturing technology pushes its way further towards the production floor, additive manufacturing (3D printing) is emerging as a viable option to complement the more traditional methods 
...
Read more...
---
Obituary: Steven James Meyer
January 1957 - January 2022
Technews Publishing (SA Instrumentation & Control) News SAIMC
It is with deep sadness and shock that we announce the sudden death of SA Instrumentation & Control Editor, Steven Meyer. Steven joined Technews in October 2007 in the position of Deputy Editor. His 
...
Read more...
---
ESG certified as Level 2 contributor to B-BBEE
News
Invicta Holdings Limited's Engineering Solutions Group (ESG) has achieved recognition as a Level 2 contributor to B-BBEE.
Read more...
---
Abrasive Flow Solutions celebrates its first year of business
News
Abrasive Flow Solutions (AFS) – specialists in the design and manufacture of slurry related valves – celebrates its first year of business.
Read more...
---
Microsatellite production gets a boost in Stellenbosch
TANDM Technologies News
Dragonfly Aerospace is investing in a 3000 square metre design and manufacturing facility in Techno Park, Stellenbosch.
Read more...
---
Danfoss doubles down on energy efficiency
Danfoss News
Danfoss encourages decision makers to act at COP26.
Read more...
---
Zest supplies SA's new gas helium project
Zest WEG Group Africa News
Zest WEG is supplying locally manufactured transformers, switchgear and substations to South Africa's onshore natural gas and helium project, Tetra4.
Read more...
---
Emerson announces commitment to venture capital initiative
Emerson Automation Solutions News
Emerson Ventures to focus on disruptive discrete automation solutions, environmental sustainability technologies and industrial software.
Read more...
---
Valve & Automation's new Secunda Valve Repair Centre
Valve & Automation News
On 1 November 2021, Valve & Automation's Secunda Valve Repair Centre opened at 18 Kingfisher Street, Ext 57, Secunda, Mpumalanga.
Read more...
---
SECO Process Instrumentation appointed East Rand agent for Yokogawa
SECO Process Instrumentation News
SECO Process Instrumentation, a consulting company in the fields of instrumentation, moisture analysers, pneumatics and VSD solutions, has recently been appointed as the East Rand agent for Yokogawa.
Read more...
---