printer friendly version
Mines reduce fire hazards
August 2020
Electrical Power & Protection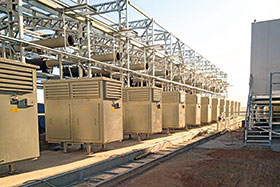 Underground mines in southern, central, and west Africa have been seeing the safety benefits of dry-type transformers from Johannesburg-based Trafo Power Solutions.
According to managing director David Claassen, this clientele even includes collieries, where the strictest safety regulations apply with regard to fire hazards.
"The high risk of fire in underground coal mining environments has led to a high demand for dry-type transformers," adds Claassen. "Among the fire risks that coal mines face are transformer short-circuits as well as fires reaching the transformer."
He notes that dry-type transformer technology is rated Class F1 in terms of fire protection, ensuring that transformers supplied by Trafo Power Solutions are flame-retardant. "Oil-cooled transformers, on the other hand, are a fire risk due to the oil they contain to cool the windings," he outlines. "The risk is heightened by the harsh operating conditions in which many transformers must function on mines."
These transformers also require regular attention and maintenance. Oil samples must be taken at prescribed intervals, and these must be tested at a laboratory with the appropriate accreditation. Testing must be conducted to ensure that oil purity is within bounds, and to check for gas levels and pressure build-up in the oil tank.
"This maintenance can present challenges and added costs if the equipment is located on a remote mine far from a source of expertise and the right equipment," explains Claassen. "With dry-type transformers, it is really only the temperature that requires monitoring. The equipment comprises limited componentry, so generally requires servicing only twice a year."
He highlights that these regular inspections are brief and simple, taking just a couple of hours. Key aspects to be checked are the physical termination connections – which must be tightened to the right torque – and any dust that has gathered around the core and windings must be cleaned away.
Trafo Power Solutions has in recent years supplied dry-type transformers – along with ancillary power equipment such as low and medium voltage switchgear – to mines in South Africa, Mozambique, Zambia, the Democratic Republic of Congo, Ghana and Sierra Leone. In addition to coal, there are gold and base metal producers included in this clientele.
For more information contact David Claassen, Trafo Power Solutions, +27 11 325 4007, david@trafo.co.za, www.trafo.co.za
Further reading:
Electrical loggers for energy savings
October 2020, Comtest , Electrical Power & Protection
Fluke energy loggers deliver a complete picture to reduce energy costs and improve the bottom line.
Read more...
---
Power supply components and services for marine applications
October 2020 , Electrical Power & Protection
Vert Energy works closely with the marine and offshore sector offering the supply of quality branded components and the support of a comprehensive repair and maintenance service.
Read more...
---
RS Components stocks Eaton contactors
August 2020, RS Components SA , Electrical Power & Protection
RS Components now stocks Eaton's complete Moeller series of compact DILMT contactors. Easy to integrate in a variety of industrial machines and systems, the contactors enable space savings of up to 40%, 
...
Read more...
---
Power supplies for building automation
June 2020, Phoenix Contact , Electrical Power & Protection
The new Step Power power supplies from Phoenix Contact are specifically tailored to the needs of modern building automation. With their comprehensive approval package, which includes the standard 
...
Read more...
---
Skid-mounted dry-type transformer
June 2020 , Electrical Power & Protection
In a specialised application on a coal mine, Trafo Power Solutions recently supplied a dry-type transformer mounted on a mobile skid. "The harsh environment of a coal mine required us to specially 
...
Read more...
---
Customised transformers for renewables and beyond
June 2020 , Electrical Power & Protection
A focus on application engineering allows Trafo Power Solutions to supply customised dry-type transformers for a range of sectors including renewable energy. "We begin at the proposal stage by engaging 
...
Read more...
---
Electrical certificate of compliance (COC) for instrumentation: non-hazardous installations
June 2020, Everest Equipment & Control , Electrical Power & Protection
An instrument and control installation's scope of work often never makes a request for a certificate of compliance: it is assumed to be an electrical function and hence many installations are non-compliant. 
...
Read more...
---
Five tips to manage energy use while staying at home
May 2020 , Electrical Power & Protection
Covid-19 continues to impact many aspects of our lives. Many are now required to stay at home in an effort to curb the spread of the pandemic. One of the many implications of staying at home will be the 
...
Read more...
---
Holistic approach to energy security
April 2020 , Electrical Power & Protection
As South Africans settle into the routine and inconvenience of load shedding and planning their activities around shifting electricity supply, it is businesses that are taking the biggest hit through 
...
Read more...
---
Save energy costs with highly-efficient Delta VFDs
April 2020, ElectroMechanica , Electrical Power & Protection
Customers can realise significant savings on their total energy costs by replacing older motor starters with energy-efficient Delta variable frequency drives (VFDs), distributed locally by ElectroMechanica 
...
Read more...
---