printer friendly version
Commander series drives
August 2020
Motion Control & Drives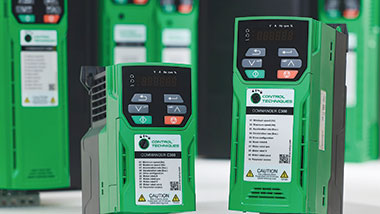 The Commander series are simple and compact AC motor speed controllers that meet advanced requirements in a wide range of applications. Their small footprint makes them ideal for machine builders and OEMs, where size really matters.
The Commander series comprises two variations of general purpose drives that replace the Unidrive M200 and M300 drives. Commander C200 meets the needs of a broad range of general applications, and includes features designed to make setup and installation as straightforward as possible. Commander C300 has the same features and functionality but includes a dual Safe Torque Off (STO) input for general applications requiring safety.
Both models also include powerful functionality, designed with usability in mind. An on-board PLC, for example, provides embedded intelligence which removes the need for an external controller, saving on both cost and space when installing into systems or cabinets.
Commander's wide power range, from 0,25 kW to 132 kW, also makes it the perfect solution for both lower- and high-power applications. Additionally, in more complex applications, Commander benefits from compatibility with Control Techniques' extensive range of plug-in option modules, expanding functionality and capability across a wide range of well-known fieldbuses.
Commissioning and maintenance
For fast task-based commissioning and easy maintenance, Connect offers a familiar Windows interface and intuitive graphical tools to enhance data analysis. The dynamic drive logic diagrams allow the visualisation and control of the drive in real time, while the parameter browser enables viewing, editing and saving of parameters as well as importing parameter files from legacy drives.
For more advanced applications, Machine Control Studio provides a flexible and intuitive environment for programming. This is possible thanks to the on-board PLC that increases the drive's functionality at no extra cost. Control Techniques also provides support for customers' own function block libraries, with on-line monitoring of program variables with user defined watch windows and help for on-line change of program, in line with current PLC practice.
"The Commander name has heritage within Control Techniques and the drives industry, which makes this range very exciting for us," concludes Bruce Grobler, regional director Nidec Control Techniques Southern Africa. "For almost as long as there's been variable speed drives there have been Commander drives from Control Techniques."
For more information contact Jacqui Gradwell, Nidec Industrial Automation Southern Africa, +27 11 462 1740, jacqui.gradwell@mail.nidec.com, www.controltechniques.com
Credit(s)
Further reading:
Modular towel production lines
September 2020, Beckhoff Automation , Motion Control & Drives
Rapid development and configuration of manufacturing systems for terrycloth towels with PC-based control.
Read more...
---
BMG solutions for efficient agriculture
August 2020, Bearing Man Group t/a BMG , Motion Control & Drives
BMG's Boer Slim/Smart-Farming agricultural team works closely with farmers throughout southern Africa, assisting them with the selection, installation and operation of new electromechanical systems. These 
...
Read more...
---
PC and EtherCAT-based control technology in next-generation telescope
August 2020, Beckhoff Automation , Motion Control & Drives
Key factors were the advantages of EtherCAT for site-wide real-time communication connecting all telescope functions. Various embedded PCs and AM8000 servomotors were also tested and specified, among 
...
Read more...
---
Belting products for furnace belts
August 2020, Bearing Man Group t/a BMG , Motion Control & Drives
BMG's Light Materials Handling division supplies and supports a comprehensive range of belting products suitable for use in diverse sectors, including high-temperature applications, like glass bottle 
...
Read more...
---
BMG's new generation of IE5+ motors
July 2020, Bearing Man Group t/a BMG , Motion Control & Drives
In 1916, BMG and German precision engineers, Getriebebau Nord, entered into a partnership agreement to assemble, distribute and support Nord Drivesystems throughout southern Africa. BMG has made 
...
Read more...
---
Rockwell Automation upgrade for Ghana Water
June 2020, Rockwell Automation , Motion Control & Drives
Over the last five years, Rockwell Automation has been working with Intermerc Ghana in supplying medium-voltage motor control and automation technologies to some of its recent pump upgrade and rehabilitation 
...
Read more...
---
Danfoss addresses the challenges in water and wastewater applications
July 2020, Danfoss , Motion Control & Drives
As the world population rises and people pursue higher standards of living, more water is needed in homes and for the production of food and other products. By 2050, the United Nations projects global 
...
Read more...
---
Incledon launches latest Tekflo couplings
June 2020 , Motion Control & Drives
Incledon, a leading provider of quality fluid conveyance products and solutions, recently launched a new range of universal couplings, adding to its current range of Tekflo-branded products based on quality, 
...
Read more...
---
BMG's specialist solutions for industrial water infrastructure
July 2020, Bearing Man Group t/a BMG , Motion Control & Drives
BMG's solutions for the water, wastewater and sewage sectors encompass the supply of quality branded drive systems, enhanced by the BMG team's technical expertise and installation, condition monitoring, 
...
Read more...
---
Nidec Control Techniques supports essential services across all alert levels
July 2020, Nidec Industrial Automation Southern Africa , News
South Africa has been experiencing a time like no other, with businesses and individuals across the country having to change their behaviour in efforts to curb the spread of the new coronavirus. "While 
...
Read more...
---