printer friendly version
Remote commissioning helps African sugar mills
June 2020
Motion Control & Drives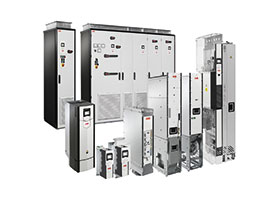 Three 1,2 MW ACS880 mill drives and one 355 kW regenerative batch centrifugal drive have been remotely hot commissioned at Illovo Sugar Africa's biggest southern African mills at Nakambala in Zambia and Ubombo in Eswatini.
These drives were to be commissioned under load in April at the start of the crushing season. However, the southern Africa service team was unable to gain access to the sites after the South African lockdown was implemented in late March.
Illovo Sugar Africa had previously awarded the variable speed drives (VSD) contract to ABB for the modernisation of its mills and centrifuges. Included in the scope was ABB's remote monitoring solution, a condition-based maintenance service that predicts when drive components need replacing.
With operations extending to remote areas across the sub-Saharan Africa region, condition-based maintenance provides precise, high-quality data that enables the delivery of an efficient, targeted maintenance programme. Analysis is easier and faster, and maintenance activities are planned based on actual need.
Direct torque control
Sugar centrifuge applications require one of the highest cyclic overload requirements in industrial motor control. ABB's superior motor control algorithm DTC (direct torque control) in the ACS880 drive ensures superior response time to set-point change/load rejection. The ACS880-17 regenerative drive uses the DTC algorithm on both the motor control inverter and the regenerative supply unit, ensuring excellent motor control performance as well as clean and reliable loading on the supply.
These unique control elements of the ABB drive help equipment owners achieve the shortest possible cyclic time, which ultimately results in a high production capacity from the same machine. Not only did the drives exceed the performance on the application, but they also offered a common technology platform across the range.
The easy-to-configure software and user-friendly HMI made it simple for the on-site users to navigate through the drive to extract vital application data, while the use of ABB's unique DTC motor control platform allowed for easy integration with the existing non-ABB motors on site.
Remote setup and commissioning
Remote commissioning for these mills required an on-site network to be set up, which was installed by the site personnel under the direction of the ABB service engineer. The remote monitoring hardware (part of the ABB 'Ability Remote Services for Drives' product suite) was set up during the installation supervision phase by the ABB drives service department in anticipation of the wet commissioning.
Setup and tuning of the drives under full load were successfully achieved via a stable NETA-21 VPN connection to the customer LAN. The batch sugar centrifuge is a special application demanding precise parametrisation under load due to very high inertia and high cyclic loading with full regenerative capabilities. The mill tuning under load demands high intermittent overloading and verified no resonances or torque pulsations.
In today's sugar industry, constantly increasing competition and growing pressure for higher efficiency are forcing producers to find new ways to achieve long-term success. ABB's solution of VSDs, motors, gearing and bearings is indispensable for key processes such as cane milling or beet slicing, extraction and crystallisation, and play a critical role in generating energy savings, improving productivity and reducing costs.
An extremely happy and satisfied customer was able to start up these essential food services plants without any downtime due to the lockdown. The current partnership between ABB and Illovo Sugar Africa ensures high productivity at its plants, efficient maintenance planning, and avoiding unplanned downtime while maximising the life of the equipment. Illovo, Africa's biggest cane sugar group, has commended ABB for its proactive approach, solution and commitment.
For more information contact ABB South Africa, +27 10 202 6001, michael.wachter@za.abb.com, www.abb.com/za
Further reading:
BMG's new generation of IE5+ motors
July 2020, Bearing Man Group t/a BMG , Motion Control & Drives
In 1916, BMG and German precision engineers, Getriebebau Nord, entered into a partnership agreement to assemble, distribute and support Nord Drivesystems throughout southern Africa. BMG has made 
...
Read more...
---
Rockwell Automation upgrade for Ghana Water
June 2020, Rockwell Automation , Motion Control & Drives
Over the last five years, Rockwell Automation has been working with Intermerc Ghana in supplying medium-voltage motor control and automation technologies to some of its recent pump upgrade and rehabilitation 
...
Read more...
---
Danfoss addresses the challenges in water and wastewater applications
July 2020, Danfoss , Motion Control & Drives
As the world population rises and people pursue higher standards of living, more water is needed in homes and for the production of food and other products. By 2050, the United Nations projects global 
...
Read more...
---
Incledon launches latest Tekflo couplings
June 2020 , Motion Control & Drives
Incledon, a leading provider of quality fluid conveyance products and solutions, recently launched a new range of universal couplings, adding to its current range of Tekflo-branded products based on quality, 
...
Read more...
---
BMG's specialist solutions for industrial water infrastructure
July 2020, Bearing Man Group t/a BMG , Motion Control & Drives
BMG's solutions for the water, wastewater and sewage sectors encompass the supply of quality branded drive systems, enhanced by the BMG team's technical expertise and installation, condition monitoring, 
...
Read more...
---
BI champions Berntel pneumatic and hydraulic solutions
June 2020 , Motion Control & Drives
Hudaco Group company Berntel is expanding its footprint by offering its extensive range of pneumatic products through the Bearings International (BI) branch network. This, in turn, expands BI's value 
...
Read more...
---
Transmission solutions for sugar mills
June 2020, SEW-Eurodrive , Motion Control & Drives
SEW-Eurodrive offers a range of transmission solutions to assist sugar mills cut their costs. The main opportunity in this market segment is not only upgrading old and outdated systems, but the value 
...
Read more...
---
AGVs for automated production
June 2020, SICK Automation Southern Africa , Motion Control & Drives
Automated and flexible production processes are the answer to increasing quantities, smaller batch sizes, and high production speeds. Automated guided vehicle (AGVs) systems and their smaller relatives, 
...
Read more...
---
Simplifying machine setup
June 2020, Siemens Digital Industries , Motion Control & Drives
Strausak Mikroverzahnungen specialises in the manufacture of high-precision machinery used in the watchmaking and apparatus manufacturing industries. To enable the continued precise machining of parts 
...
Read more...
---
Energy efficiency for improved process control
May 2020, Bearing Man Group t/a BMG , Motion Control & Drives
BMG's Vacon 100 AC drives have been designed to save energy, optimise process control and improve productivity in many sectors, including processing, mining and minerals, industrial HVAC, marine and water, 
...
Read more...
---