printer friendly version
Advanced pump control
July 2020
Valves, Actuators & Pump Control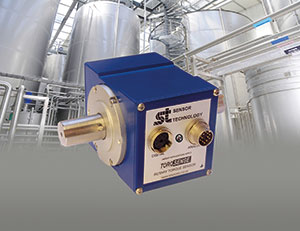 Factory automation continues to develop year on year and pumps are increasingly required to supply real-time operating data to control networks so that their performance can be monitored and adjusted to meet constantly changing production requirements.
Hardwiring a sensor into a pump's rotating drive shaft usually requires the use of a delicate slip ring, but an alternative solution is to use a non-contact radio frequency detector, as Mark Ingham of Sensor Technology in the UK explains. However, such advances are not without their difficulties, one such being the need to connect machines and equipment such as pumps, mixers and conveyors to the control computers. Wiring up one machine is not a great task, but a highly automated factory will have literally hundreds of them, so the task becomes considerable.
One of the most time-consuming tasks is fitting torque sensors to rotating equipment, as this requires the use of fiddly and fragile slip rings. However, torque is a key performance indicator. For instance, a gradual increase in a pump's torque may suggest increasing flow to compensate for growing leakage; a sudden increase may indicate a blockage downstream of the pump, while a sudden reduction may be due to an upstream blockage.
So, in automated plant it is well worth measuring torque, but can fitting a suitable sensor be made quicker, easier and therefore more cost effective?
The answer to this question is yes. TorqSense is a wireless sensor that replaces the need for physical wiring and slip rings with radio wave communications. Fitting a TorqSense typically takes about one-fifth the time required for a conventional hardwired transducer.
So how do they work?
TorqSense transducers use two surface acoustic wave (SAW) devices, which are attached to the surface of the shaft. When torque is applied, the SAWs react to the applied strain and change their output. The SAW devices are interrogated wirelessly using RF, which passes the SAW data to and from the electronics inside the body of the transducer. Ingham explains: "All you have to do is set up a TorqSense is glue the SAWs to the shaft, fire radio waves at them and monitor the waves that are reflected back. The SAWs are distorted in proportion to the twist in the shaft, which in turn is proportional to the level of torque. The frequency of the reflected waves is changed in proportion to the amount of distortion, and electronics within the TorqSense analyses the returning wave and feed out torque values.
"As the TorqSense method does not require contact with the rotating shaft, it offers complete freedom from the slip rings, brushes or other solutions found in traditional torque measurement systems. TorqSense devices also have a high immunity to magnetic forces, allowing their use in, for example, motors where other technologies are very susceptible to electronic interference."
Applications
SAW-based torque sensors have been used around the world and in many fields, from test rigs to wind turbines and generators based on tidal or river flows. They are used extensively in the high-tech world of the development of engines and gearboxes for Formula 1 and other hyper performance cars. Torque feedback systems have also been used by security firms to determine the direction their movable CCTV cameras are facing so that they can efficiently watch premises under their protection, in industrial mixing, long-duration scientific experiments, to model aircraft thrust lift and control systems, etc.
They can be used with virtually all pump-based systems, from micro-dosing of active ingredients in pharmaceutical production, to cake filling injection in high-volume bakeries, to lubricant and coolant circulation in manufacturing machinery, to flow control in industrial washing machines and paint spray robots; they can prove invaluable when coupled with the giant pumps used for fresh water distribution, wastewater handling and flood management systems. Their potential uses with pumps are almost unlimited.
Credit(s)
Further reading:
Valves for pump protection
July 2020, Valve & Automation , Valves, Actuators & Pump Control
Thyssenkrupp Steel Europe has opted for Schroeder pump protection valves during the recent overhaul of Unit 4 of its power station in Duisburg. The valves that were installed previously from another supplier 
...
Read more...
---
Stafsjö MV standard knife gate valve
July 2020, Valve & Automation , Valves, Actuators & Pump Control
Do you want to try the MV performance? The MV is an all-round valve with a proven global track record both on dry solids and wet fluids. The valve's ideal internal clearances lower friction and make it 
...
Read more...
---
Robust oxygen analyser for challenging conditions
June 2020, Instrotech , Analytical Instrumentation & Environmental Monitoring
A major supplier of nitrogen generators has selected Michell's XTP601 oxygen analyser to ensure N2 quality as part of its engineered systems for the oil and gas industry in the Middle East. The containerised 
...
Read more...
---
Process moisture analyser
July 2020, Instrotech , Analytical Instrumentation & Environmental Monitoring
Michell Instruments has announced that an independent report confirms excellent measurement performance of its OptiPeak TDL600 process moisture analyser. A new report undertaken by DBI Gas und Umwelttechnik 
...
Read more...
---
Covid-19 early detection strategy
May 2020, Instrotech , Sensors & Transducers
Instrotech would like to make it known that it has a specialised early detection system on offer, that allows for fast, non-contact screening and identification of school learners, tertiary students and 
...
Read more...
---
Electromagnetic flowmeter upgrade
May 2020, Instrotech , Flow Measurement & Control
Instrotech has announced that the Kobold magnetic inductive flowmeters MIM and MIS have been upgraded and further developed as follows: Kobold MIM, for measuring and monitoring of conductive liquids, 
...
Read more...
---
Festo online configurator tool simplifies sizing of process valves
April 2020, Festo South Africa , Valves, Actuators & Pump Control
From manually operated to automated process valves, the new configurator tool for process valves from Festo makes selecting the right solution easy and less time-consuming.
Read more...
---
Early detection of faults in BMW's light metal die casting
April 2020, Macsteel Fluid Control , Valves, Actuators & Pump Control
Sliding gate valves from Schubert & Salzer optimise process reliability.
Read more...
---
Oval wheel flowmeters
April 2020, Instrotech , Flow Measurement & Control
Instrotech has on offer three Kobold oval wheel flowmeters that give precise flow measurement for all viscous, non-abrasive clean liquids and can be used in a number of diverse applications, such as measurement 
...
Read more...
---
Mini oval wheel flowmeter
April 2020, Instrotech , Flow Measurement & Control
Instrotech now offers another space miracle from Kobold for OEM customers. With an all stainless steel body and temperature measurement for fuel consumption, the DOE offers different pulse output options, 
...
Read more...
---