printer friendly version
Simplifying machine setup
17 June 2020 Motion Control & Drives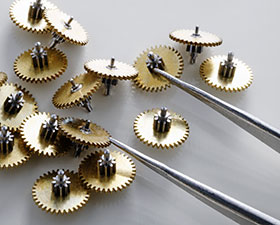 Strausak Mikroverzahnungen specialises in the manufacture of high-precision machinery used in the watchmaking and apparatus manufacturing industries. To enable the continued precise machining of parts no bigger than a grain of dust, Strausak recently retrofitted its machining centre using technology from Siemens. The new electrical control and drive components make for significantly easier machine setup and commissioning, saving valuable time. Another benefit is that the compact components used take up a minimum of space. Strausak plans to retrofit all its machines with Siemens solutions in the medium term to leverage the benefits of using an integrated concept from a single supplier.
Depending on the manufacturer and level of quality, mechanical watches can comprise over 1500 components – some hardly bigger than a grain of dust.
Depending on the manufacturer and the level of quality, mechanical wristwatches can comprise over 1700 perfectly interacting components. The ultra-precise machining of gears less than a millimetre in diameter with seven teeth throws up a number of challenges. No friction is admissible between the bearing pivot and the ruby, meaning that the surface of the pivot has to be absolutely level. Because polishing alone is insufficient to achieve this, the watchmaking industry uses what is known as a burnishing process, which is a combination of stock removal and surface hardening. After 50 years in use, Strausak's burnishing machine was ripe for an electronic retrofit, which the company opted to implement using control and drive technology from Siemens. A burnishing machine is fitted with a burnishing disk, a carbide wheel with tiny notches which rotates at between 1000 and 1500 revolutions per minute. The notches remove projecting material and the pressure exerted by the disc compresses the surface of the pivot, making it harder and more stable.
Since completion of the retrofit, each of the burnishing machine's four motors has been controlled by a Sinamics S120 servo drive system. The four Sinamics converters are linked over the open Industrial Ethernet standard Profinet to the higher-level Simatic ET 200SP distributed I/O. Like the drive system, this also benefits from its own integrated safety functions. Commissioning is rapid and simple using a web server, and Strausak uses a Simatic KP400 Panel for operation.
The four motors of the burnishing machine are controlled by Sinamics S120 servo drive systems and are linked to the high-level Simatic ET 200SP distributed I/O over Profinet. The new controller significantly simplifies machine setup and commissioning.
"The new controller enables significantly simplified machine setup and saves us time," says Simon Andres, CEO of the retrofit project partner Andres Antriebstechnik. A technician involved with the project at Strausak, Markus Alaimo, adds: "I simply plug the cable into the laptop and enter the IP address – after that, everything's self-explanatory. And you don't need to be a drive specialist to commission the drive systems." Following on from the successful machine retrofit, Strausak is already planning further improvements. "Long-term, we intend to upgrade all our machines to Siemens components. This will not only ensure we're working with an integrated concept but also simplify our warehousing," says an enthusiastic Alaimo.
For more information contact Jennifer Naidoo, Siemens Digital Industries, +27 11 652 2795, jennifer.naidoo@siemens.com, www.siemens.co.za
Credit(s)
Further reading:
AGVs for automated production
June 2020, SICK Automation Southern Africa , Motion Control & Drives
Automated and flexible production processes are the answer to increasing quantities, smaller batch sizes, and high production speeds. Automated guided vehicle (AGVs) systems and their smaller relatives, 
...
Read more...
---
Energy efficiency for improved process control
May 2020, Bearing Man Group t/a BMG , Motion Control & Drives
BMG's Vacon 100 AC drives have been designed to save energy, optimise process control and improve productivity in many sectors, including processing, mining and minerals, industrial HVAC, marine and water, 
...
Read more...
---
Software for locating system
June 2020, Siemens Digital Industries , IT in Manufacturing
Siemens has introduced its new 'Location Intelligence' software, which expands the Simatic RTLS (real-time locating system) to include the digital twin. The web-based software analyses and visualises 
...
Read more...
---
Low-friction bearings for EV drivetrains
April 2020, SKF South Africa , Motion Control & Drives
Bearings, although buried deep within the vehicle, are on the front line in contributing to drivetrain efficiencies and delivering reliability for automotive manufacturers. Breakthroughs in technologies 
...
Read more...
---
New 80 GHz compact radar transmitters
May 2020, Siemens Digital Industries , Level Measurement & Control
Siemens has introduced the Sitrans LR100 series 8 GHz radar level transmitters, a compact instrument with a narrow beam for flexible installations in existing vessel openings or even non-intrusively through 
...
Read more...
---
SEW-Eurodrive solution for new brick and block plant
May 2020, SEW-Eurodrive , Motion Control & Drives
SEW-Eurodrive's HandlingKinematics application module allows for machine control at a higher level by means of a lower-level configurable control unit (CCU) for carrying out precision path movements. 
...
Read more...
---
VLT drive saves energy at AEL blasting
May 2020, Danfoss , Motion Control & Drives
AEL (African Explosives Ltd.) Intelligent Blasting's nitric acid plant saves R3,6 million on annual operating costs thanks to an upgrade from direct-on-line operation to VLT drive control of electric 
...
Read more...
---
Zest adds geared motors to product range
May 2020, Zest WEG Group , Motion Control & Drives
A range of WEG geared motors with benefits including efficiency and reliability will soon be available to customers in South Africa and the rest of the continent from Zest WEG. According to national sales 
...
Read more...
---
New network management solution
May 2020, Siemens Digital Industries , IT in Manufacturing
Industrial networks are growing more and more complex. Powerful industrial networks are no longer defined by hardware alone – the right network management is essential. The Sinec software family offers 
...
Read more...
---
Gearmotors for electrified monorail system
April 2020, SEW-Eurodrive , Motion Control & Drives
A leading systems integrator for the automotive industry has adapted a Maxolution electrified monorail system (EMS) and 23 HK Series gear units for overhead trolley systems, from SEW-Eurodrive, for a 
...
Read more...
---