printer friendly version
Flexibility of PC-based control minimises development times
May 2020
System Integration & Control Systems Design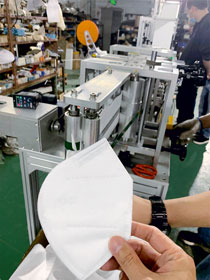 The outbreak of Covid-19 in China created a massive demand for masks and other medical products. Xiamen Booltech recognised the need to produce N95 masks, which provide protection for both medical staff and the public, reducing the spread of the coronavirus. To meet this growing need, Booltech leveraged PC-based technology from Beckhoff Automation to design and build the first of its N95 mask machines in China.
Manufacturers of personal protective equipment (PPE) worked closely with Booltech on machine design and implementation. The entire project took only half a month from start-up to commissioning, so that the machines began to ship at the end of March. Due to the tight schedule, Booltech's technical team completed the initial commissioning of machines in less than one night, so that equipment manufacturers could test and verify machines the next day.
Control technology and software from Beckhoff
The cooperation between Booltech and Beckhoff goes back to 2014. The Booltech engineering team has always used TwinCAT automation software as its development platform for motion control. TwinCAT and EtherCAT technology are integrated in the company's packaging and printing machines, providing clear benefits for the customer. Harnessing this expertise, Booltech completed its new application with the powerful and precise motion control functionality of TwinCAT. Modular software function blocks enable different devices to utilise different features. The N95 mask machine is equipped with a powerful CX5120 Embedded PC and EtherCAT enabled easy, flexible expansion of the numerous I/O terminals and servo axes. All of this helped Booltech software engineers greatly shorten the development cycle, allowing for rapid deployment of both the semi-automated and the fully automated N95 production machines.
Chen Renjie, technical director of Booltech, said: "We recently received feedback from our end user customer that the semi-automated N95 mask machines have reached a throughput of 280 pieces per minute without ear band and seal. The fully automated N95 production machines equipped with Beckhoff XFC technology offer high repeatability and high production speed. The production throughput of disposable masks with ear band and seal can reach 50 pieces per minute. Our customers are very satisfied with such efficient production machinery."
Beckhoff China provides strong supply chain and technical support
Considering the uncertainties caused by the Covid-19 pandemic, Beckhoff China began to increase the stock at its Shanghai headquarters in February to ensure an uninterrupted supply of automation equipment for Chinese manufacturers. With the sharp increase in demand for production equipment needed for mask machines, Beckhoff China created a protocol to prioritise supply and delivery for customers manufacturing equipment to fight the pandemic. All products are available from stock to help customers eliminate supply chain problems. By the end of April, Beckhoff China had provided Booltech with 90 CX5120 Embedded PCs for the N95 mask machines. Meanwhile, the Beckhoff technical team responded very quickly to the customer's needs for software functionality using TwinCAT, and quickly solved any technical challenges in software development.
Luo Yuanliang, general manager of Booltech, said: "In the early days of the anti-epidemic campaign, our technical team had many technical discussions and finally reached a consensus: First, we had no time to waste; this phase needed to be completed in the shortest time possible, preferably one day. Second, we needed a stable and reliable system. We had to ensure that production equipment could run with high stability over long periods with a low failure rate. Relying on the team's many years of application experience, we unanimously determined that the Beckhoff platform was the best choice. Beckhoff, as a global leader in PC-based control technology, possesses decades of experience to ensure both product performance and stability. In addition to the good reputation in the industry, Beckhoff technology has also exceeded expectations during our years of verification."
Credit(s)
Further reading:
SCiBOTRON's quality culture the key to success
May 2020 , System Integration & Control Systems Design
The company was founded on lean principles and quickly grew into a QSE (Qualifying Small Enterprise). Ricardo Paddy, managing director and founding member, attributes one of the reasons for the company's 
...
Read more...
---
Machine learning optimizes real-time inspection of instant noodle packaging
April 2021, Beckhoff Automation , IT in Manufacturing
The basis for an inspection of products is classifiers, the use of which enables flawless products to be distinguished from faulty ones.
Read more...
---
UPS series with One Cable Technology
April 2021, Beckhoff Automation , Electrical Power & Protection
Beckhoff's new CU81xx UPS series is designed for universal use. Due above all to the flexible connection options extending up to One Cable Technology for uninterruptible power supply (UPS-OCT), the series 
...
Read more...
---
Smart traffic management for Syntell
April 2021 , System Integration & Control Systems Design
Syntell is a leading South African technology company. One of its key projects is the running and management of one third of Johannesburg's traffic lights. Syntell's system is a full traffic management 
...
Read more...
---
PCS Global implements 5-phase control system upgrade at Kiara Health
May 2021, PCS Global , System Integration & Control Systems Design
Kiara Health is the first African company equipped with a fully-scaled server deployment in the AWS Cloud, as well as the first South African company to implement the AVEVA Flex Model.
Read more...
---
Complete Beckhoff system for power supply, protection and energy monitoring
April 2021, Beckhoff Automation , Electrical Power & Protection
Transparent energy data solutions increase machine efficiency and open up optimisation potential.
Read more...
---
Automation with PC-based control at UOW Malaysia KDU University
March 2021, Beckhoff Automation , PLCs, DCSs & Controllers
Eight embedded PCs and 3000 EtherCAT I/Os ensure maximum building efficiency across university campus.
Read more...
---
Managing thermal functions with heat exchangers
February 2021, Danfoss , System Integration & Control Systems Design
The various heat exchanger options typically have different operating requirements, as well as preferable refrigerants per application.
Read more...
---
40 years of innovation
January 2021, Beckhoff Automation , News
Founded 40 years ago, Beckhoff Automation's anaging director and founder, Hans Beckhoff, talks about the company's many achievements.
Read more...
---
Integrated displacement measurement reduces complexity
May 2021, Beckhoff Automation , Sensors & Transducers
The EL5072 EtherCAT Terminal from Beckhoff enables direct connection of up to two inductive displacement sensors.
Read more...
---