printer friendly version
Managing operational efficiency in food retail
April 2020
Motion Control & Drives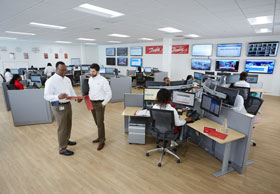 If you work in facilities or energy management for a food retailer, change is something you handle every day. When the way we live, work, or shop changes, new food retail technology is close behind.
Right now, all those things are changing like never before. Megatrends like electrification, digital communications and the fight against climate change are creating both opportunities and challenges for the food sector, worldwide.
Danfoss sees this first-hand because it works with hundreds of food retail chains in over 60 countries. The company has identified five big, overlapping changes that are combining to shape today's supermarkets and five key ways to respond:
1. Pressure on operating margins makes cost savings essential: the average profit margin for a large food retailer currently stands at just 1,7%. In practice, this means that supermarket teams need creative ways to cut operating costs.
2. Increasing food safety and reducing food loss are more important than ever: according to the UN Food and Agriculture Organization, food wastage accounts for 3,3 Gigatons of greenhouse gas emissions. Avoiding food loss has always been essential to limit costs, now it is part of sustainability too.
3. Climate change regulation makes refrigerant choice critical: choosing an alternative with low global warming potential has growing advantages. The right refrigerant brings advantages in cost, regulation, availability, environmental impact, and sometimes tax.
4. Utilising waste heat as a resource: urban neighbourhoods will need new ways of meeting energy challenges. In some Nordic countries, retail stores divert around 30% of their excess capacity into heating homes in the surrounding area. This is a potential source of revenue.
5. Electrification is a challenge, but also an opportunity: as well as infrastructure, retailers need to find ways to prevent expensive short-term spikes in energy use. Those who can find flexibility in their energy demand may be able to cut costs.
Overlapping challenges that demand a coordinated response
These five trends influence each other. For example, the opportunity to reduce energy tariffs by optimising electricity demand is all the more compelling because of the need to find cost savings wherever possible.
In the same way, the changing food retail energy landscape needs a coordinated approach. According to Danfoss, there are five technical strategies which, when combined, will help supermarkets to stay ahead of and in some cases benefit from, society's emerging demands.
1. Use smart refrigeration case control to reduce operating costs: too much cooling and you waste energy, too little and you risk food loss. An adaptive case controller, like the Danfoss ADAP-KOOL series, can balance refrigeration performance to the load. These advanced controllers connect to the Internet and the compressor pack controller via a system manager.
2. Connect to the Internet to eliminate food waste and cut service costs: connecting your refrigeration system to the cloud offers a host of possibilities to save money and improve food safety.
3. Treat refrigerant selection as a long-term decision: the refrigerant you choose has a significant impact on costs for the life of a store.
4. Integrate each store's systems to gain economies of scale: many retailers pay to run a heating and hot water system, while a separate refrigeration system releases heat into the atmosphere. Treating these facilities as an integrated solution can reduce a store's carbon footprint, while reducing installation and operating costs. When integrated, a store's refrigeration system can supply heat too, reducing the need for a boiler. Danfoss's purpose-built Heat Recovery Unit helps to eliminate the technical challenge.
5. Reduce energy prices by optimising demand: the fastest cost reductions are often found in managing demand patterns. Utilities companies are increasingly seeking help to match energy production to demand, discounting off-peak energy or seeking a temporary reduction in power use to manage short-term demand response events. There are several ways to achieve this, for example by using a battery bank, changing maintenance schedules, or storing energy thermally. This could include pre-cooling freezers or using an ice-making unit to load up with excess renewable energy.
It's happening right now
Between them, these five approaches can help retailers to cut costs, minimise environmental impact and find a competitive advantage, while preserving food safety.
They're best used in combination; for example, heat recovery is much easier with a CO2 system and smart case controllers maximise the benefit of monitoring online.
Danfoss calls this integrated approach Smart Store. Food retailers around the world are already using it to improve efficiency, find new opportunities and meet the sector's current challenges head on.
For more information contact Danfoss, +27 11 785 7600, ccs-za@danfoss.com, www.danfoss.co.za
Credit(s)
Further reading:
BMG's new generation of IE5+ motors
June 2020, Bearing Man Group t/a BMG , Motion Control & Drives
In 1916, BMG and German precision engineers, Getriebebau Nord, entered into a partnership agreement to assemble, distribute and support Nord Drivesystems throughout southern Africa. BMG has made 
...
Read more...
---
Rockwell Automation upgrade for Ghana Water
June 2020, Rockwell Automation , Motion Control & Drives
Over the last five years, Rockwell Automation has been working with Intermerc Ghana in supplying medium-voltage motor control and automation technologies to some of its recent pump upgrade and rehabilitation 
...
Read more...
---
Water and wastewater challenges addressed
June 2020, Danfoss , Motion Control & Drives
As the world population rises and people pursue higher standards of living, more water is needed in homes and for the production of food and other products. By 2050, the United Nations projects global 
...
Read more...
---
Incledon launches latest Tekflo couplings
June 2020 , Motion Control & Drives
Incledon, a leading provider of quality fluid conveyance products and solutions, recently launched a new range of universal couplings, adding to its current range of Tekflo-branded products based on quality, 
...
Read more...
---
Tools keep HVACR professionals on the cutting edge
June 2020, Danfoss , IT in Manufacturing
Danfoss has announced that Refrigerant Slider, its popular P/T calculation app that has over 2 million downloads, will transform into Ref Tools, an essential, all-in-one mobile app for air conditioning 
...
Read more...
---
BMG drive solutions for water applications
June 2020, Bearing Man Group t/a BMG , Motion Control & Drives
BMG's solutions for the water, wastewater and sewage sectors encompass the supply of quality branded drive systems, enhanced by the BMG team's technical expertise and installation, condition monitoring, 
...
Read more...
---
BI champions Berntel pneumatic and hydraulic solutions
June 2020 , Motion Control & Drives
Hudaco Group company Berntel is expanding its footprint by offering its extensive range of pneumatic products through the Bearings International (BI) branch network. This, in turn, expands BI's value 
...
Read more...
---
Remote commissioning helps African sugar mills
June 2020 , Motion Control & Drives
Three 1,2 MW ACS880 mill drives and one 355 kW regenerative batch centrifugal drive have been remotely hot commissioned at Illovo Sugar Africa's biggest southern African mills at Nakambala in Zambia and 
...
Read more...
---
Transmission solutions for sugar mills
June 2020, SEW-Eurodrive , Motion Control & Drives
SEW-Eurodrive offers a range of transmission solutions to assist sugar mills cut their costs. The main opportunity in this market segment is not only upgrading old and outdated systems, but the value 
...
Read more...
---
AGVs for automated production
June 2020, SICK Automation Southern Africa , Motion Control & Drives
Automated and flexible production processes are the answer to increasing quantities, smaller batch sizes, and high production speeds. Automated guided vehicle (AGVs) systems and their smaller relatives, 
...
Read more...
---