printer friendly version
Plascon Mobeni batch implementation
March 2011
IT in Manufacturing

Background
Plascon was one of the first South African companies to implement InBatch (Wonderware's batch management solution) in 1995/6 but since then, many things had changed at the Mobeni plant with the result that the existing batching system model could no longer cope with the plant's evolution.
To complicate matters, the Mobeni plant manufactures a wide range of products from premium decorative paint to road marking paint. For this reason, the plant is specifically designed to be flexible and to cope with challenging production schedules.
The existing batch control at the General Paints plant was achieved through a batching model running on an InBatch server. An InBatch development client was available to the plant chemist for creating recipes. A standalone InTouch application served as the scada system for the plant as well as a batch client to InBatch. This also served as the InTouch development client.
Why upgrade?
The current infrastructure and system could not meet Plascon's business objective which was to produce products of the highest quality, while coping with challenging production schedules in an increasingly competitive market. At the same time, any new solution would also have to maintain production efficiencies and effectively manage resources.
One of the main reasons why things had to change was that the InBatch model had not been kept up to date with the plant changes that had occurred since commissioning in 1995. This led to some batches having to be run manually resulting in poor production efficiency and traceability. Production scheduling also became more difficult as plant equipment availability and usage needed to be planned manually. These were all challenges to Plascon's commitment to sustained product quality and prompted the need for change.
Apart from these issues, Plascon had also developed new production methodologies that would help the plant achieve its business objectives and that needed to be implemented. At the same time, it was decided that ISA-88 batch standards and tag-naming conventions would be adopted. All these changes meant that the old InBatch model would have to be replaced with a newly-designed batching model and that the standalone InTouch HMI/Scada system would have to follow suit as it was replaced with a complete System Platform (Application Server) implementation.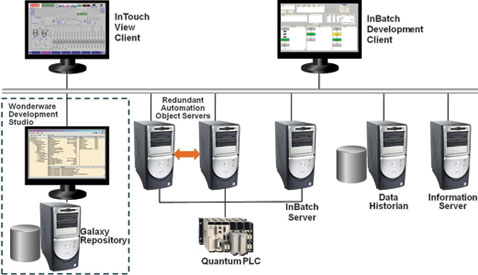 Figure 1. Topology of Plascon Mobeni's General Paints Plant
Operational requirements
While the new implementation would have to address numerous issues and problems, it would also have to provide a clear, simple and reliable operator interface:
* Batch recipes would have to be clearly defined and created so that batches could be run with minimal dependence on operators.
* Batch statuses and interlocks would have to be clearly displayed on the scada system when operator intervention was required.
* A reliable semi-automatic mode of batching would have to be made available in case the InBatch server ever went off line, either through planned maintenance or an unforeseen occurrence.
Solution selection
Plascon selected system integrator Convenient Software Solutions (CSS) because of their excellent track record in chemical process control and expertise in batching implementations. They are Wonderware approved and ArchestrA certified system integrators who are fully trained across a host of Wonderware products.
"Wonderware solutions were selected for the batch implementation project because of the diverse range of products available and the ease with which they can be integrated," says Zaine Domingo, national automation project engineer at Plascon. "The standards created using the Wonderware Application Server mean that the different plants on site can be amalgamated into a single Galaxy with huge savings in engineering cost and time."
For batch control, InBatch was retained since it has been in use at Plascon for many years and not just at the Mobeni site. "InBatch has proved itself to be reliable and extremely stable," says Gus Krüger of CSS. "It has highly configurable plant modelling capabilities, which makes it possible to model the plant according to its logical production units, while allowing for the physical and production constraints that are imposed on the plant. This is exactly what was required by a plant needing to draw maximum utilisation of its production facility. For the operator interface, Wonderware InTouch 10 was used in conjunction with System Platform 3."
This choice of solutions would also allow for flexible expansion – a vital attribute as this project was not only seen as a stand-alone implementation, but also as the first phase of many. The entire Mobeni site will eventually be integrated into a central architecture, the standards for which would be created during this project.
To summarise, the selected Wonderware solutions included: InBatch Server and Development Client, Information Server, Historian, System Platform (based on ArchestrA technology) and an InTouch View Client.

Implementation
Implementation was started in January 2008 and finished in November of the same year. "Due to the solution and production requirements, the scope of work on this project included a complete PLC and InBatch reengineering," says Krüger.
The production methodologies of the general paints plant were built into the InBatch model. This was done by explicitly placing limitations on which finishing tanks can be used for the batching of any one particular raw material. "The physical layout of the plant makes it possible for raw materials to be transferred to many different tanks," says Krüger. "However, with the InBatch model, it is now possible to have particular finishing tanks dedicated to particular types of products. InBatch now arbitrates the usages of finishing tanks and this eliminates the possibility of product contamination and helps improve quality control."
One InTouch view station is provided that functions as a scada system for the plant as well as a client for batch control through the InBatch server. Storage tank levels are displayed for daily stock-taking purposes and batching statuses are indicated by means of interlock displays.
The tag naming conventions were based on ISA standards and the first phase of the project was the development of these standards. Thereafter they were rolled out to the Application Server Galaxy in the form of object and graphic templates. All automation objects in the plant model were derived from these standards.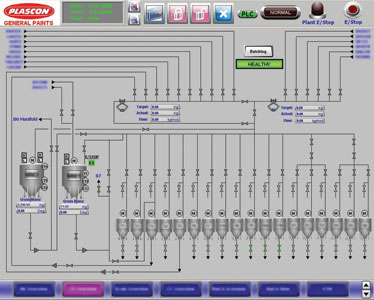 Figure 2. InTouch view of the plant
Two automation object servers (AOSs) were installed. A fail-over partnership was configured between the AOSs, as well as a store-and-forward capability should connection to the plant Historian be lost or the Historian server ever be taken down for maintenance.
The development of the InBatch plant model was based on ISA-88 standards. This was done in accordance with a batching philosophy that was clearly defined at the outset of the project. The InBatch recipes control the selection of material storage units for each batching phase, as well as the amount of material to be batched. Recipe editing and additions are done by the plant chemist using an InBatch client.
Customised reports from Crystal Reporting can be incorporated into any of InBatch's extensive range of pre-defined reports and published to the Wonderware Information Server for access by personnel who can make best use of the information they contain.
"The system has three outstanding features," says Domingo. "The first is the enforcement of standards by the Application Server which considerably reduces engineering time in the long run. The second is that InBatch has a highly configurable plant modelling capability. No matter how unique a plant or how specialised a batching operation, an operationally accurate plant model can be created. This ensures that plant resources, both equipment and materials, will be managed reliably during batching phases. Lastly, the comprehensive reporting facilities provided by InBatch ensure that the right information is available to the people who need it."
Plant shutdowns were scheduled in order to do I/O testing. The commissioning itself was a hot swap with the new PLC, the new scada system and the new InBatch model going live immediately. "By clearly defining and adhering to standards, any additions or modifications to automation objects in the plant model was a simple and painless process," adds Domingo. "Following Wonderware recommended best practices in the development stages resulted in seamless upgrades to new patch versions for Application Server and InTouch."
Benefits
* High quality product – this is now par for the course. The reliable batching system has minimised the negative effects that the unpredictable human factor can have on quality.
* Optimised recipes – with a reliable batch server, recipes can now be optimised to work to the strengths of the plant and increase production and cost efficiencies.
* Scalability and flexibility – the ground work (eg, standards, naming conventions, etc) has been done for the integration of the various sections of the plant into one cohesive system.
Conclusion
This implementation is an excellent example of successful upgradeability while protecting existing investments. Increasingly, manufacturers are looking to unify their production and business information assets for improved control and decision support at all levels of their organisations. That is why industrial software technology that builds a solid application foundation and helps integrate solutions and enforce standards, is today at the top of many shopping lists.
For more information contact Deon van Aardt, Wonderware Southern Africa, 0861 WONDER, deon@wonderware.co.za, www.wonderware.co.za
Credit(s)
Further reading:
Digital twin allows process simulations
December 2019, Siemens Digital Industries , IT in Manufacturing
The high-tech company Grenzebach's portfolio includes the simulation of material flow in complex plants in the glass industry, which it achieves using Siemens simulation solutions. Together, the two companies 
...
Read more...
---
Game-changing digital solutions for mines
December 2019, SKF South Africa , IT in Manufacturing
With digitalisation creeping into the mining industry and transforming day-to-day operations, this sector is enhancing its Industry 4.0 operation and process compliancy. As a preferred supplier of premium 
...
Read more...
---
Protect critical infrastructure and manufacturing plants
December 2019 , IT in Manufacturing
As manufacturers around the world analyse and embrace the importance of being more connected to the IIoT, cybersecurity experts caution that the benefits of being interconnected come with a warning, and 
...
Read more...
---
Extending analytics to EAM and operations users
December 2019 , IT in Manufacturing
Today's manufacturing operations and maintenance teams generate vast amounts of data in all forms.
Read more...
---
AI in manufacturing – revolutionary opportunity or well-trodden path?
December 2019, Absolute Perspectives , IT in Manufacturing
Artificial Intelligence (AI) has become a catchphrase used by marketers that attributes the characteristics of human intelligence to a computer system.
Read more...
---
Blockchain technology in the food and beverage industry
December 2019, Schneider Electric South Africa , IT in Manufacturing
Advances in blockchain technology could enable the food and beverage industry (F&B) to enhance traceability. In the US alone, food recalls and food-borne illnesses cost some $77 billion per annum, including 
...
Read more...
---
Navigate the fourth industrial revolution with PricewaterhouseCoopers
November 2019 , IT in Manufacturing
Using the building blocks of 4IR to transform business processes into manufacturing advantages requires a holistic approach.
Read more...
---
Artificial intelligence in manufacturing – a practical and simplified view
November 2019, Altron Bytes Systems Integration , IT in Manufacturing
Looking at and interpreting data generated during the manufacturing process to find ways to reduce waste, improve quality and increase yield is not new. However, the increased use of digital technologies 
...
Read more...
---
Intelligent data glasses support production
November 2019, Siemens Digital Industries , IT in Manufacturing
Augmented Reality (AR) has arrived in the workplace: for the last three years, a consortium of six companies and institutions chaired by Siemens has been researching the use of augmented reality (AR) 
...
Read more...
---
Siemens launches report on Dawn of Digitalisation and its Impact on Africa
October 2019, Siemens Digital Industries , IT in Manufacturing
Africa needs a digitalisation strategy to compete in the global economy.
Read more...
---