printer friendly version
Manufacturing integration, execution and intelligence: Part 6 - How to implement MES and EMI. What you need to know but are afraid to ask
October 2010
IT in Manufacturing

So far, we have seen what MES and EMI entail and why they are highly effective and desirable technologies. All that is left is to see how they should best be implemented to meet end-user expectations, minimise risk and deliver the best value.
Introduction
Purchasing an MES has more or less the same impact on the company as buying an ERP system. This is anything but a trivial exercise that is going to need some thorough groundwork if it is to deliver the anticipated value. This is because MES reaches virtually all parts of the business and is part of an executable and active production process.
EMI, on the other hand, may have a broader reach with respect to information sources, but is passive in nature and is not in a position to execute actions.
When it comes to the purchase of high-end software technologies, it is safe to say that most mining and manufacturing companies have been round the block a few times with the result that caution is the name of the game – and rightly so. MES is large and complex and many companies are not sure of what they should and should not implement. This is completely understandable because sales literature is riddled with what can be done rather than what should be done. One cannot simply go out and buy an MES. What eventually gets bought is the result of drawing up a list of needs which are then transferred to a comprehensive document called a user requirement specification (URS). So, the MES system you eventually get is an integrated subset of functions that directly address your needs for that part of the plant or the entire plant.
In our experience, there are three reasons why companies are moving to MES:
* Technology replacement - We have previously seen the extensive list of benefits that MES brings and many companies already know about them because they have had systems for a number of years. These companies are looking to replace legacy technology (eg, Unix operating system) of a decade or more with today's open-ended and standards-based solutions.
* Addressing recognised needs – Through market education, there are many companies who are fully aware of the benefits of MES and have already done their homework on the value they will derive from it. What they need, is someone to guide them through a detailed specification, selection and implementation process.
* Curiosity – The remainder of companies see their competitors adopting MES at an accelerating rate and show a keen interest on knowing more about how they could benefit from adopting MES for themselves.
Implementing MES and EMI
What follows focuses almost exclusively on the implementation of MES since this is the technology that is more demanding but a great deal of what is listed here applies equally well to EMI.
Today, specifying, selecting and implementing MES is a process that is well-understood by industry professionals and short-circuiting this process is not recommended. This is what is involved:
URS definition
As has already been said, the nature of MES precludes jumping in feet first. Many customers may have already drawn up detailed specifications for an MES project but this may not be good enough. For example: 'Reduce inventory by 20%' is an objective rather than a specification. The URS must specify how this inventory will be reduced and what MES and other resources will have to be used to achieve this goal.
But objectives are all important, in fact, nothing much can happen without them. That is why at the very beginning of any MES project, top management is involved and asked to develop a set of project objectives against which the success of the project will be measured after implementation. The URS is a list of requirements necessary to achieve these objectives. Production, plant and maintenance personnel are also asked to add their requirements to the list. These requirements will, in turn, result in a list of what has to be done (processes) and performance measurement criteria (eg, time constraints).
Some MES functions are performed elsewhere and it is important to specify at an early stage if these functions are to remain where they are or moved to the MES. For example, inventory and maintenance management may currently be handled by the ERP system. What advantage would there be (if any) to moving either or both to the MES?
Only after the URS has been drawn up can a rough costing and benefits analysis be done.
Use of standards
How to draw up a specification for an MES project has already been done and included as part of the ISA-95 standard which, together with B2MML (Business To Manufacturing Markup Language is an XML implementation of the ANSI/ISA-95 family of standards) is also used for communication between different structures and systems. Following this standard brings clarity to both the customer and the solution supplier and ensures that everyone is on the same page and using defined terminology. With MES, one size does not fit all and the generic ISA-95 models for production, maintenance, quality and inventory are used as reference for the specific functionality and activities that will be required for each different project that is unique to each useer and their existing ERP/automation systems.
Functional Requirement Specification (FRS)
Once the URS has been finalised, the FRS is drawn up which incorporates the day-to-day rules that business users apply to manage their production processes. Also included in the FRS is the equipment and processes that need to be managed by the system. Finally, a list of all the necessary reports and their contents is drawn up. This is a very important step because at the end of the project, the deliverables are a set of reports and a set of rules on how to run production processes on the existing equipment. These rules mean that, in future, processes will be repeatable and not subject to operator interpretation.
Project execution
This is best done using the Good Automated Manufacturing Practice (GAMP) standard for the best execution of a project given its requirements. MES projects require the knowledge of how to implement ERP as well as automation projects. The merging of these two implementation styles into a single methodology has proved important to a successful outcome.
Change management
Both MES and especially EMI throw a new light on things and make the company's activities more visible. MES impacts production and associated processes as well as business processes which means a change in both cultures so that they better acknow­ledge and understand each other's needs. So change management which acknowledges the past but points the way to a brighter if different future is high on the agenda if the collaboration of personnel (and management) is to be secured.
Imposing change, seemingly without reason or explanation is almost always a recipe for disaster. Once all stakeholders are informed of the logical reason for the change and start to realise that it will improve their jobs, they begin to see it as exciting rather than threatening and full cooperation is almost always assured.
Project governance
This consists of a contract defining the deliverables and project costs all to be delivered within a project charter according to (in our case) EOH's PRINCE II methodology (right first time).
Risk management
To mitigate risk, there is no 'big bang' approach to successful MES implementations. These typically consist of a subset of the total available functionality as applicable to a designated portion of the plant and addressing specific issues within the scope of production, quality, maintenance, inventory and energy management. This 'thin slice' implementation provides the customer with the confidence that the proposed solution will meet the anticipated value and further clarifies functionality for the solution provider.
Figure 1 shows three types of approaches to projects. Project 'Big Bang', (bottom of the chart), took so long in its implementation that scrapping it is the nearest its owner will get to a decent ROI.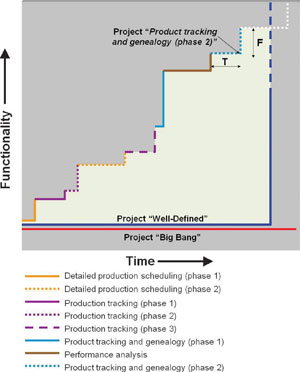 Figure 1. The difference between a 'big bang' and an incremental approach to MES implementation
Project 'Well-Defined' took a significant time to develop and yielded proportionately significant results. However, much of its functionality was lost because it was developed to conform to criteria that have subsequently changed. So there is likely to be yet another lengthy and costly development cycle for project 'Well-Defined'. Perseverance and money alone will eventually get it there. Staying there is another matter.
Project 'Product tracking and genealogy (phase 2)', on the other hand, along with its companions, took very little time to define and complete, yielding proportional functionality and ROI. It involved little risk, could be redefined and redone without raising corporate mayhem and was exactly what the enterprise needed at that time.
What happens afterwards?
Personnel training and professional support are key for successful implementation. This is especially true of MES and EMI because new doors have been opened. Personnel need to be in control of the new tools at their disposal and also aware of all the possible ways they can be used.
Solutions are only as effective as their degree of acceptance and simply installing systems like MES and EMI will not result in automatic improvements. Practices must be present in the business (eg, TQM) that will assist personnel to get the best value from these solutions.
The purpose of support is to enable customers to get the most from their application investment. It is not a profit centre. So, on the support side, there are several key points to bear in mind and they all have to do with providing fair value exchange and reducing support costs while increasing customer independence and satisfaction:
* Understanding support levels – What the solution supplier has to do is to evaluate incidents and problems and to ensure that the right skills level is available to resolve the issue. You do not need an expert on your premises all the time.
* Fractional billing – While support is always full-time, effort rarely is and billing needs to reflect that reality and customers charged for real effort rather than on a 'bucket of hours' basis.
* On-site or off-site support? – In reality, both are needed. Off-site support provides the necessary infrastructure and escalation facilities while on-site support ensures continued understanding of the customer's needs.
* Predictable billing – Fixed support costs make for predictable budgeting and eliminate nasty surprises. To maintain fair value exchange, effort and billing should be under constant review.
* Support optimization – Growth in end-user skill levels should result in less need for support. So, while end-user satisfaction increases, support cost decrease.
* Understanding the future of technology – Customers look for application investment longevity and it is up to the solution supplier to reduce the risks of upgrades and migrations while helping the company capitalise on technological advances.
Conclusion
Getting the most from any of today's sophisticated applications requires a great deal of effort from solution developers, system integrators and end-users. But the rewards are well worth it. No more dead-end 'solutions' that would cripple the economy of a small country and proprietary software that locks you in to somebody's idea of ideal (theirs).
We hope you have enjoyed this series of articles which has tried to shed light on two of the most important solution areas that your company will ever need. No enterprise can exist without measurement, control and information. MES and EMI give you all three while DPM will help you get the most from these exciting technologies.
For more information contact Ugan Maistry, EOH Mining and Manufacturing, +27 (0)11 607 8142, ugan.maistry@eoh.co.za, www.eoh.co.za
Further reading:
Navigate the fourth industrial revolution with PricewaterhouseCoopers
November 2019 , IT in Manufacturing
Using the building blocks of 4IR to transform business processes into manufacturing advantages requires a holistic approach.
Read more...
---
Artificial intelligence in manufacturing – a practical and simplified view
November 2019, Altron Bytes Systems Integration , IT in Manufacturing
Looking at and interpreting data generated during the manufacturing process to find ways to reduce waste, improve quality and increase yield is not new. However, the increased use of digital technologies 
...
Read more...
---
Intelligent data glasses support production
November 2019, Siemens Digital Industries , IT in Manufacturing
Augmented Reality (AR) has arrived in the workplace: for the last three years, a consortium of six companies and institutions chaired by Siemens has been researching the use of augmented reality (AR) 
...
Read more...
---
Siemens launches report on Dawn of Digitalisation and its Impact on Africa
October 2019, Siemens Digital Industries , IT in Manufacturing
Africa needs a digitalisation strategy to compete in the global economy.
Read more...
---
Integrating IT with Operations Technology - a CIO perspective
October 2019, Absolute Perspectives , IT in Manufacturing
Digitisation projects, spurred on by Industry 4.0 and technological advances, have opened up many possibilities to create new value.
Read more...
---
Real-time data increases metal recovery at Peñasquito mine
November 2019 , IT in Manufacturing
At a recent OSIsoft User Conference in California, ARC Advisory Group had an opportunity to learn about a related project at Newmont Goldcorp's flagship Peñasquito gold, silver, zinc, and lead mine in 
...
Read more...
---
The power of data
October 2019, Throughput Technologies , IT in Manufacturing
Gain access to important information with ProSoft's new OPC UA-based gateway and data logger.
Read more...
---
Securing and managing devices the modern way
October 2019 , IT in Manufacturing
Organisations of all types and sizes are bringing vast numbers of devices into their IT infrastructure and networks. Moreover, these devices are not only smartphones, wearables and tablets because the 
...
Read more...
---
Reliable gas production
September 2019, Siemens Digital Industries , IT in Manufacturing
Energy supplier uses Siemens technology for optimum information exchange.
Read more...
---
Automotive supplier relies on Siemens PLM solution
September 2019, Siemens Digital Industries , IT in Manufacturing
Küster Automotive is an internationally active family-run company and a part of Küster Holding. A full-service supplier, Küster manufactures components for the automotive industry. For its production 
...
Read more...
---