printer friendly version
Process to instrument valves
November 2019
Valves, Actuators & Pump Control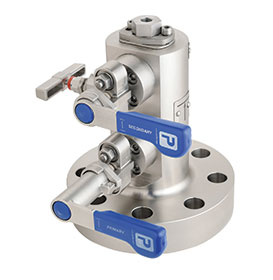 A diverse range of process to instrument valves and connections aimed at eliminating potential leak paths for the oil and gas industry was highlighted at ADIPEC by the Instrumentation Products division of Parker Hannifin.
The company showed the latest additions to its extensive monoflange and Pro-Bloc ranges of block and bleed valves, including versions that comply with the Class A ultra-low-emission requirements of the international ISO 15848 standard, together with a new range of flushing ring integrated into existing double block and bleed technology – that eliminate the need for individual components such as standalone flushing rings and ball valves.
Parker's monoflange and Pro-Bloc valves are designed to couple instrumentation to the process lines as closely as possible, and to eliminate any use of threaded components. By combining all necessary primary and secondary valves on a single one-piece body, which mounts directly onto a process flange without use of additional fittings, both series of products reduce the number of potential leak paths substantially. They also help cut installation time and cost. A wide choice of standard flow and valve configurations – including single block and bleed, and double block and bleed – provides a flexible interconnection scheme, enabling plant engineers to match requirements easily.
Installation of remote instruments usually involves use of conventional tubes and fittings, implying that NPT taper threads, together with PTFE tape or anaerobic sealant, will feature at some point along the path. Since these types of connections can compromise system integrity and cause contamination problems, Parker offers solutions for eliminating them whenever possible. This design goal can be achieved on both Parker monoflange and Pro-Bloc valves, where instrument outlet connections can incorporate single or two-ferrule compression type tube fittings.
Parker goes to considerable lengths to ensure the material used for its process to instrument valves is of the highest quality. Raw material is sourced from mills with fully traceable records for quality audit purposes. Furthermore, each flange is forged from a single piece of grain flow-controlled steel. As standard, they can be fabricated from A105 carbon steel, AF350 LF2 low temperature carbon steel, A182-F316 stainless steel and A182-F51 duplex stainless steel. Optional corrosion resistant materials include super duplex, Monel, Hastelloy, 6Mo and Incoloy 625, subject to the physical layout constraints of the installation.
New actuator design
The new series of solenoid valves for actuator control was also on display. These allow device operation down to -40°C ambient temperature.
The X Series unique design advantage is based on coil modularity: coils can in fact be removed from the pressure vessels. Such option offers a strong advantage when replacing a valve or a coil is required. In case of failures, it minimises cost of parts to be replaced (only pressure vessel or coils requiring service would be replaced). For maintenance purposes, since different pressure vessels could share the same coil, entire operation sites could be maintained with just a few spares.
Such advantages also provide improvement in reactiveness and service to customers. By achieving the low temperature and material traceability features, in addition to the ease of configuration given by modularity (coils can be dismounted for any purpose including installation, maintenance, cabling), the X Series provides a flexible, reliable and easy to use product solution for valve actuation in the oil and gas industry.
For more information contact Lisa de Beer, Parker Hannifin SA, +27 11 961 0700, lisa.debeer@parker.com, www.parker.com/za
Credit(s)
Further reading:
ARCA: masters of innovation and variety in control valve solutions
January 2020, Valve & Automation , Valves, Actuators & Pump Control
Dating back to 1918, ARCA Regler has earned global recognition for specialising in control valves, manufactured and marketed around the world primarily for the chemical, food, power, petrochemical, steel, pharmaceutical and oil and natural gas industries.
Read more...
---
Electromechanical motion products for the machines of today
January 2020, Parker Hannifin Sales Company South , System Integration & Control Systems Design
Engineers from the older generation will remember the days when machine design had to be based around catalogued electromechanical actuators.
Read more...
---
Control valves with positioner suitable for gas and burner installations
January 2020, Macsteel Fluid Control , Valves, Actuators & Pump Control
Sliding gate valves are true all-rounders in the valve technology field and can be used for high-precision control purposes in the fields of natural gas applications, combustion and firing installations, 
...
Read more...
---
Schubert & Salzer controls paper grammage precisely
October 2019, Macsteel Fluid Control , Valves, Actuators & Pump Control
The Grünewald paper company, headquartered in Austria, recently modernised its process control to improve profitability. Thanks to a new control system and a grammage-weight control valve, the company's 
...
Read more...
---
Valve technology for tyre presses
September 2019, Macsteel Fluid Control , Valves, Actuators & Pump Control
Production plants for tyres place extremely high demands on valves. Tyre curing presses work at high pressures of steam, water, and nitrogen, as well as at high temperatures. In addition, the very short 
...
Read more...
---
Stafsjö valves protect installations
September 2019, Valve & Automation , Valves, Actuators & Pump Control
When it comes to industrial fire protection systems, reliability is essential. The system, which is often on constant standby for long periods, should be able to respond immediately and extinguish possible 
...
Read more...
---
Parker enhances H Series ISO valve portfolio
September 2019, Parker Hannifin Sales Company South , Pneumatics & Hydraulics
Parker Hannifin has added an expanded range of features and capabilities to its H Series ISO valve platform as part of its global focus on factory automation. Designed with a new universal manifold, the 
...
Read more...
---
Innovation embedded in Metso's DNA
August 2019, Metso South Africa , Valves, Actuators & Pump Control
Apart from the role in technology development, digitalisation is one of Metso's key enablers to serve its customers better.
Read more...
---
How the latest pneumatics can reduce plant costs
August 2019, Parker Hannifin Sales Company South , Pneumatics & Hydraulics
The implementation of predictive maintenance has become a high-held ambition for many modern plants, a strategy that avoids the costs of both reactive and scheduled preventative maintenance by only deploying maintenance routines exactly when needed; namely, shortly before a pneumatic component is predicted to fail.
Read more...
---
Valves for molten sulphur or sulphur tail gas applications
August 2019, Valve & Automation , Valves, Actuators & Pump Control
Design engineers at Zwick have solved the ongoing problems experienced with valves on sulphur units. Typical valve problems on large bore line sizes range from seizing of the packing to severe seat damage 
...
Read more...
---