printer friendly version
MiX Telematics supplies fleet management solution
Technews Industry Guide: Industrial Internet of Things & Industry 4.0
IT in Manufacturing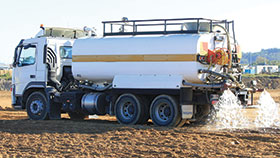 MiX Telematics, a leading global provider of fleet and mobile asset management solutions, has announced that its channel partner in East Africa, A&S Electronics, has been awarded a tender to supply a water services provider in Uganda with a comprehensive fleet management solution.
This customer operates an extensive fleet to fulfil its mandate of providing water for use in agriculture, rural industries and tourism, among others. It also coordinates the national development of water resources and provides effective planning and management for the water and sanitation sectors.
"The data provided by our telematics solution enables this service provider to optimise the utilisation of its fleet, manage drivers, reduce costs, and increase productivity," says Gert Pretorius, managing director of MiX Telematics Africa. "The benefits derived from effective mobile asset management are tangible, and provide improvements which are sustainable.
"Our premium fleet solution provides real-time insight, allowing the fleet manager to make informed decisions with the aim of improving productivity and reducing operational expenses. This online platform processes data from multiple assets, creating customisable reports, graphs and dashboards that provide actionable intelligence."
Given today's demands, fleet management is essential for utility companies that undertake the critical task of delivering natural resources to consumers. MiX Telematics partners with various companies in the service and utility industry around the world in order to help them adhere to ever-changing government and customer compliance demands.
For more information contact Melanie Esterhuizen, MiX Telematics Africa, +27 21 880 5601, melanie.esterhuizen@mixtelematics.com, www.mixtelematics.com
Further reading:
Get full value from factory floor data with data sciences
October 2021, Omron Electronics , IT in Manufacturing
Valuable information needs to be extracted from the data and presented to the right audience, at the right time and in the right way.
Read more...
---
Collaboration in the automation ecosystem
October 2021, EPLAN Software & Services , IT in Manufacturing
Data created in the engineering process must be shared with everyone involved in the process.
Read more...
---
Siemens' software for digital transformation of automotive design
September 2021, Siemens Digital Industries , IT in Manufacturing
Model-based development process and systems are used in Japan and globally to adapt to the biggest automotive transformation in 100 years.
Read more...
---
Is track and trace through the factory a waste of time?
September 2021, Iritron , IT in Manufacturing
Modern track and trace solutions are purpose-built to introduce as little disruption to the existing production process as possible, while also being flexible enough to cater for plants that range from fully manual to fully automated.
Read more...
---
Modularity for scalability
September 2021, RJ Connect , IT in Manufacturing
Businesses are looking for versatile solutions that are easy to maintain to ensure smooth operations while keeping costs down.
Read more...
---
Saryx launches TMP
September 2021, Saryx Engineering Group , IT in Manufacturing
The digital transformation that has swept the world in the past few years has fundamentally altered most people's approach to technology, with an increasing number seeking the ability to manage their 
...
Read more...
---
Secure boundaries enhance industrial cybersecurity
September 2021, RJ Connect , IT in Manufacturing
When enhancing cybersecurity, it is important to understand how industrial systems are exchanging data and how they connect to IT-level systems.
Read more...
---
Siemens drives digital transformation at virtual Smart Mining forum
September 2021, Siemens Digital Industries , IT in Manufacturing
With its motto: 'On the road to the digital future', Siemens hosted its virtual Smart Mining forum from 3-5 August.
Read more...
---
Deep-learning AI made accessible
September 2021, SICK Automation Southern Africa , IT in Manufacturing
SICK Automation has launched a set of deep-learning software and services called dStudio, making artificial intelligence (AI) more accessible to the southern African market. This software works with machine 
...
Read more...
---
How safe are our factories? Part 1: Cybersecurity for operational technology.
August 2021, Wolfpack Information Risk , IT in Manufacturing
If companies are regularly being subjected to cyber hacks overseas, isn't it only a matter of time before someone with enough motivation, skill and resources targets us?
Read more...
---