Meeting cybersecurity challenges in a connected world
September 2018
IT in Manufacturing

printer friendly version
As business embraces the digital revolution through new technologies, such as cloud computing and the IoT, barriers are broken down to allow for growth and advancement. However, this opening up of platforms and increase in interconnected systems makes it easier for cyber criminals to enter and attack systems.
The necessity for a comprehensive security strategy is now acknowledged as an integral part of standard operational risk management, particularly in such industries as oil and gas, electrical power plants, water and other key sectors. The disruption of operational systems can have a far-reaching and potentially catastrophic impact, but special skills are needed to fortify defences, while keeping plants running smoothly.
A 2015 survey by Ernst & Young revealed that 88% of respondents do not believe their information security fully meets the organisation's needs and that 57% say the lack of skilled resources is challenging information security's contribution and value to the organisation.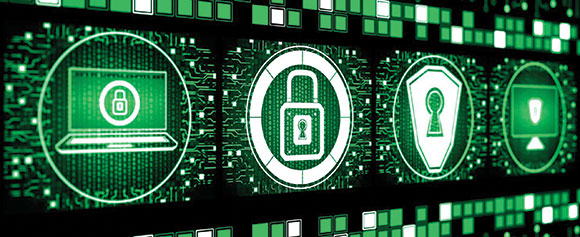 Managing cybersecurity
As a global technology solutions leader, Schneider Electric has vast industrial experience working with both Information Technology (IT) and Operational Technology (OT). This experience enables it to collaborate with IT departments and third-party security solutions providers to develop precise and effective cybersecurity solutions that secure systems without hampering operational efficiency.
Managing cybersecurity requires experts to be well versed with foundational knowledge of the systems they are working to protect. Having worked closely with clients to help plan and set up many of these control systems, Schneider Electric's cybersecurity team has gained deep knowledge and insight into what it takes to protect the safety, reliability and confidentiality of these OT systems.
Their familiarity with the system architecture enables quicker identification of security risks and implementation of more targeted solutions, thus preventing wastage and plant downtime. It combines cybersecurity expertise with technical and consulting knowhow in a 'defence in depth' strategy to prevent or minimise cyber-attacks. This multi-pronged defence system adheres to IEC 62443 standards, and involves the creation of a multi-layered and multi-technology strategy to safeguard critical systems. This strategy is an implementation tool and a holistic security approach, which safeguards but also assesses, manages and monitors systems with the help of Schneider Electric's Portfolio Life Cycle Methodology.
The cybersecurity team will assess, design, implement, monitor and maintain cybersecurity systems and train customer teams in security practices and a security culture that leads to quick threat response and business continuity.
For more information contact Prisca Mashanda, Schneider Electric SA, +27 11 254 6400, prisca.mashanda@schneider-electric.com, www.schneider-electric.co.za
Credit(s)
Further reading:
Digital Enterprise offering with ­future technologies for Industry 4.0
February 2019, Siemens Digital Factory & Process Indust. & Drives , IT in Manufacturing
By expanding its Digital Enterprise portfolio and integrating future technologies, Siemens is driving forward the digital transformation of the discrete and process industries.
Read more...
---
Improved supply chain efficiency and energy saving at Namibia Breweries
February 2019, IS³ - Industry Software, Solutions & Support , IT in Manufacturing
Established in 1920, Namibia Breweries is one of the leading beverage manufacturing companies in Namibia and southern Africa. Today, with the stated vision to be the 'most progressive and inspiring company', 
...
Read more...
---
Operators step into the future
February 2019, SKF South Africa , IT in Manufacturing
Recognising the increasingly vital role that technology plays in business, SKF continues to move with the Industry 4.0 tide. In line with its 'World Class Manufacturing' initiative, SKF has implemented 
...
Read more...
---
Spresense platform brings sound and vision to IoT devices
February 2019, RS Components SA , IT in Manufacturing
RS Components has boosted opportunities to create smarter IoT devices by introducing Sony Spresense, featuring Arm Cortex-M4F performance and extensive sensing, audio, and imaging capabilities. The low-power 
...
Read more...
---
Towards the Smart Factory
February 2019, Omron Electronics , IT in Manufacturing
With much of the reported paradigm of Industry 4.0 resting on self-configuration of machinery and production lines, Omron's Victor Marquess looks at what can already be achieved to get on the path to 
...
Read more...
---
Unobtrusive approach to digitalisation
February 2019, Parker Hannifin Sales Company South , IT in Manufacturing
As Industry 4.0 continues to unfold, increasing numbers of manufacturers, big and small, are seeking the best opportunities to increase the automation of their industrial processes and improve productivity. 
...
Read more...
---
Enhanced intelligence at the edge
February 2019, RJ Connect , IT in Manufacturing
A new computing model that helps create autonomous edge nodes is changing the IIoT landscape. Edge nodes are data-aggregation points in an IIoT system, where the physical world of sensors and actuators 
...
Read more...
---
Simple connection of converters supports cloud-based applications
February 2019, Siemens Digital Factory & Process Indust. & Drives , IT in Manufacturing
The new Sinamics Connect 300 from Siemens provides a simple plug-and-play solution for integrating converters of the Sinamics family into the IT world. The new solution is suitable for low-voltage converters 
...
Read more...
---
How to optimise power quality in critical applications
February 2019, Schneider Electric South Africa , Electrical Power & Protection
As global energy consumption continues to rise, energy is becoming more decentralised and decarbonised. While demand is estimated to increase by 70% through 2040, 50% of new energy generation capacity 
...
Read more...
---
Yokogawa adds OpreX redundancy
February 2019, Yokogawa South Africa , IT in Manufacturing
Yokogawa has announced a platform that enables software packages to run on general-purpose computers in a redundant configuration, which has been added to its OpreX Control and Safety System family. This 
...
Read more...
---