printer friendly version
Water – the heart of growth and sustainable development
April 2018
SCADA/HMI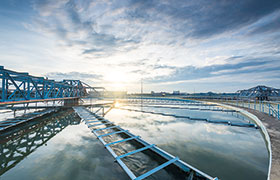 World Water Day is celebrated on 22 March and each year it highlights a specific aspect of fresh water. This year's theme is Nature for Water, and it will be amplified through the South African Department of Water and Sanitation's National Water Week awareness campaign from 18-24 March 2018. "These campaigns serve as a powerful reminder of the value of water and the role it plays in Sustainable Development Goal 6, growth of the economy and the eradication of poverty," says Marc Ramsay, vice president of Schneider Electric South Africa's Industry Business Unit. "Memorably, this year's Water Day will be marked by the launch of the International Decade for Action: Water for sustainable development (2018-2028), by the UN General Assembly."
Damaged ecosystems affect the quantity and quality of water available for human consumption. Today 2,1 billion people live without safe drinking water at home, and this affects their health, education and livelihoods. Here are some of the realities:
• Water consumption is growing at 2,5% per year faster than world's population
• 20% of the world's population is without access to safe drinking water
• Demand is shifting to regions with already scarce resources
• There is a rising need for sustainable infrastructure solutions
• Industrial and municipal wastewater need higher treatment standards
• Cities and urban regions will be competing on water quality standards
• Water is involved in the production of all other forms of energy
• There is increasing water scarcity
• Energy expenses for water treatment are rising
Schneider Electric's water management expertise
Through its EcoStruxure solutions for water and wastewater, Schneider Electric has succeeded in giving major water customers around the world up to 30% in energy savings, increased operational efficiency up to 25% and reduction in the total cost of ownership up to 20%.
The Water Corporation in Perth, Australia is the principal supplier of water, wastewater and drainage services in Western Australia to hundreds of thousands of homes, businesses and farms, as well as providing bulk water to farms for irrigation. Its services, projects and activities span over 2,6 million square kilometres, making this the world's largest geographic area of any water utility. Through its Schneider scada alliance, it has invested $A65 million over eight years, creating:
• 14 distinct schemes on full scale scada and 24/7 remote management
• 43 schemes on basic monitoring
• 3500 individual sites, of which 2800 have full scada (control, alarm monitoring, data collection capability)
• 280 000 measured control points
The Water Corporation's data has now become a valuable asset. The company has achieved an excellent return on investment (ROI) in smart technologies such as critical control in complex process environments and management of water loss. EcoStruxure has also allowed it to keep controls such as high level alarms and chlorine alarms simple in remote locations.
Other international successes
Schneider Electric has helped a Chinese industrial water customer manage 14 wastewater treatment plants centrally, reducing its energy consumption by 52% and saving 5 GWh per year, with a ROI of 1,5 years.
In Qatar, Schneider Electric helped the Qatar Water and Electricity Corporation in Kahramaa to reduce its NRW by 39% between 2007 and 2011, resulting in savings of 14 million m³/year, with a ROI of six months.
With Schneider's help, Las Vegas Valley Water District increased asset uptime by 15%, reduced maintenance costs by 25% and improved Regulation 6 compliance by more than 30%.
EcoStruxure systems allow customers to monitor their plants and pumping stations centrally, provide an energy benchmark and prioritise their capital and operational investment. This is achieved by field crew optimisation and prioritisation, using people as sensors to provide real-time update of IT/OT systems, with complete customer satisfaction.
With a global presence in over 100 countries and more than 36 000 customer installations, Schneider Electric is the leader in water and waste software and scada, with over 40 000 installed licences. It is a leader in telemetry, remotely controlling vast areas in many major markets. The company's strong position in automation and control helps major cities such as Paris, London, Beijing, New York, Toronto and Sydney to achieve major savings in water and wastewater management.
For more information contact Jason Ullbricht, Schneider Electric SA, +27 (0)11 254 6400, jason.ullbricht@schneider-electric.com, www.schneider-electric.co.za
Further reading:
Robust HMI devices with all-round IP67 protection
January 2021, Turck Banner , SCADA/HMI
Turck Banner's new TXF700 series offers an ultra-robust HMI series with complete all-round protection to IP67 for use at temperatures between -20°C and 55°C.
Read more...
---
Turck Banner expands HMI range
January 2021, Turck Banner , SCADA/HMI
Turck Banner has expanded its TX700 HMI/PLC device series with new variants for food and beverage applications, as well as high-brightness displays for sunlight readability.
Read more...
---
Will the IIoT kill scada, or lift it to new heights?
Technews Industry Guide: Industrial Internet of Things & Industry 4.0, Adroit Technologies , SCADA/HMI
Dave Wibberley, managing director, Adroit Technologies, shares his views on where scada is headed in the era of the Industrial Internet of Things.
Read more...
---
Collaborative robots
Africa Automation Fair 2019 Preview , SCADA/HMI
Cobots is showcasing its range of collaborative robots. These robots make it simple and affordable for humans and machines to work together without a safety cage. Cobots can easily be implemented in small 
...
Read more...
---
Machines that manage real-time resources
Africa Automation Fair 2019 Preview , SCADA/HMI
iBOS Industrial is changing the way we maintain and respond to machine level events with technology that effectively manages real-time resources (people) from the machine level.    Health and safety, 
...
Read more...
---
New benchmark scada software platform
March 2019, Adroit Technologies , SCADA/HMI
MAPS 4, the latest scada solution for control and visualisation from Adroit Technologies, extends connectivity options, adds user tools and increases the scope of its built-in functionality. The result 
...
Read more...
---
Inductive Automation's I­gnition technology offers potential to ­disrupt the market
July 2018, Mzukulu Technologies , SCADA/HMI
'Ignition by Inductive Automation' is an industrial software platform with a variety of modules that can be combined to create custom HMI, scada and MES solutions.
Read more...
---
New platforms for HTML5 visualisation
Technews Industry Guide: Industrial Internet of Things & Industry 4.0, Phoenix Contact , SCADA/HMI
Easy and flexible implementation of current and future demands.
Read more...
---
Yokogawa's open scada solution
June 2018, Yokogawa South Africa , SCADA/HMI
Scada systems are typically used for supervisory monitoring and control of remote and geographically distributed assets through a more open platform for interfacing with several makes and types of equipment 
...
Read more...
---
Schneider gets smart with new HMI solution
June 2018, Schneider Electric South Africa , SCADA/HMI
In a world where quick access to data has become the key to efficiency, Schneider Electric South Africa's latest innovation in the Magelis range of HMI solutions, Magelis GTU, allows users to create the 
...
Read more...
---