printer friendly version
SMC's 2/3 port media separated valve
June 2017
Pneumatics & Hydraulics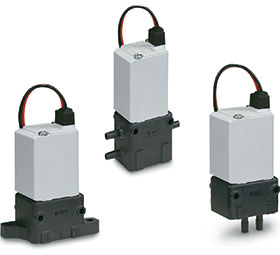 SMC recently introduced a new 2/3 port media separated valve series, LVMK20/200, to its collection of over 12 000 basic products. The valve has been designed to prevent armature sticking and corrosion that in the past has led to equipment or valve failure.
SMC Pneumatics product manager Brian Abbott explains that by preventing fluid from entering the solenoid assembly, it remains pollution-free from oil, metal and dust particles, improving overall performance and reliability. "As a result of this, the launch of a new 2 and 3 port media separated valve means improved performance and lowered component costs," he adds.
Designed for sensitive applications such as water purification, and blood and atmospheric pollution analysers, thanks to its media separation structure the LVMK20/200 series has proved popular overseas.
"There are two models to choose from, either a base mounted or body ported option, offering customers flexibility in terms of use. The body ported model features an integrated barb fitting, allowing for easy piping which delivers labour savings," says Abbott.
Both designs are easy to clean, as there is very little dead space, reducing cleaning costs and eliminating the need to adjust flow rates with the three-port valve, keeping leakage rates to a minimum.
Credit(s)
Further reading:
Destructive cavitation in hydraulic systems
Hydrasales Pneumatics & Hydraulics
Cavitation results from excessive vacuum conditions at the inlet to a pump. High vacuum creates vapour bubbles within the oil, which are carried to the discharge (pressure) side. These bubbles then collapse, 
...
Read more...
---
Optimising hydraulic controls
Parker Hannifin - Sales Company South Africa Pneumatics & Hydraulics
Parker Hannifin has launched two components − the Parker Automation Controller PAC120 and the electro-hydraulic controller module PACHC − that together offer an innovative solution for the automation 
...
Read more...
---
Wireless communication and control of electro-pneumatic manifolds and IO
SMC Corporation South Africa Valves, Actuators & Pump Control
SMC analysed the control of manifolds-in-motion, where the physical removal of communications cables is desirable. Applications include manifolds mounted on robot gripper assemblies or rotating tables. 
...
Read more...
---
High performance hydraulic hose
Pneumatics & Hydraulics
Gates has launched a new line of professional grade hydraulic hoses offering high performance in hydraulic applications across a wide range of end-markets.
Read more...
---
Breathing life into your machines through leading Pneumatic Automation solutions
Festo South Africa Pneumatics & Hydraulics
The pneumatics stage of Festo's three-part 'Absolute Automation 2.0' campaign takes customers on a journey to higher productivity.
Read more...
---
For more energy-efficient pneumatics, 4 is greater than 7
SMC Corporation South Africa Pneumatics & Hydraulics
To help expedite a project that involves designing a machine for 4 bar operating pressure, SMC's expert team can deliver the optimal outcome for both OEMs and end users.
Read more...
---
Increase profits by monitoring your compressed air
Artic Driers Pneumatics & Hydraulics
To find leaks is one thing, but quantifying the volume of air leakage and the associated costs is quite another.
Read more...
---
How smart pneumatics enhance machine safety
Emerson Automation Solutions Pneumatics & Hydraulics
The Industrial Internet of Things and the digital transformation it has empowered have already proven their many benefits. One that deserves a closer look is how smart pneumatic devices can improve machine 
...
Read more...
---
Honingcraft in the digital realm
Honingcraft Pneumatics & Hydraulics
Honingcraft distributes the finest steel products and components used for manufacturing hydraulic cylinders, including honed tube, chrome bar and cylinder kits. The company owns and operates highly-specialised 
...
Read more...
---
The 'P' in predictive maintenance represents progress, not pain
SMC Corporation South Africa Maintenance, Test & Measurement, Calibration
There are three main types of maintenance: reactive, preventative and predictive. But how do you make sense of these terms? Human health can provide an analogy to machine health. Take diabetes, for 
...
Read more...
---