printer friendly version
CNC cycle package for triple-axis milling and drilling
November 2023
Fieldbus & Industrial Networking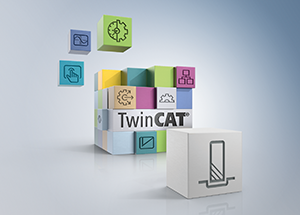 Image copyright: Beckhoff Automation.
Beckhoff provides a comprehensive package of different cycles for triple-axis milling and drilling machines with the TwinCAT 3 CNC milling base. It facilitates programming for these machines by encapsulating the required processes in parameterisable and reusable modules.
The new TwinCAT CNC cycle package supports a variety of different drilling strategies, ranging from simple centring and deep hole drilling to helical milling, tapping and thread milling. These can also be combined with the included cycles for drilling patterns to facilitate efficient programming for multiple drilling in various arrangements. The milling cycles also optimally support the production of slotted holes, grooves and differently shaped pockets and tenons. This includes an option for producing customer-specific pockets or tenons based on contour descriptions stored in the CNC program, removing remaining residual material using a separate tool, and deburring the resulting milled edges. All cycles offer extensive parameterisation options for adaptation to different technological requirements. Their many features include support for different machining modes (roughing and finishing) and feed directions (conventional or climb milling). These can be used in all principal planes (G17, G18 and G19).
Credit(s)
Further reading:
Case History 190: Measurement problem ruins level control.
Michael Brown Control Engineering Editor's Choice Fieldbus & Industrial Networking
The widely held belief in many plants that tuning will solve all base layer control problems is completely fallacious. Bad tuning is generally not the main reason for loops to perform badly. It is important when performing optimisation that all elements in a loop are considered, in addition to the control strategy, before even thinking of tuning.
Read more...
---
Precise part machining
Beckhoff Automation Editor's Choice Fieldbus & Industrial Networking
toolcraft manufactures on behalf of its customers using its 60 CNC machines, and designs, plans and builds turnkey production systems for companies in various industries, having added injection moulding, mould making and additive manufacturing technologies along the way. Robotics is the company's newest technology division. This is why toolcraft relies on PC-based control, including in the production cells, which have seven-axis milling robots for machining components at CNC level.
Read more...
---
Fully digital vertical roller mills
Loesche South Africa Fieldbus & Industrial Networking
Vertical roller mills are found in mining and cement milling operations worldwide. They require complex technology for their operation. As a leader in this field, LOESCHE has proven software solutions for digitalisation that can optimise each piece of milling equipment for energy efficiency, and increase its availability and output, making the plant easy to operate.
Read more...
---
Precise machining of small parts
Beckhoff Automation Fieldbus & Industrial Networking
Producing large parts with precision is not easy. But how do you produce the smallest components, such as gears and screws for the watch industry or contact pins for connectors, with micron-level accuracy and in large quantities? Swiss companies Esco and Affolter achieve this feat in their CNC machines with TwinCAT CNC and servo drive technology from Beckhoff.
Read more...
---
Making network connection easy
Conical Technologies Fieldbus & Industrial Networking
PLANET ICG-2510W-LTE is a reliable, secure and high-bandwidth industrial-grade cellular gateway for demanding mobile communications applications, machine-to-machine (M2M), and IoT deployments.
Read more...
---
Metsä Fibre's new bioproduct mill
Valmet Automation Fieldbus & Industrial Networking
Metsä Fibre's bioproduct mill in Finland was recently successfully commissioned. The material, environmental and energy efficient mill will not use any fossil fuels, and it will produce two terawatt hours of renewable electricity per year. Valmet's technology and automation contributed to the sustainable operation and high-quality end product.
Read more...
---
Keeping track of the flow of goods
ifm - South Africa Fieldbus & Industrial Networking
Digitalisation and the resulting requirements for industrial identification solutions are increasing steadily. This is why ifm offers the compact high-performance RFID UHF devices, not only with the classic fieldbus interfaces and IoT, but now also with IO-Link.
Read more...
---
Diving robot cleans up canals
Beckhoff Automation Motion Control & Drives
Around 70% of the waste in water sinks to the bottom of the ocean or decomposes into micro and nanoplastics, amounting to tens of millions of tons. So the European Horizon Maelstrom research project put together an international research team and developed the Robotic Seabed Cleaning Platform.
Read more...
---
Deep learning based component inspection in the automotive industry
Beckhoff Automation PLCs, DCSs & Controllers
Achieving the shortest possible inspection times – even when working with different components – is paramount when it comes to series production. This is precisely what stoba Sondermaschinen achieved with its optical inspection system, which is based on deep learning, and features the Beckhoff XPlanar planar motor system at the conveyor system core.
Read more...
---
Products talk to products, systems talk to people
Turck Banner Southern Africa Fieldbus & Industrial Networking
Behind every product request there is, or should be, a business objective. If we lose sight of the business objective, we often end up just papering over the cracks. This case study discusses an application of Turck Banner's systems approach to working in unison with customers to achieve their business objectives, and it illustrates how the company's Systems Division operates.
Read more...
---