printer friendly version
RFID made simple
November 2023
Industrial Wireless
Pepperl+Fuchs now offers a practical solution for users looking for an easy entry into the world of RFID with all its possibilities. The new F191 RFID read/write device combines the advantages of sophisticated industrial UHF technology with a standardised interface for IO-link communication. This is a cost-effective enabler for a wide range of standard applications in areas such as intralogistics, automotive and materials handling.
An all-in-one solution, the read/write device covers a wide range of applications in a cost-effective manner. It seamlessly identifies and tracks parts and goods according to the Track and Trace principle. Transparency can therefore be established throughout the entire manufacturing process, creating the information basis for implementing Industry 4.0 concepts.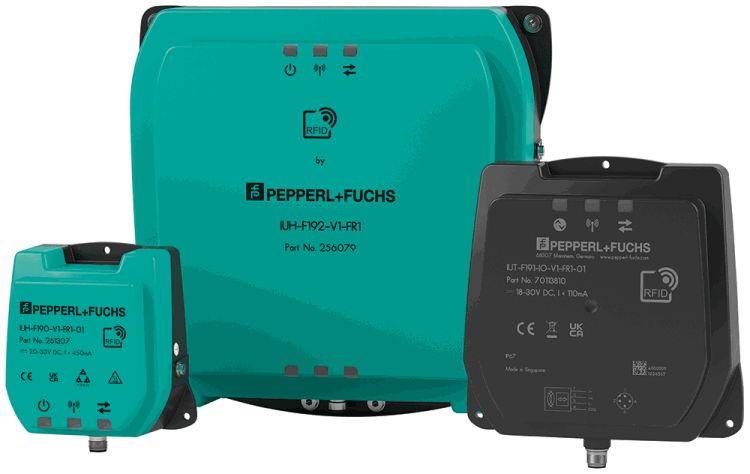 Start quickly in Easy Mode
The IO-Link masters from Pepperl+Fuchs support the simple connection of the new UHF RFID read/write devices. The F191 RFID read/write devices are commissioned without time-consuming programming via the future-proof, integrated IO-Link interface. In Easy Mode the devices transfer their data to the higher level system in accordance with the plug-and-play principle, without integrating complex function blocks. It does not matter whether this is an IoT-centric or PLC-centric architecture. Pepperl+Fuchs offers the appropriate IO-Link masters for connecting the RFID read/write devices from a single source for both applications. This means that up to eight RFID read/write devices can be operated in a cost-effective manner on just one IO-Link master. The multiprotocol capability of the IO-Link master module ensures compatibility with almost any bus or control system.
Rugged UHF technology for industrial applications
When the F191 RFID read/write devices are in operation, they enable reliable detection of various UHF tag types in a sensing range of up to 1 metre by means of transmit power of up to 100 mW ERP (adjustable). A wide range of application-specific tags from the Pepperl+Fuchs product range are available for this purpose. UHF technology makes it possible to detect bulk data from multiple tags simultaneously in one read operation. With a rugged IP67 housing, integrated antenna and a wide temperature range of -25 to 70°C, the F191 RFID read/write devices are also designed for use under adverse ambient conditions.
Decades of RFID expertise behind the solution
In the Pepperl+Fuchs UHF RFID portfolio, the F191 read/write device joins the F190 and F192 versions already established on the market. Compared to the new F191, these support advanced setting options for more complex special applications and a greatly increased sensing range. With their broad experience gained over 30 years of RFID development and other solutions for the LF and HF frequency range, a wide variety of applications can be covered by the identification experts at Pepperl+Fuchs.
Highlights of the F191 UHF read/write device with IO-Link include the following:
• Economical, high-performance identification solution with IO-Link interface.
• Especially simple RFID solution with plug-and-play connectivity, and no programming required.
• Low channel costs for maximum efficiency by connecting multiple read/write devices to an IO-Link master.
• Flexible system integration with connection via IO-Link master to almost all bus systems and controllers.
• Optimal read range of up to 1 metre for a wide range of applications.
• Multitag reading of numerous tags for maximum efficiency.
• Maximum process reliability due to the high degree of protection, an extended temperature range, and adjustable transmitter radiated power.
Credit(s)
Further reading:
How lighting solutions support lean manufacturing processes
Turck Banner Southern Africa Editor's Choice Industrial Wireless
The philosophy of lean principles is a big trend in the pharmaceutical industry. It emphasises using time and resources as efficiently as possible in order to reduce waste and focus on value-added activities. Here are four examples of how lighting solutions can help increase efficiency by addressing common sources of wasted time and resources in pharmaceutical manufacturing.
Read more...
---
Innovative technology revolutionises 3D measurement
Pepperl+Fuchs Sensors & Transducers
From industrial automation, to autonomous vehicles, to care robots, mastering the challenges of the future will require powerful 3D sensors that capture their surroundings quickly, comprehensively and with millimetre precision. A technological innovation from Pepperl+Fuchs, in cooperation with the Fraunhofer Institute for Silicon Technology (ISIT), enables 3D measurement with maximum precision and performance while remaining highly cost-efficient.
Read more...
---
Explosion-protected control units
Pepperl+Fuchs IS & Ex
The new range of control units from Pepperl+Fuchs offers a clever solution for switching and controlling circuits in hazardous areas that are designated ATEX/IECEx Zones 1/21 and 2/22.
Read more...
---
Programmable LED indicators
Turck Banner Southern Africa Industrial Wireless Data Acquisition & Telemetry
Turck Banner is expanding its portfolio of LED lights with the robust LED indicators of the K100 series. These units improve workflow and reduce downtime through clearly communicated status information.
Read more...
---
Optimising automated seed production
Turck Banner Southern Africa Industrial Wireless
A leading seed specialist in Germany uses state-of-the-art plant breeding methods to increase yields and improve the resistance of plants to diseases, pests and abiotic stress. This requires the seed to be propagated and processed under controlled climatic conditions to high quality standards. Turck's compact TBEN RFID interfaces for highly available systems meet the requirement for redundancy.
Read more...
---
New mobile handheld readers
Pepperl+Fuchs Industrial Wireless
Pepperl+Fuchs has expanded its range of handheld readers with the introduction of an extremely powerful variant, the OHV210 series mobile handheld readers. The new devices, which are equipped with a Bluetooth 5 interface for low energy consumption, reliably read all common 1-D and 2-D barcodes, even on reflective or differently coloured surfaces.
Read more...
---
Ensuring the uptime of your wireless network
RJ Connect Industrial Wireless
Automated material handling (AMH) systems are expected to keep booming in the coming years, thanks to developing trends in e-commerce and smart factories.
Read more...
---
The argument for remote tank monitoring
Omniflex Remote Monitoring Specialists Industrial Wireless
When considering the potential consequences of inadequate tank farm monitoring, images of disasters like the Buncefield fire probably spring to mind first. However, with the development of safety regulations and equipment, these catastrophic events are becoming far less common over time.
Read more...
---
Tech for your tanks
Industrial Wireless
JoJo Tanks has now launched a remote water monitoring smartphone application, JoJo Monitor.
Read more...
---
Short-range wireless review
Industrial Wireless
Over the last 25 years, short-range wireless connectivity technologies such as Wi-Fi, Bluetooth, Zigbee, and near-field communication (NFC) have revolutionised the world in which we live, enabling an enormous connected device ecosystem that is projected to reach an installed base of 48 billion devices in 2023.
Read more...
---