printer friendly version
Polymer linear guides adopted worldwide
June 2022
Motion Control & Drives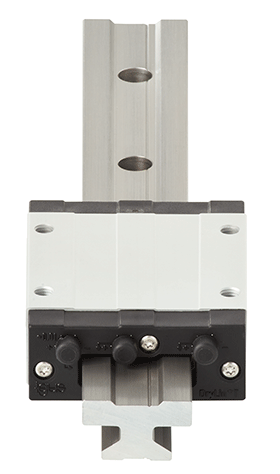 Advanced engineered-polymer manufacturer, igus, has launched a global drive to convert manufacturers requiring linear guides to new dry types with no requirement for lubricants, which have the potential to contaminate products and the environment.
Linear guides are used in a variety of applications, from robotics to CNC machines and 3D printers, to packaging equipment, printers and other machines that move on set axes. Until recently the biggest source of failure and premature maintenance has been friction-related where the bearing meets the guide. Grease and oil to lubricate traditional bearings are also a major source of contamination in industry.
The new dry linear guides have a surface that eliminates most of the friction and allows polymer linear bearings and pillow blocks to glide or float across the surface without lubrication. The product range of lubrication-free drylin linear guides is based on the principle of 'gliding instead of rolling'.
In combination with corrosion-free materials, tribo-optimised iglidur high-performance polymers are used as a sliding surface. drylin linear guides traverse in dry operation and are therefore maintenance-free, and are insensitive to influences such as dirt, water, chemicals, heat or impacts.
They also have very low noise because of the materials used and their special design. With these properties, drylin linear guides can be used in a wide variety of environments, including extreme ones. The modular system allows for high flexibility with different rail guides and pillow blocks.
The product range includes:
• Linear technology.
• Linear guides.
• W profile guides.
• N low-profile guides.
• T rail guide.
• R shaft guides.
• Q linear square guide.
• NT telescopic rails.
• Complete systems with measurement technology.
• Lead screw technology.
• Accessories.
For more information contact Ian Hewat, igus South Africa, +27 11 312 1848, ihewat@igus.net, www.igus.co.za
Further reading:
Motor starter with integrated isolation contactor
Vepac Electronics Motion Control & Drives
Owing to its integrated functions and protection circuits, classic motor protection is not required – the installation requires only the line fuses to protect the wires.
Read more...
---
Improved bearing block units for higher efficiency
Bearing Man Group t/a BMG Motion Control & Drives
BMG's range of BTC bearings and components – which is manufactured exclusively for BMG to stringent quality and safety specifications – has been extended to include new bearing block units.
Read more...
---
Electric cylinders eliminate compressed air requirements in production plants
Beckhoff Automation Motion Control & Drives
Beckhoff Automation's AA3000 Series represents an efficient servomotor alternative to energy-intensive pneumatic cylinders.
Read more...
---
Driving African mining solutions
SEW-Eurodrive Motion Control & Drives
SEW offers customised solutions for the African mining industry and lead time advantages thanks to its new multimillion local assembly facility in Johannesburg.
Read more...
---
Integrated bearing assemblies for tough applications
Bearing Man Group t/a BMG Motion Control & Drives
These NSK parts are designed especially for vibratory screen machines, which are used in arduous construction, agriculture, quarrying and mining applications.
Read more...
---
Proud milestone for Bearings International
Bearings International Motion Control & Drives
"We are definitely one of the longest-serving Cooper distributors in the world. It is a fantastic achievement, especially as it remains one of our top-selling brands."
Read more...
---
Sliding from Munich to Cairo on durable igus linear carriage
RS Components SA Motion Control & Drives
With the T20 of the drylin W series, igus has launched a new linear carriage which has the same dimensions as most classic carriages with recirculating ball bearing guides.
Read more...
---
XTS transport system with innovative 'No Cable Technology'
Beckhoff Automation Motion Control & Drives
Contactless power supply and synchronous real-time data communication enable XTS movers to be expanded into mobile handling and processing stations.
Read more...
---
An innovative alternative to mechanical seals
Bearing Man Group t/a BMG Motion Control & Drives
BMG's range of Garlock sealing products includes a versatile sealing system that replaces mechanical seals in industrial pump applications. Garlock's Hydra-Just system is a reliable, leak-free rotary 
...
Read more...
---
PC-based control for vehicles converted to electric drives
Motion Control & Drives
For small-series producers and manufacturers with a wide range of vehicle variants, being able to count on comprehensive test bench technology that is fast, flexible and cost-effective is hugely important. Kempten University of Applied Sciences has implemented a test bench just like this for ABT e-Line, allowing it to perform tasks such as testing Volkswagen vans that have been converted to an electric drive. PC-based control technology from Beckhoff serves as the central feature of the standard industrial components used.
Read more...
---