printer friendly version
Condition monitoring software gets asset health boost
May 2022
IT in Manufacturing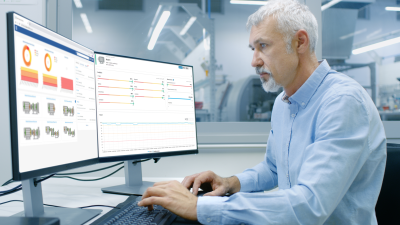 Emerson is updating its machinery health platform for customers to migrate to a more holistic, modern interface for condition monitoring. New support brings data from edge analytics devices directly to key personnel inside and outside the control room, to help them more quickly identify and address a wide range of common equipment faults before they impact plant availability. In some industries, Emerson estimates every 1% gain in availability is worth approximately $8,4 million of additional profit margin per year.
Plants around the globe have faced increasing shortages of experienced personnel to monitor and manage equipment reliability. Today, 58% of multinational manufacturers are having difficulty acquiring skilled talent, according to a 2021 study from the Workforce Institute at Ultimate Kronos Group.
To help small teams make the most of limited resources, Emerson has continuously evolved AMS Machine Works' condition monitoring technologies for better diagnostics at the industrial edge. Increased connectivity to external systems provides personnel with an intuitive, holistic asset health score supported by maintenance recommendations to help reliability teams quickly see what is wrong and how to fix it. Intuitive information and alerts are delivered directly to workstations or mobile devices to provide decision support, helping maintenance personnel to make the best use of their time.
"As smaller groups of experienced reliability personnel are tasked with supporting an increasing scope of work, they need access to immediate insights and faster, more comprehensive information to prevent downtime and keep plants running at peak performance," said Erik Lindhjem, vice president of reliability solutions at Emerson. "The newest version of AMS Machine Works seamlessly interfaces with edge analytics devices to help teams of any size stay aware of the health of all plant production assets, from critical to balance-of-plant, no matter where they may be."
The newest version of AMS Machine Works adds support for Emerson's AMS Asset Monitor, which provides embedded, automatic analytics at the edge using patented PeakVue technology to alert personnel to the most common faults associated with a wide range of assets. AMS Machine Works also supports open connectivity using the OPC UA protocol to make it easier to connect to external systems such as historians, computerised maintenance management systems and more, to help close the loop on plant support from identification to repair and documentation.
Credit(s)
Further reading:
Security certified IIoT edge gateway
Omron Electronics IT in Manufacturing
The DIN-mountable device can be installed in machine control panels to provide remote access for on-demand, real-time servicing of industrial equipment.
Read more...
---
EPLAN relegates device data DIY to history
EPLAN Software & Services IT in Manufacturing
With the new Data Portal Request Process, customers can order individual device data in Data Standard quality using a credit system.
Read more...
---
Recovering from industrial data disasters
Absolute Perspectives IT in Manufacturing
Aside from bringing production to a sudden halt, there are often safety and environmental implications when shutting down a plant.
Read more...
---
EtherCAT conformance tool updated
IT in Manufacturing
The CTT now allows read and write access to the PHY registers, which is convenient and rarely supported by other tools.
Read more...
---
Carmakers look to AI/ML to achieve sustainable manufacturing
IT in Manufacturing
ML supports component quality inspections using camera data to check assembly processes and sequences in terms of complexity, speed and accuracy.
Read more...
---
The most common cyber threats in the industrial environment
Rockwell Automation IT in Manufacturing
Rockwell Automation's cybersecurity portfolio strategic growth leader delves into this topic in a recent blog post.
Read more...
---
Deploying IT into the factory floor environment
Omniflex Remote Monitoring Specialists IT in Manufacturing
The ongoing debate on whether OT and IT should be integrated has never been more intense. Closing the gap between the two has many benefits, not least of which are efficiency and profitability managed in near real time.
Read more...
---
PACTware further refines user interface
VEGA Controls SA IT in Manufacturing
Optimising a user interface for multiple sensor equipment manufacturers is possible in such a way that industrial users can use it similarly to everyday smart devices.
Read more...
---
EPLAN Marketplace networks users and service providers
EPLAN Software & Services IT in Manufacturing
The free online platform is divided into engineering services, module manufacturing services and general consulting sectors.
Read more...
---
A robust cybersecurity strategy is critical
ABB South Africa IT in Manufacturing
Understanding and managing the risks associated with a cyberattack can seem a daunting prospect in the face of keeping a plant up and running.
Read more...
---