printer friendly version
Modified atmosphere packaging – making the right choice of gas analysis
February 2022
Analytical Instrumentation & Environmental Monitoring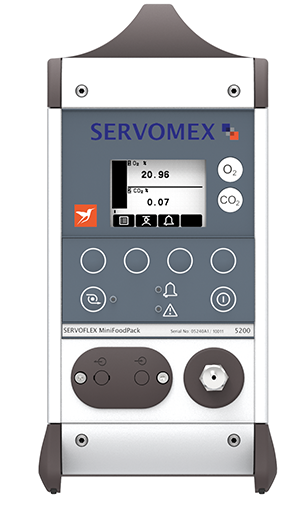 Modified atmosphere packaging (MAP) is used within the food and pharmaceutical sectors to extend the shelf life of many products that would otherwise deteriorate quickly in the presence of oxygen. It replaces the atmospheric air inside a package with a protective gas mix that helps ensure that the product will stay fresh for as long as possible. Gas analysis plays an essential role in making certain that the gas mix is correct, maintaining product quality.
The Servoflex MiniFoodPack 5200 is specifically designed to meet the needs of the food and pharmaceutical industries for this application. It enables accurate quality control checks for the common gas mixtures used for MAP.
A compact, robust analyser, the MiniFoodPack 5200 is a portable benchtop device that is easy to set up and operate. It has minimal maintenance requirements and delivers industry-leading monitoring of oxygen and carbon dioxide, with single or dual-measurement options.
For oxygen (O2), the analyser uses Servomex's proven, paramagnetic sensing technology which provides fast, accurate and sensitive measurements at percentage levels. The paramagnetic cell consists of two nitrogen-filled glass spheres, mounted within a magnetic field, on a rotating suspension. The cell also has a centrally-located mirror; light shines onto the mirror and is reflected onto a pair of photocells.
O2 is naturally attracted to the magnetic field, so it displaces the glass spheres and causes the suspension to rotate. This is, in turn, detected by the photocells; current is applied through a feedback coil, providing sufficient torque to return the suspension to its original position. The magnitude of the current applied is directly proportional to the O2 present in the sample gas mixture.
Carbon dioxide (CO2) measurements are provided by Servomex's advanced, non-depleting infrared sensor. This focuses an infrared light source through a sample cell – holding a continuously flowing sample of the gas mixture – and onto a detector after wavelength selection. The property of CO2 to absorb a unique light wavelength is then used to detect the concentration of the gas in a mixture.
Paramagnetic and Infrared technologies are both non-depleting – the sensor cell never needs changing (unlike electrochemical cells) and performance does not deteriorate over time. This means that the MiniFoodPack 5200 has a long operational life and does not require much work to calibrate or maintain.
Additionally, the analyser is highly flexible, with a rechargeable battery option for complete portability and a range of sampling accessories that allow measurements to be taken from rigid or flexible packaging. This includes an internal pump with solenoid valve option for external vacuum pump or syringe sample draw.
The MiniFoodPack 5200 is part of Servomex's Servoflex range of portable analysers for accurate, reliable gas analysis, each developed to meet specific application requirements. The products are ergonomically designed to be easy to handle, compact enough to use anywhere and robust enough to be carried around.
Credit(s)
Further reading:
Systec introduces new autoclaves and software
Opto Africa Holdings Analytical Instrumentation & Environmental Monitoring
Autoclaves from Systec can be used in all laboratory applications for sterilising solids, liquids, waste and hazardous biological substances.
Read more...
---
Workers' safety assured by Becker's gas monitoring system
Becker Mining South Africa Analytical Instrumentation & Environmental Monitoring
This hybrid system is customisable to all installation requirements, including copper, RF and fibre-optic data connectivity.
Read more...
---
How utility instrumentation can benefit your plant
Endress+Hauser South Africa Analytical Instrumentation & Environmental Monitoring
An auxiliary plant instrument reading has to be available on demand, otherwise potentially serious problems may remain hidden.
Read more...
---
Versatile handheld indoor air quality meters
GHM Messtechnik SA Analytical Instrumentation & Environmental Monitoring
Both instruments are easy to handle and compact in design, and can be charged easily with a mobile phone cord.
Read more...
---
Water and wastewater treatment in the digital age
Endress+Hauser South Africa Editor's Choice Analytical Instrumentation & Environmental Monitoring
In these testing times of declining water security, IoT technology has been proven to boost operational efficiency and inform smart investment decisions.
Read more...
---
New webpage showcases natural gas plant analysers
Elemental Analytics News Analytical Instrumentation & Environmental Monitoring
Flagship products include multi-component odorant monitoring, hydrogen sulphide and carbon dioxide measurement, BTEX analysis and saybolt readings.
Read more...
---
Digitally managing energy costs and decarbonisation
Yokogawa South Africa Electrical Power & Protection Analytical Instrumentation & Environmental Monitoring
Real-time data combined with a single, asset-wide digital twin and proprietary analytics capabilities enable automatic opportunity identification and performance gap breakdown.
Read more...
---
Reducing the carbon footprint of milk production
Analytical Instrumentation & Environmental Monitoring
The certified Valio Carbo environmental calculator is used in monitoring the carbon balance of Valio dairy farms. In 2021, more than a thousand of them (about a quarter of all the company's dairy farms) 
...
Read more...
---
Process safety transformed by TDL technology
Elemental Analytics IS & Ex
Servomex has introduced a new advantage to safety systems with its unique line lock technology incorporated into the latest tunable diode laser (TDL) analysers.
Read more...
---
Avoiding South Africa's water crisis
Analytical Instrumentation & Environmental Monitoring
Collaboration and technology can make South Africa a water-secure nation.
Read more...
---