printer friendly version
HSEC Online simplifies health and safety compliance for companies
Technews Industry Guide: Sustainable Manufacturing 2021
IT in Manufacturing
Health and safety compliance is a vital area of focus for businesses and has become even more crucial as the world faces a global pandemic. In current times, it is essential for companies to ensure personal safety and to reduce downtime by being able to capture, store, proactively manage and share compliance information.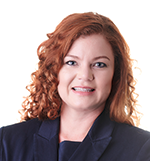 Ingrid Osborne.
System accessibility from anywhere
Recognising this need, Saryx Engineering Group launched a cloud-based solution that enables organisations of all sizes to proactively track and manage health and safety document compliance for the company, its people, and equipment. It is accessible on any device, from anywhere and at any time. Designed with the Health, Safety, Environment and Community (HSEC) compliance of its own organisation in mind, and known as HSEC Online, the Saryx solution is currently being used by companies where the safety of employees working in 'gated environments' is a priority.
"Although we built the solution for internal use initially," explains Ingrid Osborne, an electronic engineer and one of the company's founders, "we quickly realised it had commercial viability and could provide significant help to many companies, particularly in these tough and complicated times.
"What's more, while HSEC Online has been adopted by large corporates to manage their contractor compliance, it is also ideal for QSEs and SMMEs as these entities have to be just as compliant as large companies, but they seldom have the time or the resources to manage such things manually. With this, they have access to an affordable, automated system instead."
Ideal for companies with limited resources
Cofounder Julie Mathieson, a computer scientist, adds that many companies provide services to large corporates and therefore need to be able to demonstrate a certain level of HSEC compliance. She further noted that the automated nature of HSEC Online is ideal for businesses that simply do not have staff to spare.
"Essentially, it makes them more aware of the various HSEC issues they face and what needs to be done each year to remain compliant, such as what documents need to be filed, where they must go and when it should be done," she states. "This is a vast improvement on the previously used method, which was basically a physical 'safety file' that could easily become confusing and have missing documentation – and remember, you don't really check what isn't there – due to its manual nature. I would describe HSEC Online as providing a similar service in this arena as Internet banking does in eliminating the need to stand in a queue to see a teller: it is simple, efficient and saves you enormous amounts of time."
Osborne points out that HSEC Online assists in significantly reducing the number of potential work hours lost in a scenario where an injury occurs. Depending on the industry sector, a business may find itself shut down while a thorough investigation is performed.
"Such an investigation can take from two to four weeks while the authorities check your records to ensure you were compliant with all safety regulations and had all the correct systems in place," she adds. "After the many financial challenges already experienced during lockdown, how many companies can afford to lose up to another month's worth of earnings?
"On the other hand, we have experienced instances where the clarity provided by our automated solution has enabled the authorities to investigate, clear the company and have their operations up and running again within 24 to 48 hours."
Flexibility solves business compliance challenges
Mathieson says that the system is flexible enough to help companies control everything from legal issues to PPE management, not to mention audits, risk management, and of course all the required documentation around emergency procedures and organisational safety policies, in a safe and secure manner.
"We focused on making HSEC document management compliance as simple and intuitive as possible," she concludes. "We understand that many companies have neither the time nor the staff to spend time learning how the system works. By making it user-friendly and smart, and by providing custom training support, HSEC Online is the ideal solution to solve business compliance challenges."
For more information contact Saryx Engineering Group, 0860 995 105, info@saryx.co.za, www.saryx.com
Credit(s)
Further reading:
Security certified IIoT edge gateway
Omron Electronics IT in Manufacturing
The DIN-mountable device can be installed in machine control panels to provide remote access for on-demand, real-time servicing of industrial equipment.
Read more...
---
EPLAN relegates device data DIY to history
EPLAN Software & Services IT in Manufacturing
With the new Data Portal Request Process, customers can order individual device data in Data Standard quality using a credit system.
Read more...
---
Recovering from industrial data disasters
Absolute Perspectives IT in Manufacturing
Aside from bringing production to a sudden halt, there are often safety and environmental implications when shutting down a plant.
Read more...
---
EtherCAT conformance tool updated
IT in Manufacturing
The CTT now allows read and write access to the PHY registers, which is convenient and rarely supported by other tools.
Read more...
---
Carmakers look to AI/ML to achieve sustainable manufacturing
IT in Manufacturing
ML supports component quality inspections using camera data to check assembly processes and sequences in terms of complexity, speed and accuracy.
Read more...
---
The most common cyber threats in the industrial environment
Rockwell Automation IT in Manufacturing
Rockwell Automation's cybersecurity portfolio strategic growth leader delves into this topic in a recent blog post.
Read more...
---
Deploying IT into the factory floor environment
Omniflex Remote Monitoring Specialists IT in Manufacturing
The ongoing debate on whether OT and IT should be integrated has never been more intense. Closing the gap between the two has many benefits, not least of which are efficiency and profitability managed in near real time.
Read more...
---
PACTware further refines user interface
VEGA Controls SA IT in Manufacturing
Optimising a user interface for multiple sensor equipment manufacturers is possible in such a way that industrial users can use it similarly to everyday smart devices.
Read more...
---
EPLAN Marketplace networks users and service providers
EPLAN Software & Services IT in Manufacturing
The free online platform is divided into engineering services, module manufacturing services and general consulting sectors.
Read more...
---
Condition monitoring software gets asset health boost
Emerson Automation Solutions IT in Manufacturing
The newest version of Emerson's AMS Machine Works adds support for embedded, automatic analytics at the edge using patented PeakVue technology.
Read more...
---