printer friendly version
SAIMC: Durban branch
July 2021 SAIMC News
The Durban branch held its latest technology meeting via Zoom on the first Wednesday of June. Bryan Baxter explained the importance of effective cybersecurity for industrial networks – something which has become a major concern for any company using online operational technology. With industrial control systems controlling nearly every aspect of our lives (critical infrastructure, power, utilities, manufacturing, vehicles, medical etc.) there are many issues which need to be addressed.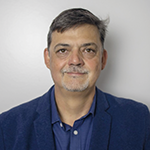 Bryan Baxter.
Some of the key questions that Bryan asked were: How secure are your ICS systems? How quickly can you recover from a breach? Would you know what to do in the event of a breach? Who is responsible for the cybersecurity of your OT systems? Is air gapping still an effective control?
Other points he addressed included:
• Recent examples of breaches, how they happened, and what we can learn.
• Top threats facing industrial control networks: outdated systems, insecure code, pervasive connectivity, uneducated users, and malware.
• Impact of new technologies: IoT, cloud-based monitoring systems.
• Practical recommendations and cybersecurity frameworks to reduce cybersecurity risk.
• Honeypots and OT networks.
• Example of an OT cybersecurity risk assessment.
• Useful resources i.e. monitoring of exposure to the Internet for PLC manufacturers https://www.shodan.io/search?query=siemen.
Bryan has been in the IT Industry since 1992 in various roles before recently joining Wolfpack Information Risk. He has helped customers successfully manage and deliver IT infrastructures to around 7000 users in several countries, where, of course, a recurring theme has been keeping customers secure from cybersecurity threats.
The branch thanks him for his interesting and relevant presentation.
Hennie Prinsloo Memorial Golf Day
Golf days always go down well, particularly the Durban branch golf days, which always go well. Add to this that many people have been closeted inside without golf days for the last year and a bit and you have a recipe for excitement, enthusiasm and joy!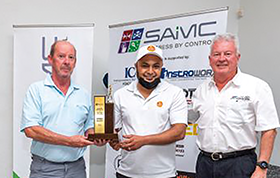 The winning team: Left to right: Russel Carins – Cataler, Dhilkash Bahadur – ifm Durban and SAIMC general manager Dean Trattles. (Not in the picture Rob Moxham Illovo Sezela also in the team.)
So it was this enthusiasm and commitment to enjoying the day that 22 four-balls teed off from the Kloof Country Club on 21 May. The day was renamed The Hennie Prinsloo Memorial Golf Day in honour of Hennie, his commitment to the SAIMC, all he did for us and not to mention his love of the day itself. He was sorely missed but it was wonderful to be able to pay tribute to him and see his happy smiling face on the banners.
A day like this wouldn't be possible without the generosity of our sponsors and we'd like to thank ifm, Loadtech Loadcells, Elonics, AVK Valves, Bosal (Voltex), Cabstrut and ICA/Yokogawa)
After a hard day on the golf course everybody congregated for a raucous and highly-spirited prizegiving – good humour, great camaraderie, fabulous prizes and lots of fun.
The committee would like to thank Steve Sanders who takes on the task of organising this golf day with unfailing enthusiasm and commitment, the sponsors on the day, the golfers and of course, the golfers on the committee who assisted Steve – Howard Lister and Dean Trattles. Special thanks goes to Busani Sibindi's son, Nkosi, who tirelessly and enthusiastically spent the day (and evening) taking some very professional photos!

Credit(s)
Further reading:
Remote monitoring keeps cherries cool
Sensors & Transducers News
The innovative and adaptable nature of the NviroSense system allows for various applications to be added on as per the client's requirements.
Read more...
---
Attaining a sustainable legacy
Technews Publishing (SA Instrumentation & Control) Editor's Choice News
Through this quagmire of crises and uncertainties, the wheels of industry must continue to turn if we are to sustain our modern way of life, and those wheels are, either directly or indirectly, powered by electricity.
Read more...
---
From Industry 4.0 to Industry Green.0
Rockwell Automation Editor's Choice News
As sustainability becomes a business imperative for manufacturing organisations, they must incorporate sustainability goals into every step of the business lifecycle – because purpose and profit must go hand in hand.
Read more...
---
Young unemployed graduate gets kickstart to his career
ABB South Africa Editor's Choice News
The training provided by ABB is hands-on and will see Momelezi Sifumba rotate through different departments and activities to ensure his practical experience is as well-rounded as possible.
Read more...
---
SAIMC: From the office of the CEO: Disruption is coming to a police station near you!
SAIMC SAIMC
While reporting my mobile phone stolen, I got to thinking: what value did the officer at the police station bring to the incident?
Read more...
---
SAIMC: Durban branch
SAIMC SAIMC
Sagadevan Kanniappen from WIKA tackled the interesting and relevant topic of pressure instrumentation protection and measurement stability methods for demanding applications.
Read more...
---
SAIMC: Johannesburg branch
SAIMC SAIMC
Having resumed monthly in-person technology evenings earlier this year following a protracted hiatus due to Covid-19 restrictions, on 13 July the SAIMC's Johannesburg branch hosted the instrumentation 
...
Read more...
---
SAIMC: From the office of the CEO: Government's dilemma
SAIMC SAIMC
South Africa needs to get serious about the education of its citizens – all of them. Racial discrimination, lowering of standards, adding 5% to scores, etc., are not practices that are preparing our citizens for a new industrial revolution.
Read more...
---
SAIMC: Durban branch
SAIMC SAIMC
News from the SAIMC Durban branch.
Read more...
---
SAIMC: Secunda branch
SAIMC SAIMC
News from the SAIMC Secunda branch.
Read more...
---