printer friendly version
SAIMC: Durban branch
July 2021 SAIMC News
The Durban branch held its latest technology meeting via Zoom on the first Wednesday of June. Bryan Baxter explained the importance of effective cybersecurity for industrial networks – something which has become a major concern for any company using online operational technology. With industrial control systems controlling nearly every aspect of our lives (critical infrastructure, power, utilities, manufacturing, vehicles, medical etc.) there are many issues which need to be addressed.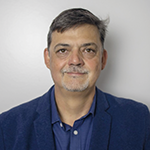 Bryan Baxter.
Some of the key questions that Bryan asked were: How secure are your ICS systems? How quickly can you recover from a breach? Would you know what to do in the event of a breach? Who is responsible for the cybersecurity of your OT systems? Is air gapping still an effective control?
Other points he addressed included:
• Recent examples of breaches, how they happened, and what we can learn.
• Top threats facing industrial control networks: outdated systems, insecure code, pervasive connectivity, uneducated users, and malware.
• Impact of new technologies: IoT, cloud-based monitoring systems.
• Practical recommendations and cybersecurity frameworks to reduce cybersecurity risk.
• Honeypots and OT networks.
• Example of an OT cybersecurity risk assessment.
• Useful resources i.e. monitoring of exposure to the Internet for PLC manufacturers https://www.shodan.io/search?query=siemen.
Bryan has been in the IT Industry since 1992 in various roles before recently joining Wolfpack Information Risk. He has helped customers successfully manage and deliver IT infrastructures to around 7000 users in several countries, where, of course, a recurring theme has been keeping customers secure from cybersecurity threats.
The branch thanks him for his interesting and relevant presentation.
Hennie Prinsloo Memorial Golf Day
Golf days always go down well, particularly the Durban branch golf days, which always go well. Add to this that many people have been closeted inside without golf days for the last year and a bit and you have a recipe for excitement, enthusiasm and joy!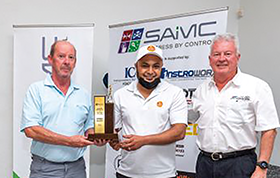 The winning team: Left to right: Russel Carins – Cataler, Dhilkash Bahadur – ifm Durban and SAIMC general manager Dean Trattles. (Not in the picture Rob Moxham Illovo Sezela also in the team.)
So it was this enthusiasm and commitment to enjoying the day that 22 four-balls teed off from the Kloof Country Club on 21 May. The day was renamed The Hennie Prinsloo Memorial Golf Day in honour of Hennie, his commitment to the SAIMC, all he did for us and not to mention his love of the day itself. He was sorely missed but it was wonderful to be able to pay tribute to him and see his happy smiling face on the banners.
A day like this wouldn't be possible without the generosity of our sponsors and we'd like to thank ifm, Loadtech Loadcells, Elonics, AVK Valves, Bosal (Voltex), Cabstrut and ICA/Yokogawa)
After a hard day on the golf course everybody congregated for a raucous and highly-spirited prizegiving – good humour, great camaraderie, fabulous prizes and lots of fun.
The committee would like to thank Steve Sanders who takes on the task of organising this golf day with unfailing enthusiasm and commitment, the sponsors on the day, the golfers and of course, the golfers on the committee who assisted Steve – Howard Lister and Dean Trattles. Special thanks goes to Busani Sibindi's son, Nkosi, who tirelessly and enthusiastically spent the day (and evening) taking some very professional photos!

Credit(s)
Further reading:
SAIMC: From the office of the CEO
September 2021, SAIMC , News
The registration process for people doing engineering work according to the Identification of Engineering Work, (IoEW) document gazetted in March, will start in earnest next year.       Surnames A through 
...
Read more...
---
SAIMC: Durban branch
September 2021, SAIMC , News
Kevin Preston of Phoenix Contact kindly presented at the virtual Durban branch technology meeting in August. Kevin is group manager IMA & IE at Phoenix Contact and is responsible for the interface, 
...
Read more...
---
SAIMC: Johannesburg branch
September 2021, SAIMC , News
Once again, the Johannesburg branch technology evening had to held virtually. We were happy to have Stahl SA involved, with Diogo Fidalgo doing a presentation on 'Ethernet and network technologies for 
...
Read more...
---
SAIMC: From the office of the CEO
July 2021, SAIMC , SAIMC, News
The Identification of Engineering Work that has been in the making since 2000, was eventually gazetted in March this year. People now have roughly three years to comply – depending on your surname.
...
Read more...
---
SAIMC: Johannesburg branch
July 2021, SAIMC , SAIMC, News
First hybrid meeting
Following lockdowns, shutdowns and the second wave, the Johannesburg branch rolled out a combined/online meeting for May, hosted by Adroit Technologies. Dave Wibberley spoke on 
...
Read more...
---
SAIMC: From the office of the CEO
August 2021, SAIMC , News
This month let's examine the question: what is considered engineering work? (Refer to Government Gazette Vol 669 published 26 March 2021 No 44333.) It is important to understand what is considered 
...
Read more...
---
SAIMC: Durban branch
August 2021, SAIMC , News
As a well-known and respected figure in the industry, Gary Friend (sales director, Extech Safety Systems) drew record crowds for the Durban branch's July (virtual) technology meeting. His presentation 
...
Read more...
---
SAIMC: Johannesburg branch
August 2021, SAIMC , News
The branch recently had the privilege of hosting Turck Banner for another hybrid technology evening, which was a great success. The topic was, 'Have you seen the light?' Kenneth McPherson, who was 
...
Read more...
---
SAIMC: Cape Town branch
June 2021, SAIMC , SAIMC
An integrated geared unit that combines the recently launched Nord IE5+ synchronous motor and a single-stage helical gear unit offers optimum system efficiency.
Read more...
---
SAIMC: From the office of the CEO
June 2021, SAIMC , SAIMC
It was interesting to see the comments around Cuban engineers being imported to do engineering work in South Africa. This brings me to the Identification of Engineering Work and Professional Registration 
...
Read more...
---