printer friendly version
The future of automation
March 2021
Motion Control & Drives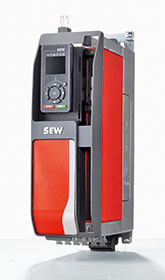 MOVI-C comprises four components: MOVISUITE engineering software, MOVI-C Controller control technology, MOVIDRIVE inverter technology, and MOVIGEAR, MOVIMOT decentralised drive technology comprising the company's flagship range of mechatronic drives – which includes gear units, motors, electric cylinders, brakes, built-in encoders and diagnostic units. Together these components form one end-to-end modular automation system and can be combined to suit any bus topology.
Maxolution engineer, Dylan Enslin, says that a key change from SEW-EURODRIVE's Generation B range is the uniformity of the look and feel of these newly developed products and software across the range, which, building on previous generations, greatly improves the user interface. "The new MOVI-C designs are different but the actual interface is the same across the range. They also have a whole lot of new features, and will be phased in gradually, starting with the popular sizes," he explains. "In essence, MOVI-C combines the advantages of decentralised installation – saving space and lowering costs – with the flexibility of SEW-EURODRIVE's modular portfolio."
Free communication across topologies
All components of a MOVI-C system can be fully integrated into any automation design, fieldbus topology or network standard. There is complete freedom of configuration, as MOVI-C is compatible with protocols from Profibus and Industrial Ethernet through to Modbus. "With Generation C, Profinet is included as an onboard option on the decentralised products," adds Enslin. "This has opened doors and is a huge benefit to customers as it simplifies the installation and programming."
MOVI-C applications can draw on a variety of configurations. Examples are single-axis automation in materials transportation; motion control in multiple column hoists, tripod mechanics and robots; module automation in packing and processing machines and complex transportation tasks; and functionality as an EtherCAT motion slave in series machines with numerous axes and kinematic calculation in high level PLC, with EtherCAT CiA402 also available as an integration option.
Functional safety
SEW-EURODRIVE's MOVISAFE safety cards have made functional safety an integral part of all MOVI-C inverter applications. Higher level safety functions are achieved by inserting an option card connecting to the inverter technology – encoder, communication and STO. Costs are thus reduced to only the function actually needed. Enslin says that this is a vast improvement on Generation B and makes it easier to get a machine up and running quickly in the event of a breakdown.
Faster and simpler
The MOVISUITE engineering software allows quicker and simpler planning, commissioning, operation and diagnostics, reducing costs for users while improving usability. MOVI-C Controller allows more freedom for parameterisation, with less programming and centralised data management for greater simplicity – thanks to the ready-standardised MOVIKIT software modules. The end result is reduced cost and complexity.
Single-cable technology with a digital encoder for synchronous and asynchronous AC motors is another big improvement. Now only one hybrid cable is required for the data and power connection between the frequency inverter and electric motor. A further innovation is the new digitaL MOVILINK DDI data interface, which sends performance, brake and diagnostic data from the motor.
Customisation for clients
"What this means for our clients is that everything looks completely new, but is simpler, easier and more user-friendly. The revamped software has been optimised, with improved electronics on the component level," Enslin explains. "With Generation C we have improved control, higher efficiency and more features, as well as added flexibility in applications. Everything is modular and decentralised. Our aim is to service customers more efficiently and effectively, and be able to provide each with a fully modular and customisable solution."
The road ahead
"Looking to the future, SEW-EURODRIVE has embarked on an exciting new project – the construction of a new R200 million head office and factory to accommodate its phenomenal growth. The approximately 25 000 m2 building is situated alongside the company's existing 5000 m2 headquarters in Johannesburg . "We are on track to take occupation in early 2022," he adds.
The high-tech facility will accommodate existing assembly plants, as well as the new MOVI-C facility, in order to improve efficiencies and contain costs. The factory will be automated, with state-of-the-art equipment ready for Industry 4.0.
"SEW-EURODRIVE is very fortunate to be diversified, with markets spanning mining, food and beverage, and automotive, so we can still function no matter the challenge. These figures tell the story and put our growth into perspective," Enslin concludes.
MOVI-C, MOVISUITE, MOVIDRIVE, MOVIGEAR and MOVIMOT are registered brand names of SEW-EURODRIVE.
Credit(s)
Further reading:
Motor starter with integrated isolation contactor
Vepac Electronics Motion Control & Drives
Owing to its integrated functions and protection circuits, classic motor protection is not required – the installation requires only the line fuses to protect the wires.
Read more...
---
Improved bearing block units for higher efficiency
Bearing Man Group t/a BMG Motion Control & Drives
BMG's range of BTC bearings and components – which is manufactured exclusively for BMG to stringent quality and safety specifications – has been extended to include new bearing block units.
Read more...
---
Electric cylinders eliminate compressed air requirements in production plants
Beckhoff Automation Motion Control & Drives
Beckhoff Automation's AA3000 Series represents an efficient servomotor alternative to energy-intensive pneumatic cylinders.
Read more...
---
Driving African mining solutions
SEW-Eurodrive Motion Control & Drives
SEW offers customised solutions for the African mining industry and lead time advantages thanks to its new multimillion local assembly facility in Johannesburg.
Read more...
---
Integrated bearing assemblies for tough applications
Bearing Man Group t/a BMG Motion Control & Drives
These NSK parts are designed especially for vibratory screen machines, which are used in arduous construction, agriculture, quarrying and mining applications.
Read more...
---
Proud milestone for Bearings International
Bearings International Motion Control & Drives
"We are definitely one of the longest-serving Cooper distributors in the world. It is a fantastic achievement, especially as it remains one of our top-selling brands."
Read more...
---
Sliding from Munich to Cairo on durable igus linear carriage
RS Components SA Motion Control & Drives
With the T20 of the drylin W series, igus has launched a new linear carriage which has the same dimensions as most classic carriages with recirculating ball bearing guides.
Read more...
---
High-tech launches from SEW-EURODRIVE at Electra Mining
SEW-Eurodrive News
On show will be the DriveRadar suite for condition monitoring and maintenance forecasting, the M1 high-speed gearbox, and a 3,5 metre diameter girth gear for mills and kilns.
Read more...
---
XTS transport system with innovative 'No Cable Technology'
Beckhoff Automation Motion Control & Drives
Contactless power supply and synchronous real-time data communication enable XTS movers to be expanded into mobile handling and processing stations.
Read more...
---
An innovative alternative to mechanical seals
Bearing Man Group t/a BMG Motion Control & Drives
BMG's range of Garlock sealing products includes a versatile sealing system that replaces mechanical seals in industrial pump applications. Garlock's Hydra-Just system is a reliable, leak-free rotary 
...
Read more...
---