printer friendly version
Three key considerations to build reliable wireless communications for AGVs
February 2021
Industrial Wireless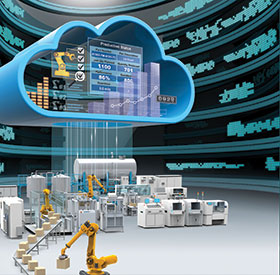 The automated material handling equipment market is expected to grow substantially in the near future. While this trend is anticipated, it recently accelerated in the spring of 2020, as a result of two significant driving forces: namely, the expansion of e-commerce businesses and the social distancing measures imposed on shop floors. In recent years, e-commerce warehouses have become hot property because of the rapidly increasing demand from online shopping. With this surge in demand, efficient and reliable automated storage and retrieval (AS/RS) systems are crucial to keeping warehouse logistics up and running.
In addition to expanding e-commerce business, factory owners are also starting to redesign their shop floors in order to align with social distancing guidelines. Automated guided vehicles (AGVs) are now widely deployed to reduce human contact and increase operational efficiency. With AGVs and AS/RS now becoming mainstream, machine OEMs and system integrators are looking to build reliable connectivity platforms to achieve seamless operations in warehouses and factories. Since AGVs and AS/RS are constantly on the move, fast and stable wireless connectivity is a fundamental requirement. The biggest challenge is how to build a reliable wireless communications network for these systems.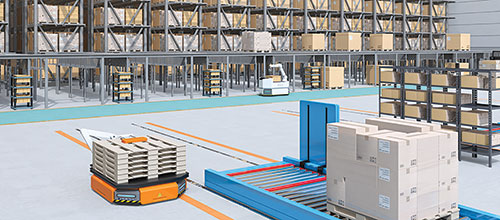 Key factors machine OEMs and system integrators should be aware of when building robust AGVs and AS/RS systems include:
Industrial-grade designs for optimal reliability
Choosing a robust, industrial-grade wireless solution is a top priority. Wireless clients and access points (APs) can be reinforced with RF and power isolation to protect devices against electrostatic discharge damage and sudden inrush currents generated by motors. They should also have a wider operating temperature range and feature high ingress protection to ensure that wireless connections remain stable, even in environments with heavy ambient interference. Through these enhancements, industrial-grade devices are designed to last longer as well.
Seamless wireless connectivity to ensure continuous operations
When selecting wireless communication devices, see if the device can be equipped with millisecond-level roaming technology, consider external antennas for more flexible deployment and to achieve broader Wi-Fi coverage, and follow configuration guides from the device provider.
Built-in security features and management software to enhance network security
It is highly recommended to secure all wireless communication devices after configuration and to deny unauthorised devices access to the wireless network, creating an additional layer of network security.
Moxa's solution
Moxa has helped machine OEMs and system integrators worldwide to augment their AGVs and AS/RS for optimal reliability and efficiency. Moxa's AWK series AP/bridge/client solutions combine a rugged design with high-performance Wi-Fi connectivity to deliver a secure and reliable wireless network. With the MXview network management software and AeroMag technology, customers can easily configure, manage, maintain, and troubleshoot their networks.
Credit(s)
Further reading:
DEK wireless kit
October 2021, Turck Banner , Industrial Wireless
The standalone DEK wireless kit from Turck Banner includes everything needed for a remote preventive maintenance monitoring solution.
Read more...
---
Unwired unleashes new possibilities
October 2021, RJ Connect , Industrial Wireless
In situations where it is hard to wire or reconfigure industrial operations, wireless LANs (WLANs) provide an ideal alternative.
Read more...
---
Tag-specific requirements in RFID systems for track and trace
September 2021, Turck Banner , Editor's Choice, Industrial Wireless
The BL ident complete RFID system from Turck Banner offers solutions in the HF or UHF range with interfaces for use in a plant or switch cabinet.
Read more...
---
Modularity for scalability
September 2021, RJ Connect , IT in Manufacturing
Businesses are looking for versatile solutions that are easy to maintain to ensure smooth operations while keeping costs down.
Read more...
---
Secure boundaries enhance industrial cybersecurity
September 2021, RJ Connect , IT in Manufacturing
When enhancing cybersecurity, it is important to understand how industrial systems are exchanging data and how they connect to IT-level systems.
Read more...
---
Monitoring oil and gas pipelines
August 2021, RJ Connect , Maintenance, Test & Measurement, Calibration
Moxa's MDS-G4020 series offers a modular platform that can be fitted with fibre interfaces to connect pipeline subsystems to a control centre over long distances.
Read more...
---
Are you ready for the 2G/3G sunset?
August 2021, Throughput Technologies , Industrial Wireless
With widespread adoption of 4G technology and the growing availability of 5G, older technologies (2G and 3G) are now slowly being phased out.
Read more...
---
DXM series wireless controllers
August 2021, Turck Banner , Industrial Wireless
The robust, IP67-rated housing of Turck Banner's DXM1200E easily installs in most environments without the need for an additional enclosure.
Read more...
---
Wi-Fi in South African underground coal mines
August 2021, Extech Safety Systems , Industrial Wireless, IS & Ex
In the author's opinion, Wi-Fi and all it offers can dramatically improve safety in all industries, including underground coal mines.
Read more...
---
Wireless kit for remote monitoring
August 2021, Turck Banner , Industrial Wireless
Since Turck Banners standalone DEK wireless kit includes everything needed for a remote preventive maintenance monitoring solution, complexity is removed, and installation is quick and easy.
Read more...
---