printer friendly version
Turck Banner expands HMI range
January 2021
SCADA/HMI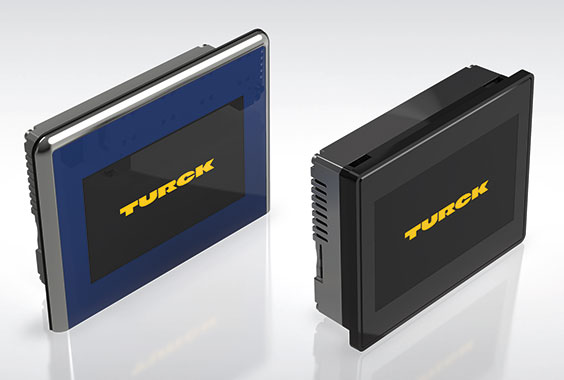 Turck Banner has expanded its TX700 HMI/PLC device series with two new variants for food and beverage applications (TX700FB) and two variants with high-brightness displays for sunlight readability (TX700HB). The FB devices are available in 7" and 15" screen diagonals and the HB variants in 7" and 10" screen diagonals.
The FB devices were developed to comply with hygienic design requirements (DIN EN1672-2, EHEDG/FDA 21 CFR 177.2006) and come with a stainless steel front with a polyester coating. The device front has been designed with protection to IP69K so that the devices are waterproof at high pressure up to temperatures of 80°C. The FB products are also resistant to acids and chemicals.
The HB devices with their extra bright display are particularly suitable for outdoor applications. The displays are manufactured with liquid bonding (LOCA) – a screen bonding process that improves screen contrast and increases brightness through reduced reflection and refraction. The HB devices with the full metal housing are resistant to mechanical influences.
The TX100, TX500 and TX700 device series can not only be used for visualisation, but can also be used, if required, with VisuPro as an IIoT gateway or edge controller. Besides the conventional HMI protocols for connecting to controllers, such as Siemens, Beckhoff or Rockwell, TX VisuPro also supports MQTT or OPC-UA as server and client. The TXF700 HMIs can communicate simultaneously with up to eight protocols. This gateway function therefore also enables data to be exchanged between different controllers or terminal devices.
Credit(s)
Further reading:
Grist for the mill
Turck Banner Editor's Choice Sensors & Transducers
To meet the requirements of Swiss company Bühler with regard to its MHSA grain huller, Turck certified its contactless Li linear position sensor for use in the Ex area. Thanks to its contactless operating principle, the robust sensors are both maintenance-free and wear-free. They offer an impressive performance due to their optimum reproducibility, resolution and linearity over a large temperature range.
Read more...
---
Ex-rated strain gauge transducer
Turck Banner Sensors & Transducers
Turck Banner's IMX12-SG for force measurement applications in hazardous areas achieves response times below 10 ms and can be used as a repeater or signal converter.
Read more...
---
Upgraded IIoT functionality for excom Ethernet I/O
Turck Banner Fieldbus & Industrial Networking
Firmware update adds functions to excom Ethernet gateways, such as webserver, HCiR and parallel access to HART devices.
Read more...
---
Working hand in hand to meet automotive OEMs' strict requirements
Turck Banner Sensors & Transducers System Integration & Control Systems Design
The LASE Group, producer of machines and assembly cells for the automotive industry, places trust in its close collaboration with Turck Multiprox.
Read more...
---
IP67 power supplies with IO-Link for field installation
Turck Banner Electrical Power & Protection
Turck Banner's compact PSU67 power supply units ensure energy-efficient, decentralised power supply in modular systems.
Read more...
---
Managed and unmanaged Ethernet switches
Turck Banner IT in Manufacturing
Three new IP67-rated switches have been released to expand Turck Banner's portfolio – two unmanaged variants and one managed switch.
Read more...
---
Four-channel I/O module with Ethernet interface
Turck Banner Fieldbus & Industrial Networking
With a temperature range from -40°C to +70°C and protection to IP65/IP67/IP69K, the new I/O module has a wide range of uses.
Read more...
---
Ultra-robust HMIs with IP67 protection rating
Turck Banner SCADA/HMI
Turck Banner's TXF700 series enables cabinet-free operating and installation concepts at operating temperatures between -20°C and +55°C.
Read more...
---
Flexible drive control of roller conveyors
Turck Banner Motion Control & Drives
Turck Banner's new TBEN I/O module with on-board logic simplifies parameterisation and operation of roller motors.
Read more...
---
EtherCAT Block I/O with Eight IO-Link Masters
Turck Banner Fieldbus & Industrial Networking
The ultra-robust TBEC-LL-8IOL enables Turck Banner's entire IO-Link portfolio to also be used in EtherCAT applications.
Read more...
---