printer friendly version
Edge device provides fanless control
June 2020
Industrial Computer Hardware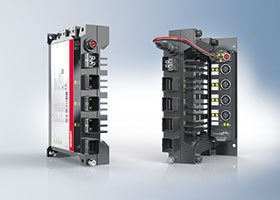 With its new C7015 ultra-compact industrial PC, Beckhoff has combined its extensive expertise with PC-based machine control and IP 65/67 components. The result is an industrial PC (IPC) designed with IP 65/67 protection for direct installation on the machine or other equipment. This edge device is ideal for decentralised installation and provides powerful multi-core computing performance. When used as a full-fledged control computer, the device also reduces the required control cabinet space, which simplifies machine design as well as subsequent system expansions.
The C7015, which measures 85 x 167 x 43 mm, is an economical yet high-performance IP 65/67 device designed for installation within machine environments. The space-saving, fanless device is universally suited to high-performance automation, visualisation and communication purposes. Its applications range from classic machine control to the decentralised edge computing utilised in advanced Industry 4.0 concepts.
High-performance edge device
The C7015 is equipped with a powerful Intel Atom multi-core CPU with up to four processor cores. Compared to conventional ARM-based edge devices, it is able to support far more demanding applications as well as decentralised data pre-processing and the acquisition of large data volumes. The device housing with IP 65/67 protection rating is another feature that makes the C7015 ideal for use in modern edge applications, even in harsh production environments.
Decentralised machine control with EtherCAT P
The new IPC serves as a highly functional machine controller. Installing it directly in the field can save valuable electrical cabinet space, which reduces machine footprints significantly, especially when combined with other Beckhoff components with a high protection rating, such as the AMP8000 distributed servo drive system and the EPP series of EtherCAT P I/O modules. These solutions can vastly simplify machine design while also minimising the effort of subsequent system expansions, such as the addition of an energy data acquisition system.
The integrated EtherCAT P connection of the C7015 creates a range of new options for efficient sensor/actuator connection via the IP 67-protected EPP modules. In this way, even complex diagnostic or condition monitoring tasks can be decentralised and supported with minimal installation effort, for example. For that purpose, a special mounting plate enables direct attachment of an EPP module to the C7015. If required, additional EPP modules can be flexibly connected via EtherCAT P for specific applications.
Credit(s)
Further reading:
Electric cylinders eliminate compressed air requirements in production plants
Beckhoff Automation Motion Control & Drives
Beckhoff Automation's AA3000 Series represents an efficient servomotor alternative to energy-intensive pneumatic cylinders.
Read more...
---
Optimised, PC-based food production
Beckhoff Automation Editor's Choice System Integration & Control Systems Design
Foodjet's MDL food printers can portion and deposit toppings with maximum precision, whether coating pizza dough with a perfect layer of tomato sauce, or icing doughnuts with seasonal decorations.
Read more...
---
Cleanroom tablet PC
Extech Safety Systems Industrial Computer Hardware
The device is convenient to operate, even with multiple pairs of nitrile cleanroom gloves or a stylus. Both the front and rear cameras of the tablet can be used within the stainless steel enclosure.
Read more...
---
XTS transport system with innovative 'No Cable Technology'
Beckhoff Automation Motion Control & Drives
Contactless power supply and synchronous real-time data communication enable XTS movers to be expanded into mobile handling and processing stations.
Read more...
---
Power supplies with EtherCAT interface
Beckhoff Automation Electrical Power & Protection
In the case of system monitoring, important operating parameters such as output current and voltage are transmitted in real time and updated continuously
Read more...
---
Assembly line for the automotive industry
Beckhoff Automation Motion Control & Drives
How do you design a new assembly line and go on to reduce the footprint of the concept by another quarter? And how can you later increase the productivity of this highly consolidated line even further? 
...
Read more...
---
Ultra-compact robot-based cake production
Beckhoff Automation Motion Control & Drives
A novel solution for food manufacturing has been unveiled by confectionery manufacturer, Juchheim. Its robot, Theo, bakes high-quality Baumkuchen. This is a German style of layered cake that has become 
...
Read more...
---
Standard-compliant differential current transformer
Beckhoff Automation Sensors & Transducers
The SCT5564 can be used as a residual current monitor and can measure DC and AC residual currents with up to 100 kHz frequency in the 0 to 2 A range.
Read more...
---
Pluggable system solution for control cabinet-free automation
Beckhoff Automation Enclosures, Cabling & Connectors
Beckhoff's MX-System provides maximum efficiency for machine builders, control cabinet manufacturers and end-users.
Read more...
---
ML compensates for 'cogging' in high-precision linear motion
Beckhoff Automation Motion Control & Drives
Using recorded data, the servo motor software trains a neural network which is ultimately integrated into the control system for current pre-control.
Read more...
---