printer friendly version
SAIMC: From the office of the CEO
June 2020
SAIMC
President Cyril Ramaphosa rightly stated in his letter of 11 May: "Imposing a nation-wide lockdown gave our country a strategic advantage. It bought us valuable time to prepare our health system and put in place containment measures. This has slowed transmission and saved lives.
"As the restrictions on economic activity and daily life are eased, it is vital that all South Africans maintain that firm sense of personal responsibility. In all that we do, in every sphere of life, we must take care of our own health and the health of others."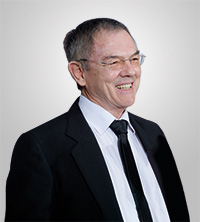 Johan Maartens.
Also bear in mind the following statement from www.sacoronavirus.co.za under the heading 'Don't panic'. "There is no need to panic – 82% of Covid-19 cases are mild: patients only experience a slight fever, fatigue and a cough. Only about 6% of patients need intensive care. The vast majority of people can stay at home and get better without hospital treatment."
As the active cases slowly increase (active = positive/recovered/died), South Africans seemed to forget all about the 'Don't panic' initiative. Police, army, healthcare, and politicians seemed to jump on the panic wave and the result created visions of another failed, militant African state in the making, including our newly achieved junk status.
When any business makes rules that the employees do not understand, there is confusion and suspicion. This is true in business, in the home as well as in politics.
Suspicions about people gaining from banning the sale of certain items, government driving its political agenda, and assistance for only companies of a certain population group abound – and all because an open book policy was not followed.
The SAIMC stands firm behind the president of South Africa, but at the same time, we question why the government found it necessary to be so secretive about why certain decisions were made, other decisions were made one day and thrown out the next, etc. It creates bad impressions about the motives of people in power and the competence of those behind the decisions.
One thing that President Ramaphosa did get right though was to unite the country behind him at the start of Level 5 lockdown. Then, everything seemed to go haywire when we moved to Level 4. It seems that it is time for Mr. Ramaphosa to take back the reins of power and start leading the country again, with the authority and understanding he has shown in the past.
Yours in automation, Johan Maartens.
Credit(s)
Further reading:
In memoriam: Hendrick Frederik (Hennie) Prinsloo
June 2020, SAIMC , SAIMC
It is with great sadness that the SAIMC announces the death of branch general manager Hennie Prinsloo after a short but brave battle with cancer. A stalwart and passionate member of the SAIMC since 
...
Read more...
---
SAIMC: Johannesburg branch
June 2020, SAIMC , SAIMC
Here we are at the end of May, still in lockdown Level 4. While we at the Johannesburg branch are doing our best to bring technology to our loyal members, there is still nothing like the human touch.  
...
Read more...
---
SAIMC: Vaal branch
June 2020, SAIMC , SAIMC
On 5 March the first coronavirus case was recorded in South Africa. The government reacted swiftly and called for a nationwide lockdown which commenced on 27 March 2020. Since then there have been extensions 
...
Read more...
---
SAIMC: Vaal branch
May 2020, SAIMC , SAIMC
At the last technology evening, Albert Louw, mobile control systems specialist from ifm electronic, gave a presentation on control systems for mobile machines, applicable to all mobile vehicles from transport 
...
Read more...
---
SAIMC: Durban branch
May 2020, SAIMC , SAIMC
The last technology evening was held in March, and as we headed into lockdown we reluctantly cancelled future technology events pending the reopening of the country. There is much discussion about whether 
...
Read more...
---
SAIMC: Cape Town branch
May 2020, SAIMC , SAIMC
Technology evening: Introduction to Profibus
What an interesting time and age we are in. If anyone predicted what future would be knocking on our doors in 2020, they would be a millionaire. With 
...
Read more...
---
SAIMC: From the office of the CEO
May 2020, SAIMC , SAIMC
Amidst the turmoil of the latest coronavirus pandemic and the recent downgrade of South African government debt to junk, I've begun to wonder whatever happened to traditional values like responsibility 
...
Read more...
---
SAIMC: Johannesburg branch
May 2020, SAIMC , SAIMC
IIoT/Industry4.0/4IR – they cover a large area and don't always mean the same thing. So how do we define any of these terms? Basically, they are about improving manufacturing efficiency, largely through 
...
Read more...
---
SAIMC: From the office of the CEO
April 2020, SAIMC , SAIMC
South Africa has experienced terrible crimes against humanity over the years and somehow survived them. The idea of this letter is not to discuss who murdered who first, or who took whose country – if 
...
Read more...
---
SAIMC: Vaal branch
April 2020, SAIMC , SAIMC
At the recent technology evening, Lloyd Townsend, product support specialist from Wika, presented on IIoT with a focus on digitalisation within our industries.    He said that there are many buzz words 
...
Read more...
---