printer friendly version
From the president's desk
September 2009
SAIMC

Our innovations committee headed by Johan Maartens is constantly tabling new ideas and proposals to help us work more efficiently, thus adding benefits to both our members and patrons. The 2009 Council are constantly evaluating these proposals within the constraints of our available resources. We always have to be conscious when tackling new projects as our councillors are volunteers who all have daytime jobs.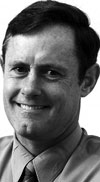 Johan van Jaarsveldt
We have had huge problems with our website. A lot of our time, money and effort went into the site, and through no fault of our own, the maintenance and hosting has been lost. We are working on a new site, and it will be up and running shortly.
A lot of emphasis has been put on membership and the benefits of being a member as well as our relationships with ECSA. In the previous six months, our membership has grown by 20% and again I want to welcome all our new members and thank all the committee members who have diligently assisted with this membership drive. A special word of thanks must be given to Debbie Scott who has given us an exhibition stand at no charge at each of her Penmac Road Shows across the country.
2009 is flying past; events planned at the beginning of the year that seemed far in the future are now upon us. Our branch chairmen report that regular technology meetings are now taking place all over the country and that these meetings are exceptionally well attended. Secunda held yet another successful golf day. Durban has re-established the Richards Bay branch and the enthusiasm shown by the members there has been phenomenal, meeting attendance is growing all the time.

One of the nine four balls sponsored by Siemens at the recent SAIMC Johannesburg branch golf day. [L to R]: Quinton Richardson, Ryan Chetty, Andrew Kayser, Stephen Scheepers. The full set of pictures from the SAIMC golf day can be found at:
http://instrumentation.co.za/regular.aspx?pklRegularId=4214
The SAIMC Annual Banquette has filled up quickly with only a limited number of seats still available. The guest speaker is none other than the world-renowned Professor David Block who will take us on a tour of our universe. If you are one of the fortunate ones who have booked a table, or you have been invited by one of our Patron members to join them, then I look forward to meeting with you on the evening of 5 November 2009.
Credit(s)
Further reading:
From the President's desk
January 2020, SAIMC , SAIMC
This year, I challenge you to try something that you are truly passionate about. In 2019 I took the plunge and bought an entry level 3D printer. It changed my life completely. I am now only limited 
...
Read more...
---
SAIMC: Durban branch
January 2020, SAIMC , SAIMC
The November technology evening was on the topic of shutdown planning, which was clearly of interest and attracted an audience of over sixty members and visitors to the usual venue at the Durban Country 
...
Read more...
---
SAIMC:Vaal branch
January 2020, SAIMC , SAIMC
The year's last technical evening was sponsored by the SAIMC. Vaal branch manager Juaandré Heyneke gave an in depth presentation on the SAIMC, where he explained the goals of the organisation, both nationally 
...
Read more...
---
SAIMC: Vaal branch
December 2019, SAIMC , SAIMC
At the last technology evening, Robert de Scande from SICK Automation gave a presentation on the subject of IO-Link. IO-Link offers new options for communication between the system control and field levels: 
...
Read more...
---
SAIMC: Durban branch
December 2019, SAIMC , SAIMC
Technology evening
At the last technology evening, Beckhoff Automation's Gareth Taylor (sales engineer, Durban) presented on the topic 'Open PC-based control technology in a world of modular process 
...
Read more...
---
SAIMC: Secunda branch
December 2019, SAIMC , SAIMC
At the technology evening on 10 October, Jacques Parrott, from SICK Automation SA gave a presentation on 'Measurement of green house gas emissions', which also touched on the issue of carbon tax. The 
...
Read more...
---
SAIMC: Johannesburg branch
December 2019, SAIMC , SAIMC
The October technology evening was hosted by Extech Safety Systems. Sales director Gary Friend presented an interesting take on the relationship between new technological advances, and the never-ending 
...
Read more...
---
SAIMC: From the President's desk
December 2019, SAIMC , SAIMC
2019 has been a year of many achievements by our members. Although the SAIMC might not be the organisation with the most members, the unselfish and hard-working team have certainly achieved more than 
...
Read more...
---
SAIMC: From the President's desk
November 2019, SAIMC , SAIMC
The end of the year is almost upon us. Have you taken the opportunity to ask yourself what has really changed for you this year? In some areas we have seen significant and exponential change. Automation 
...
Read more...
---
SAIMC: Tshwane branch
November 2019, SAIMC , News
Industry expert talks about importance of continuous learning
Learning from industry experts is a vital component of any student's training. Such an expert is Thabo Lekgowane, a robotics engineer from 
...
Read more...
---