printer friendly version
RS Components: ready for growth
January 2008
News
Posting a 27% growth rate for the last year was a substantial achievement for RS Components. The company ascribes its success to the work done over the past few years in raising the level of service it delivers to customers as well as ensuring its staff are motivated and focused.
RS Components is a global electronics distribution business that set up a direct presence in South Africa in the 1990s. Following the recent downturn in the local industry, the company did what had to be done to weather the storm and was able to ensure it emerged out of the slump stronger and more able to deliver service excellence than ever before - and than most of its competitors.
Lutz Otto, national marketing and sales manager for RS Components (SA) says the first decision they had to make was exactly what service excellence meant. In the case of RS Components, it means having the electronic parts clients need in stock and guaranteeing a 24-hour delivery time, anywhere in South Africa.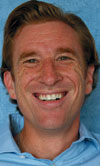 Lutz Otto, national marketing and sales manager for RS Components (SA)
"While 24-hours cannot apply to those parts that have to be sourced from the UK, we are still able to guarantee a four to six day delivery," Otto says. "That once again puts us ahead of our competition."
To further enhance its service levels, RS has recently launched its own ISO-Tech brand of products and is expanding its premises. The expansion is taking place in conjunction with a revamp of the RS Components' warehouse to ease and speed staff's ability to find products.
People matter
Going through a slump in the market is tough on a company and its people. People are subject to the pressures of trying to maintain a professional focus while being concerned about the future of their jobs.
Otto says this meant there was a dire need to use the positive upturn of the past two years as an opportunity to uplift and motivate the company's staff. RS also wanted to ensure it kept its good staff by creating the working environment people wanted to get into and remain in.
In 2006, the company came 50th in the Deloitte's Best Company to Work For survey, with the goal of continually improving its standings. In the 2007 survey, the company improved its results and placed 42nd.
"This is a reflection of what we have done to make RS a better place to work and the focus we place on making sure our staff are the best in the business," adds Otto.
Of the programmes implemented to bolster staff morale, RS Components launched the Discovery Wellness Programme to promote a 'healthy mind, healthy body' philosophy. And the programme is a hit among employees.
Otto also sends all sales staff on a sales certification programme created by the international United Professional Sales Association. This certification will ensure the sales staff are also capable of delivering the best service, which means they understand the needs of their clients and where they are in the buying cycle.
"As always, it is about providing the best customer experience in the industry and making RS Components the best place to work," adds Otto. "We have currently stabilised our staff turnover at 4%, which is one of the best levels in the industry."
eCommerce solutions
One of RS Component's key sales tools in its global offices is its eCommerce platform. RS offers a variety of online solutions to make ordering products easier.
Customers can order from the website, or from a section of the site devoted to the client, and RS Components can even offer a solution that is integrated with the customer's in-house ERP system called Punch Out.
Although the South African market has been slow to turn to the Internet for its procurement needs, internationally RS sells a substantial amount online. Indicating that the market may be about to change, a number of large manufacturing and fast moving consumer goods companies have bought into one of RS's eCommerce offerings.
"Right now we are looking at another good year of growth," says Otto, "made possible no doubt, by a motivated and engaged staff complement. More importantly, we are set to handle whatever the market may throw at us in future."
Credit(s)
Further reading:
The IIoT edge is evolving
January 2020, Technews Publishing (SA Instrumentation & Control) , News
In its IIoT context, the edge is traditionally understood to be a kind of half-way point between the plant and the cloud. Physically hard to define, the edge acts as a repository for data collected from 
...
Read more...
---
University of London opens electronics laboratory based on Tektronix solutions
January 2020 , News
Royal Holloway, University of London, has officially opened its new Beatrice Shilling Building which includes state-of-the-art teaching laboratories in partnership with Tektronix, a leading worldwide 
...
Read more...
---
Rockwell Automation named a leader in Manufacturing Execution Systems
January 2020 , News
Rockwell Automation has announced its recognition as a leader in the Gartner Magic Quadrant for Manufacturing Execution Systems for the second consecutive year. Since the 2018 report, Rockwell Automation 
...
Read more...
---
SKF acquires industrial AI company
January 2020 , News
SKF has signed an agreement to acquire Presenso, a company that develops and deploys artificial intelligence (AI)-based predictive maintenance software. Presenso's capability enables production plants 
...
Read more...
---
Bosch Ulwazi hosts 2019 Engineer in Training function
January 2020 , News
Bosch Ulwazi's 2019 Engineer-in-Training (EIT) Conference was recently held in Mt Edgecombe. At this annual event, graduates are given an interactive platform to showcase the knowledge and skills they 
...
Read more...
---
Smart cities embrace 4IR
January 2020, Schneider Electric South Africa , News
Smart cities rely on smart grid technology that includes traditional and renewable energy sources in its mix of power supply. Driven by the advanced technology of the fourth industrial revolution (4IR), 
...
Read more...
---
North American EtherCAT Plug Fest offers opportunities
January 2020 , News
The 2019 North American EtherCAT Plug Fest recently took place in Denver, USA. Numerous well-known manufacturers of EtherCAT devices came together over two days to test the interoperability of their products 
...
Read more...
---
EM Bloemfontein offers accredited training courses
January 2020, ElectroMechanica , News
The Bloemfontein branch of supplier ElectroMechanica (EM) plans to make significant inroads in the Free State region thanks to its fully-equipped training facility, focusing mainly on automation products 
...
Read more...
---
Cummins boosts production at two glass manufacturers
January 2020 , News
Standby power systems from Cummins are providing extra protection at two glass-manufacturing facilities in Lahore, Pakistan, allowing production lines to always be on, and operations to continue seamlessly 
...
Read more...
---
Schneider Electric announces local manufacturing and reduced lead times
January 2020, Schneider Electric South Africa , News
Schneider Electric South Africa has announced that its PIX Easy Air Insulated Switchgear, previously 100% internationally manufactured, will now have a 68% local finishing process, reducing the customer 
...
Read more...
---