printer friendly version
Ashcroft products distributed in southern Africa by Protea Automation Solutions
July 2006
News
Ashcroft's southern African representative, Protea Automation Solutions' (PAS) Field Instrumentation Division, is a broad-based supplier of industrial field instrumentation that provides solutions for a host of process applications.
A combination of world-leading brands and a highly skilled team of professionals ensure that its customers have access to a comprehensive range of quality products. Ashcroft instruments have represented accuracy, quality and reliability in pressure and temperature measurements for over 150 years. The broad line of pressure and temperature gauges and switches is complemented by a full line of pressure transducers and test equipment. Along with more traditional technology, the manufacturer also uses patented mechanical innovations such as Plus, PowerFlex and FlutterGuard movement technology to combat process vibration.
"The relatively new line of digital test gauges offers a total error band specification unmatched in digital or analog gauge products," comments Protea Automation Solutions' (PAS) national sales manager, Jerry Smits. "Whether analog or electronic, we believe that Ashcroft is the manufacturer that provides the reliability our process and general industrial customers require.

Precision digital test gauges offer an accuracy of ±0,05% over the total band
"With products to suit a wide variety of applications, Ashcroft pressure gauges, temperature instruments, pressure and temperature switches, transducers and transmitters are specified and trusted around the world for the most demanding requirements," continues Smits. "Ashcroft's products find application in industries as varied as chemical processing, oil refineries, power plants, pharmaceutical, food, and industrial equipment. We are confident that the brand has earned a reputation as the industry standard for performance and reliability."
Pressure gauges
Ashcroft manufactures both analog and digital pressure gauges. These products are offered in a wide selection of dial sizes, case styles and wetted parts materials for use in a variety of industrial applications.
Smits says: "We recommend that the user considers the following features of Ashcroft's product range before selecting a pressure gauge:
* Bourdon tube pressure gauges are available in a wide selection of housing and socket materials.
* Gauges are available from 2,5 kPa through to 690 MPa.
* All gauge cases are designed to withstand harsh environmental conditions and are supplied in either stainless steel, black epoxy-coated aluminium or phenolic coating.
* Most products in the range are available with an optional built-in throttle plug to help protect against pressure surges or spikes.
* All general service type Ashcroft industrial gauges are supplied standard with a 1% ASME grade 1A accuracy (American Society of Mechanical Engineers). For a higher degree of accuracy, process gauges are available with a 0,5% ASME grade 2 A accuracy.
* Dial sizes range from 63 to 216 mm, thereby matching space requirements with optimum gauge readability.
* Connections available include 1/4 NPT, 1/2 NPT, BSP, JIS and SAE.
* Depending on the application, gauges are either stem, surface or flush mounted."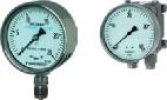 Thermometers
A comprehensive range of thermometers and accessories are available for various applications.
Bimetal thermometers are supplied in a variety of case styles and temperature ranges. The industrial bimetal thermometer is backed by a limited five year warranty. Each thermometer is manufactured to a standard accuracy of 1% of span.
Gas-actuated thermometers are available with direct and remote mount case styles. Accuracy is within 1% of span.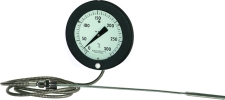 "Ashcroft's digital thermometers are compact, solid state temperature measurement and display devices," explains Smits. "The products can be panel mounted using either optional mounting flanges that will fit standard 2" and 2´" diameter panel openings, or with a U-clamp bracket in a standard 2" opening.
"RTD thermometers are switchable between Fahrenheit and Celsius and ranges vary between -100 to +500°C.
"Of course, thermowells should be used on any application where the stem of the bimetal thermometer may be exposed to pressure, corrosive fluids or high velocity," says Smits. "Additionally, the use of a thermowell permits instrument interchange or calibration check without disturbing or closing down the process."

Diaphragm seals
With over 30 000 possible permutations, Ashcroft's range of diaphragm seals promises to meet a wide variety of applications and installation requirements. Features include:
* Diaphragm seals can mount directly to the process by means of a female NPT thread.
* ASME B16.5 flanges may also be specified by the user.
* Seal types available are capsule, welded, bonded and clamped.
* Diaphragm seals are normally furnished with a nickel/chrome plated carbon steel top housing, however, 316 stainless steel is offered as an option.
* A standard fill/bleed connection allows the seal and instrument to be evacuated and filled.
As the diaphragm is in direct contact with the process, selecting the proper diaphragm is important. Lower housings are available in a variety of materials to fit the requirements of each application. The standard clamping rings are made of black epoxy painted carbon steel while stainless steel is an available option.
A full-service, custom-engineered diaphragm seals program is available for the unique solutions that are sometimes required.

"With expertise in pressure and temperature measurement and instrument isolation, Protea and Ashcroft engineers welcome the challenges difficult applications present," says Smits. "Unusual seals with special connections, made with particular materials and distinctive configurations are made-to-order for specific application requirements. And, as a manufacturer of both instruments and diaphragm seals, any standard combination of Ashcroft products and seals can be ordered, assembled and shipped directly from the factory."
Pressure and temperature switches
Pressure and temperature switches are offered in a wide assortment of switch elements, wetted materials and enclosures.
Pressure transducers and transmitters
These pressure transducers and transmitters are offered in a wide assortment of pressure ranges and other specifications.

Smits concludes: "Protea Automation Solutions focuses on adding value to its customers by resolving problems, providing technical advice, and showing customers more efficient ways to achieve their production goals. Often these problems are solved by the installation or configuration of instrumentation."
Protea Automation Solutions is the authorised distributor of Ashcroft products in southern Africa.
For more information contact Jerry Smits, Protea Automation Solutions, 011 719 5792, jerry.smits@protea.co.za, www.protea.co.za
Further reading:
The IIoT edge is evolving
January 2020, Technews Publishing (SA Instrumentation & Control) , News
In its IIoT context, the edge is traditionally understood to be a kind of half-way point between the plant and the cloud. Physically hard to define, the edge acts as a repository for data collected from 
...
Read more...
---
University of London opens electronics laboratory based on Tektronix solutions
January 2020 , News
Royal Holloway, University of London, has officially opened its new Beatrice Shilling Building which includes state-of-the-art teaching laboratories in partnership with Tektronix, a leading worldwide 
...
Read more...
---
Rockwell Automation named a leader in Manufacturing Execution Systems
January 2020 , News
Rockwell Automation has announced its recognition as a leader in the Gartner Magic Quadrant for Manufacturing Execution Systems for the second consecutive year. Since the 2018 report, Rockwell Automation 
...
Read more...
---
SKF acquires industrial AI company
January 2020 , News
SKF has signed an agreement to acquire Presenso, a company that develops and deploys artificial intelligence (AI)-based predictive maintenance software. Presenso's capability enables production plants 
...
Read more...
---
Bosch Ulwazi hosts 2019 Engineer in Training function
January 2020 , News
Bosch Ulwazi's 2019 Engineer-in-Training (EIT) Conference was recently held in Mt Edgecombe. At this annual event, graduates are given an interactive platform to showcase the knowledge and skills they 
...
Read more...
---
Smart cities embrace 4IR
January 2020, Schneider Electric South Africa , News
Smart cities rely on smart grid technology that includes traditional and renewable energy sources in its mix of power supply. Driven by the advanced technology of the fourth industrial revolution (4IR), 
...
Read more...
---
North American EtherCAT Plug Fest offers opportunities
January 2020 , News
The 2019 North American EtherCAT Plug Fest recently took place in Denver, USA. Numerous well-known manufacturers of EtherCAT devices came together over two days to test the interoperability of their products 
...
Read more...
---
EM Bloemfontein offers accredited training courses
January 2020, ElectroMechanica , News
The Bloemfontein branch of supplier ElectroMechanica (EM) plans to make significant inroads in the Free State region thanks to its fully-equipped training facility, focusing mainly on automation products 
...
Read more...
---
Cummins boosts production at two glass manufacturers
January 2020 , News
Standby power systems from Cummins are providing extra protection at two glass-manufacturing facilities in Lahore, Pakistan, allowing production lines to always be on, and operations to continue seamlessly 
...
Read more...
---
Schneider Electric announces local manufacturing and reduced lead times
January 2020, Schneider Electric South Africa , News
Schneider Electric South Africa has announced that its PIX Easy Air Insulated Switchgear, previously 100% internationally manufactured, will now have a 68% local finishing process, reducing the customer 
...
Read more...
---