printer friendly version
Programmable Automation Controllers (PAC) - a new way of thinking
January 2004
PLCs, DCSs & Controllers
I kid you not when I say that Daniel Coetzee's eyes 'light up' when he starts to describe GE Fanuc Automation's new Programmable Automation Controller Systems (PACSystems). His passion for the product, that he promises will shake up the control industry, is astonishing. In an exclusive interview, Coetzee, business manager for GE Fanuc Automation Sub-Saharan Africa, gave SA Instrumentation & Control some insight into the cause of his excitement.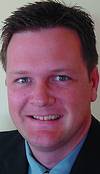 Says Coetzee by way of introduction: "Today there are microprocessors designed for consumer and home use that can perform tasks we would not even have dreamed of 10 years ago. However, the traditionally conservative nature of the control industry has largely prevented us from taking full advantage of many of the wonderful leaps and bounds achieved in technology. Just think about the staggering performance achieved by the latest personal computer CPUs, and yet think how reticent the market is to embrace this performance."
"Furthermore, the massive demand by the burgeoning consumer market has also exerted enormous downward pressure on the prices of consumer technologies," he continues. "Yet the control industry has not bothered to take advantage of these price cuts. Proprietary automation technologies, such as the various fieldbuses, have continued to force expensive specialist systems onto the automation market, rather than embracing price/volume benefits of consumer systems."
Coetzee motivates that GE Fanuc Automation has broken away from this stereotypical mould by embracing the latest processor technology, without adopting the 'herd mentality' so often associated with the adoption of new technologies. "We have leveraged the explosion in the consumer-based market to radically reduce the development cycle of our product range. The product development cycle of the consumer market has reduced from two years to one-and-a-half months. Passing this through to the industrial market has far-reaching consequences for the control and automation user. Over and above this, we have achieved a price reduction of between 40 and 50%. We are harnessing the technology of the semiconductor industry and are directing it towards the control professional."
PAC definition
While a PAC's form factor can be similar to that of a traditional PLC, a PAC's capabilities are far more comprehensive. PACs are multifunctional controller platforms that encompass various technologies and products that users can mix, match and implement at will. PLCs, on the other hand, are products grounded in proprietary architectures that are equipped with the capabilities that the manufacturer deems necessary.
The primary differentiator between the two is the foundation upon which each is based. Whereas a PLC's capabilities are grounded in specific hardware and cannot be moved easily from PLC to PLC, a PAC's functionality is rooted in its portable control engine.
PACs can be defined by the following features and capabilities:
* Multi-domain functionality - including logic, motion, HMI and process control - on a single platform.
* A common development platform for the design and integration of multidomain automated systems.
* Allowing OEMs and end users to deploy multiple control applications on a single platform.
* Facilitating open, modular control architectures that enable highly distributed automated plant environments.
* Employing de facto standards for network interfaces, languages, etc, to allow data exchange as part of networked multivendor systems.
GE Fanuc's PACSystems is a range of products targeted at the high-end PLC/DCS market. Coetzee explains that its advantage over other control packages is its singular engine. This one engine has been designed to handle multiple hardware platforms, including those that have not yet been developed. PACSystems combines the best functionality of existing platforms (the series 90-70, series 90-30 and PC Control), allowing the user to utilise the same hardware they have always used and to upgrade seamlessly as new systems are developed.
Different layers
GE Fanuc believes that its new software and firmware structure provides flexible solutions to their customer needs. Figure 1 shows the relationship between the various layers of the control system:
* The use of a commercial operating system to interface to the hardware layer allows the platforms to grow as rapidly as the technology allows.
* The control engine sits on the operating system.
* The application in turn interfaces with this engine.
This separation of the application from the operating system allows applications to easily move from system to system with little or no changes required, giving what the company claims is "the most seamless migration path in the industry."
"We have made a commitment to our clients to allow them to use the code that they have already written in systems that we have not yet developed," says Coetzee. "With control technology that is built on standard embedded architecture, PACSystems is able to implement identical code execution regardless of the platform used."
Benefits of PACs
A PAC control solution delivers the benefits that both plants and OEMs need, including:
* Increasing productivity and operational efficiency: a single portable control engine and universal engineering development environment allows rapid development, implementation and migration, and, through its openness and flexibility, enables true control convergence and seamless integration with operations and enterprise-level business systems to streamline plant processes.
* Reducing operational costs by: employing common, standards-based architectures and networks; enabling engineers to choose different system components for a platform that uses cost effective COTS rather than proprietary products and technologies; requiring user training on only one platform and development environment, rather than several; and providing a seamless migration path that protects investments in both I/O and applications development.
* Giving users more control over their control systems: GE Fanuc Automations' PACSystems provides users with the flexibility to choose the hardware and programming language that best suits each particular application, design upgrades on their own timetables, and design and build products at any location.
GE Fanuc's Solution
The innovative PACSystems family addresses the industry-wide need for a PAC platform, is the controller environment that provides a step up in performance without the historical burden of migration path and conversion. PACSystems features a single control engine and universal programming environment as well as portability across multiple hardware platforms to deliver a true convergence of control choices. Built on standard embedded architecture with commercial deterministic operating systems, makes the engine portable to multiple platforms, allowing users to choose the hardware and programming language that best suits each particular application. The system supports distributed I/O through such standards-based communications as Ethernet, Profibus, DeviceNet and Genius networks.
These controllers are driven by GE Fanuc's Cimplicity Machine Edition development software, which provides a universal engineering development environment for programming, configuration and diagnostics. Users can develop a control program with the easy-to-use Windows-based software and apply it to the system of their choice. With tag-based programming, a library of re-usable code and a test edit mode for improved online troubleshooting, Cimplicity Machine Edition is a user-friendly environment that can increase design flexibility and improve engineering efficiency and productivity.
The line consists of the following controllers, each of which provides different application benefits:
* The industrial PC, an all-in-one display panel and full industrial PC.
* Plug-in cards for the PCI bus and for the VME bus that offer standard interfaces to a wide variety of devices.
* The VME64-based RX7i, which supports all standard VME modules, including Series 90-70 I/O and VMIC modules.
* The RX3i, which provides high-speed PCI bus data transfer rates and further extends functionality supporting Series 90-30 I/O modules.

The RX7i and RX3i
The high-performance RX7i is the first release in the GE Fanuc PACSystems family. Offering four times the speed of existing PLC backplanes and up to 10 MB of memory usable for programming and documentation storage, the PACSystems RX7i is VME64-based, supports all standard VME modules (including Series 90-70 I/O), incorporates industry leading embedded systems technology, and uses either an Intel Pentium III 300 MHz or 700 MHz CPU.
The RX3i's support for a standard backplane makes it easy for third-party suppliers to build I/O, communication, motion control, vision and other modules. Third parties can purchase a kit from GE Fanuc to modify standard PCI bus cards for use with the RX3i. The RX3i backplane can also accept Series 90-30 I/O modules. Different RX3i models will feature either an Intel Pentium III or an Intel Pentium IV processor.
The first batch of engineers have already been through GE Fanuc's training program and by all reports they share much of Coetzee's enthusiasm for the product.
Future offerings
The performance of the latest products' pending release get Coetzee really excited. "We are talking about systems with pico-second scan times," he enthuses, "and at prices significantly lower than previously possible."
To continue providing users with leading-edge technology in a wide range of form factors, GE Fanuc plans to introduce additional modules to this system. In addition to releasing the industrial PC and plug-in cards for the PCI bus and VME bus, enhancements to the line will include multiple controllers, interrupt support for the RX3i, CPU redundancy using reflective memory technology (high-speed memory exchange), and other functionality.
For more information contact Daniel Coetzee, business manager: Sub-Saharan Africa, GE Fanuc Automation, 082 453 3301, daniel.coetzee@gefanuceur.ge.com, www.gefanuc.co.za
Established in 1986, GE Fanuc Automation (correctly pronounced 'fa~nik'), is a joint venture of General Electric Co (GE), USA, one of the world's largest, most diversified technology, manufacturing and service companies, with roughly 300 000 employees worldwide, and of FANUC Ltd, Japan, an automation pioneer with more than 30 years of experience in factory automation and the global leader in computer numerical control (CNC) technology.
Further reading:
Modular mid-range PLC series
June 2020, ElectroMechanica , PLCs, DCSs & Controllers
The Delta compact modular mid-range AS series PLCs, available locally from ElectroMechanica (EM), is a high-performance, multi-purpose controller designed for all kinds of automated equipment. The series 
...
Read more...
---
Fishery relies on Siemens process management
December 2019 , PLCs, DCSs & Controllers
The fishery in Steinach, Switzerland, breeds fish species which are under threat so that they can be released into domestic waterways in the canton of St. Gallen. The quality and temperature of the water, 
...
Read more...
---
Meet the Future: Edge Programmable Industrial Controllers
November 2019, Opto Africa Holdings , PLCs, DCSs & Controllers
All controls engineers are familiar with PLCs and PACs (programmable automation controllers). Both have been used and improved over many years, incorporating capabilities that used to be found only in 
...
Read more...
---
Precise control in joining applications
October 2019, ASSTech Process Electronics + Instrumentation , PLCs, DCSs & Controllers
Digiforce is the trusted name when comprehensive monitoring of press-fit, joining, riveting and caulking processes is needed. The models 9306 and 9310 are being successfully used in innumerable applications 
...
Read more...
---
The powerful Festo modular control system CPX-E
Technews Industry Guide: Industrial Internet of Things & Industry 4.0, Festo South Africa , PLCs, DCSs & Controllers
Designed as an EtherCAT master and motion controller with protection to IP20, the powerful automation system CPX-E for factory and process automation with NE21-specific certifications is becoming the 
...
Read more...
---
Rockwell strengthens industrial control system security
July 2019, Rockwell Automation , PLCs, DCSs & Controllers
Communications between industrial control devices have minimal protection today. This leaves them vulnerable to threats like malicious tampering and incidental system changes that can stop production 
...
Read more...
---
Siemens extends the Simine ­portfolio
June 2019, Siemens Digital Industries , PLCs, DCSs & Controllers
Siemens has extended the Simine portfolio for high-pressure grinding mills (HPGR) to include a new controller. Plug-and-play functionality makes the load share controller available for immediate use. 
...
Read more...
---
Schneider Electric announces a new era of control
June 2019, Schneider Electric South Africa , PLCs, DCSs & Controllers
Schneider Electric's new high-end Modicon M580 Ethernet programmable automation controller (ePAC) features redundant processors, native Ethernet, and cybersecurity embedded into its core. It combines 
...
Read more...
---
Selecting the right PLC
June 2019, AC/DC Dynamics , PLCs, DCSs & Controllers
Automation projects, big or small, start with a specification. Here are five factors to consider when choosing a PLC vendor.      
Broad range of devices
The selected brand must have a complete product 
...
Read more...
---
Industrial automation equipment
Africa Automation Fair 2019 Preview, Anytech , PLCs, DCSs & Controllers
Anytech is an industrial automation equipment supplier that has been providing high tech solutions to a wide variety of customers in various industries throughout southern Africa since 1999. High tech 
...
Read more...
---