printer friendly version
Robust infrared sensors designed for industry
July 2000
Sensors & Transducers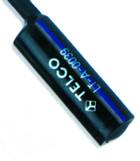 All Telco infrared photoelectric sensors are designed and manufactured in-house, with state-of-the-art optoelectronic components and the latest SMD technique. The company provides 24 h service, with stock and just-in-time delivery. Telco is represented in more than 65 countries by qualified sales engineers who are regularly trained.
Telco sensors are used for counting, registration, sorting, measuring, positioning and detecting within the demanding industries of steel, wood, packaging, material handling, bottling, agriculture, car/train wash and automatic doors, as Telco sensors will operate under some of the most demanding conditions; they are shock, vibration and waterproof and have sufficient power to penetrate solids and subdstances such as dirt, oil, grease, steam and dust. They also offer easy alignment, easy mounting with a high immunity to ambient light.
Telco is continually expanding its respected high-performance sensor programme, ensuring that the sensor needs of tomorrow will be available today.
Credit(s)
Further reading:
Remote monitoring keeps cherries cool
Sensors & Transducers News
The innovative and adaptable nature of the NviroSense system allows for various applications to be added on as per the client's requirements.
Read more...
---
Tiny transmitter for Memosens sensors
Mecosa Sensors & Transducers
In keeping with the use of Memosens sensors in tough environments, the MT201N transmitter is equipped with a sturdy, sealed housing.
Read more...
---
Long-range laser distance sensors
ASSTech Process Electronics + Instrumentation Sensors & Transducers
As a result of intensive R&D, these transit time sensors emit very short light pulses in the nanosecond range, with signals that are statistically evaluated to determine the distance to the object.
Read more...
---
Sensors train many eyes on FMCGs
VEGA Controls SA Editor's Choice Sensors & Transducers
Profit margins on consumer goods are small, which makes it all the more important for producers to have smooth, efficient operating processes.
Read more...
---
Ultrasonic sensors enable automatic stacking turf harvester
Instrotech Sensors & Transducers
The AutoStack, and now the AutoStack II, use an automated Ultra Steer system to guide the harvester with precision while the operator watches over all aspects of the harvesting process.
Read more...
---
Condition monitoring sensor with IO-Link
Turck Banner Sensors & Transducers
Continuously records humidity and temperature in production and storage areas, and outputs the values via IO-Link or as a switching signal.
Read more...
---
Concentration and viscosity measurements from raw materials to finished products
Sensors & Transducers
Learn more about Anton Paar's various solutions through these seven application reports, which cover just a fraction of the company's portfolio.
Read more...
---
2D/3D profile sensor for weld seam tracking
ASSTech Process Electronics + Instrumentation Sensors & Transducers
Supporting software can evaluate two- and three-dimensional data from smart cameras, vision systems, profile sensors and IPCs with profile sensors.
Read more...
---
Fibre-optic position sensor
ifm - South Africa Sensors & Transducers
With ifm's new OCF sensor, fingernails and DIN-rails will remain intact during assembly and disassembly, and screwdrivers can stay in the toolbox.
Read more...
---
Standard-compliant differential current transformer
Beckhoff Automation Sensors & Transducers
The SCT5564 can be used as a residual current monitor and can measure DC and AC residual currents with up to 100 kHz frequency in the 0 to 2 A range.
Read more...
---