printer friendly version
Pressure monitoring with alarm trip and event logging
January 2003 Pressure Measurement & Control Security Services & Risk Management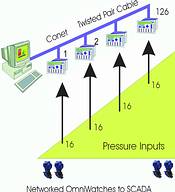 OmniWatch from Omniflex is a monitoring system that keeps an eye on 16 current loop pressure signals simultaneously. No multiplexing or rotary switches are required. Both two-wire and four-wire pressure transducers may be accommodated. The ability to display 4 to 20 mA signals represented in engineering units on the display is a standard feature.
Each input has an alarm and trip setpoint allocated to it, the setpoints are configurable via the front panel keypad. Each setpoint is represented by an LED indicator, which can be configured with an optional enunciator sequence forcing an operator to silence the audible alarm by acknowledging the alarm condition. An auto or manual reset option can be chosen to trap alarms.
Each pressure channel may be viewed in turn on the front panel LCD display with its setpoints by using a scroll button. OmniWatch has an option to automate the display so that the display automatically scrolls through the channels at a specified time interval.
Regarding alarms and setpoints; each set-point can have a relay or open collector output for the alarm status, these can be used to drive external devices when the setpoints are reached. Protection systems can be implemented in this fashion providing alarm annunciation or shutting down the process.
To save on relay outputs, group alarm functions are used to bring up alarm for the attention of operators. There are four group alarms. One each for all setpoint 1's and setpoint 2's. And one group alarm each to function as a high-high or low-low common alarm. Every input is mapped to the group alarms. The 4-20 mA inputs can be re-transmitted to another device as isolated 4-20 mA outputs by fitting an analog output module to the OmniWatch.
Every alarm or trip is date and time stamped as it occurs. This is useful for stringent quality control systems where recording of alarm and trips are required. These events are available to the Conet local area network which can then route them to a scada database system.
OmniWatch has a history log, which captures the last 64 trips and alarms with their dates and time stamps. This log can be viewed via the front panel of the device. Operators thus have access to the latest information.
Up to 127 OmniWatch devices may be connected to a single twisted pair cable running the Omniflex local area network - Conet. Conet is supported by most scada packages and can thus acquire the information from OmniWatch devices including all date and time stamped information.
Building upon the 30 plus years of experience in the field of alarm and events monitoring instrumentation for industry, Omniflex continues to provide solutions for many plant applications such as temperature monitoring.
For more information contact Ian Loudon, Omniflex Automation Products, 031 207 7466, ianl@omniflex.com, www.omniflex.com
Credit(s)
Further reading:
The year resilience paid off
Issue 8 2020 , Editor's Choice, Security Services & Risk Management
Hi-Tech Security Solutions spoke to Michael Davies about business continuity and resilience in a year when everything was put to the test.
Read more...
---
Top 10 security misperceptions
Issue 4 2021 , Cyber Security, Security Services & Risk Management
The Sophos Rapid Response team has compiled a list of the most commonly held security misperceptions they've encountered in the last 12 months while neutralising and investigating cyberattacks in a wide range of organisations.
Read more...
---
Robust pressure transmitters with IO-Link
July 2021, Turck Banner , Pressure Measurement & Control
Pressure transmitters from Turck Banner's PT1000/2000 series are now also available with an IO-Link interface and two programmable switching outputs.
Read more...
---
Monitored cathodic systems
July 2021, Omniflex Remote Monitoring Specialists , Maintenance, Test & Measurement, Calibration
Omniflex partners with IEV to bring remotely monitored cathodic protection systems to South East Asia.
Read more...
---
Ultrasonic sensor for PL d applications
July 2021, Pepperl+Fuchs , Pressure Measurement & Control
Pepperl+Fuchs has expanded its factory automation portfolio and acquired the USi safety ultrasonic sensor from Mayser, a renowned supplier of products and system solutions, many of which are relevant to safety engineering.
Read more...
---
Digital pressure gauge with IO-Link
July 2021, Instrotech , Pressure Measurement & Control
Instrotech now offers Kobold's new MAN-SC/LC intelligent digital pressure gauge with IO-Link
Read more...
---
PoPIA: De-identifying, matching and filing
Issue 3 2021 , Editor's Choice, News, Security Services & Risk Management
Three of the crucial areas in organisational PoPIA compliance that must be discussed include de-identifying, information matching programmes and filing systems.
Read more...
---
Never allow someone onto your property without asking questions first
Issue 3 2021, Fidelity Services Group , News, Security Services & Risk Management
Opportunistic criminals are always looking for easy targets. Being aware of basic personal safety measures can go a long way towards protecting you from impersonators and imposters.
Read more...
---
Winners of the inaugural South Africa OSPAs
Issue 4 2021, Technews Publishing, Secutel Technologies, Cathexis Technologies , Editor's Choice, News, Integrated Solutions, Security Services & Risk Management
The presentation of the first-ever South Africa Outstanding Security Performance Awards (OSPAs) took place virtually on Thursday 3rd June 2021 as part of an internationally attended online thought leadership webinar.
Read more...
---
Skills in CCTV camera operations
Issue 4 2021, Leaderware , Editor's Choice, CCTV, Surveillance & Remote Monitoring, Security Services & Risk Management
Read more...
---