printer friendly version
Generation of reports made simple and portable
April 2002
Data Acquisition & Telemetry
Easy and uncomplicated in its use, OPUS is designed to share information across the intranet or Internet, allowing any person familiar with Microsoft standard Office software to generate meaningful reports. This makes it suitable for gathering information from the very diverse automation and information technologies that manage the process control industry - this is of special relevance to those who have experienced drawing up a simple report and have found it more complex and problematic than the process on their plant.
OPUS is aimed at eliminating the days when one had to call in the IT department every time one wanted to access data for simple pie and bar graphs. It is now no longer necessary to call in the professionals to 'configure the system' or 'set parameters', and IT departments will save valuable time wasted by unnecessary call outs and unwanted reports in vague formats and layouts.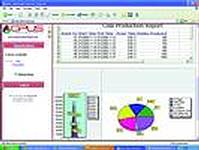 Sample OPUS report output screen viewed using an Internet browser
Those feeling it is time to take control of their environment and their business, and present their data in a professional format are encouraged to take a look at the new report generator and web-based business intelligence tool from OPUS. Comparable to any report generator in the field in most respects and said to be streets ahead in others, OPUS is designed to gives the user the edge in business intelligence, information gathering and collation.
Despite its apparent simplicity OPUS is powerful and scaleable, and information can easily be accessed simultaneously from a variety of standard data sources including standard databases - such as Access and SQL Server - OPC (Object Linking and Embedding for Process Control), scada (Supervisory Control and Data Acquisition), XML and Excel. If these do not satisfy the requirements or the business environments are unfamiliar, the object oriented OPUS framework allows the user to build their own data sources and simply 'plug' them into their own OPUS environment.
Lookup tables generate automatically, giving previews of the available data in the source being interrogated. This, along with drag 'n drop capabilities, makes it a simple matter to draw up even complex reports and information, making it well suited to unusual situations such as auditing and forensics.
OPUS, with familiar Windows functionality, is fast to learn and easy to use for all members of an organisation.
Anton Schutte, OPUS Technologies
011 781 3665
Further reading:
Clip-on indicator with Bluetooth and logging
WIKA Instruments Data Acquisition & Telemetry
Monitor live process values and diagnostic information on any iOS/Android device running the free PPS application, or monitor directly on the display.
Read more...
---
RS Components introduces RX23E-A
RS Components SA Data Acquisition & Telemetry
RS Components has introduced a new series of single-chip devices from Renesas, the RX23E-A microcontrollers (MCUs) which combine an analog front end (AFE) and an MCU core for use in equipment that delivers 
...
Read more...
---
Advanced controller for data acquisition
RJ Connect Data Acquisition & Telemetry
The ioThinx 4530 series is an advanced modular controller product with a unique hardware design, making it an ideal solution for a variety of industrial data acquisition applications. The controller has 
...
Read more...
---
Top data management on the DIN rail
Endress+Hauser South Africa Data Acquisition & Telemetry
The data manager family of Endress+Hauser is growing. To meet the strong demand from the market for a smart, compact DIN rail data manager for mounting in the control cabinet, development of the RSG45 
...
Read more...
---
IoT data logger
Data Acquisition & Telemetry
IMS is known across the globe as a leading industry expert and manufacturer of condition monitoring data loggers and telemetry. The company performs data logger engineering, manufacturing and servicing 
...
Read more...
---
Fieldlogger for data acquisition
Mimic Components Data Acquisition & Telemetry
The Fieldlogger is a great asset to the Novus automation range of products. It is one of the most comprehensive instruments for the acquisition of data recording, and is capable of analog and digital 
...
Read more...
---
New network function for digital ­indicator
Yokogawa South Africa Data Acquisition & Telemetry
Yokogawa has added a network function to the UM33A digital indicator with alarms. With this network function, a single UM33A digital indicator can receive, process and sequentially display data from up 
...
Read more...
---
Remote monitoring and telemetry at power station water plants
Omniflex Remote Monitoring Specialists Data Acquisition & Telemetry
The wireless ability to manage pumps remotely over long distances is now available using Omniflex's Teleterm M3 Radio RTUs. This full functionality IEC61131 PLC enables both control and wireless communications 
...
Read more...
---
Purely analog signal conditioning
GHM Messtechnik SA Data Acquisition & Telemetry
IMTRON, part of the GHM Group, has launched the Purely Analogue Signal Conditioning TSA modules that offer well-established methods for processing, filtering, amplifying and galvanically isolating sensor 
...
Read more...
---
KPMs rotary consistency transmitter boosts pulp mill performance
UIC Control & Automation Data Acquisition & Telemetry
In today's pulp and paper-making market place, consistency measurement is one of the most important ways to keep costs as low as possible without sacrificing quality or production throughput. KPM's KC/5 
...
Read more...
---