printer friendly version
Drives covering a range of power requirements
April 2002
Motion Control & Drives
Ana-Digi Systems is offering a range of AC drives from LG Industrial Systems - a manufacturer specialising in AC drives and PLCs. The iS5 and the iH are two variable frequency drives from the Starvert range, which are intended for applications rated from 0,75 to 22 kW and 30 to 220 kW, respectively.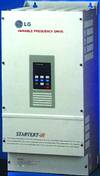 Starvert iH
The iS5 offers up to 22 kW when running off three-phase AC supplies of 200 to 230 V or 380 to 460 V. The enclosure is rated IP00 ~ IP20. The IGBT inverter makes use of pulse width modulation with sensorless vector control. An intelligent accelerate/decelerate function prevents unnecessary tripping. This model also features additional I/O boards that are easily mounted onto the connection terminal of the motherboard, with each I/O standardised for specific requirements. This makes the iS5 extendable when there is any need for additional I/O, etc.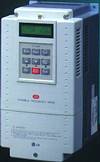 Starvert iS5
The iH is designed for three-phase operation, producing 30 to 55 kW when running from 200 to 230 V, and 30 to 220 kW when operating from 380 to 460 V supply. The inverter, like the iS5, is an IGBT stage that is pulse-width modulated. Control is performed by a high-speed digital signal processor implementing a Volts/Hertz control method, with space vector PWM technology.
LG Industrials space vector PWM technology is being adopted in all LG drives. Said to feature outstanding performance in its control characteristics, it produces little total harmonic distortion, low current ripple low motor temperature rise and better voltage utilisation. Advantages for the end user include higher efficiencies, smoother and more stable operation and higher torque without instability. Options include Dynamic braking units and a communications board offering: RS485, F-Net, ModBus-RTU, DeviceNet and Profibus. The Driveview 2.0 operating software is Windows based.
Suitable applications include: Fan/blower, water/wastewater pump, conveyor, parking system, material handling, industrial washing machines and packaging machines.
Keith Gross, LG Industrial Systems SA
021 948 1452
Further reading:
ABB robotics offers a taste of the future
ABB South Africa Motion Control & Drives
Food and beverage manufacturers increasingly need more flexibility on their production lines to enable them to adapt to changing consumer tastes and demands.
Read more...
---
BMG extends bearing portfolio
Bearing Man Group t/a BMG Motion Control & Drives
BMG's bearings portfolio has been enriched with the addition of the new RN series, launched recently by leading global bearing manufacturer, Rexnord.
Read more...
---
Omron's Sysmac Studio 3D Simulation Integrated Development Environment boosts productivity
Omron Electronics Motion Control & Drives
Logic, motion, robotics, HMI, vision, sensing, safety and 3D simulation are all integrated within a single platform.
Read more...
---
2-channel EtherCAT motion interface
Beckhoff Automation Motion Control & Drives
Flexible and cost-effective stepper motor terminal with 6 A total current.
Read more...
---
Conveyor chain for special applications
Bearing Man Group t/a BMG Motion Control & Drives
BMG's comprehensive range of power transmission components incorporates ZMC industrial conveyor chains that offer dependable service in diverse applications, especially in food production.
Read more...
---
BMG'S Nord IE5+ motor generation
Bearing Man Group t/a BMG Motion Control & Drives
BMG and German precision engineers, Getriebebau Nord, entered a partnership agreement in 1996 to assemble, distribute and support Nord Drive Systems throughout southern Africa.
Read more...
---
V-belts designed for food applications
Bearing Man Group t/a BMG Motion Control & Drives
BMG supplies a wide range of power transmission components, designed to enhance efficiency and safety in the food and beverage sector.
Read more...
---
Control automation excellence
SEW-Eurodrive Motion Control & Drives
Movi-C from SEW-EURODRIVE is a unique automation control system that sets a new benchmark in control automation, embracing Industry 4.0 technology.
Read more...
---
Efficient agriculture systems from BMG
Bearing Man Group t/a BMG Motion Control & Drives
BMG's Boer Slim/Smart-Farming agricultural team works closely with farmers throughout southern Africa, assisting them with the selection, installation and operation of new electromechanical systems. These 
...
Read more...
---
Inertial spin filters save energy
Motion Control & Drives
RTS Africa's inertial spin filters provide an effective, maintenance-free solution to dust problems in MCC rooms, transformer rooms, control rooms and the like.
Read more...
---