printer friendly version
Drives covering a range of power requirements
April 2002
Motion Control & Drives
Ana-Digi Systems is offering a range of AC drives from LG Industrial Systems - a manufacturer specialising in AC drives and PLCs. The iS5 and the iH are two variable frequency drives from the Starvert range, which are intended for applications rated from 0,75 to 22 kW and 30 to 220 kW, respectively.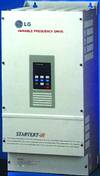 Starvert iH
The iS5 offers up to 22 kW when running off three-phase AC supplies of 200 to 230 V or 380 to 460 V. The enclosure is rated IP00 ~ IP20. The IGBT inverter makes use of pulse width modulation with sensorless vector control. An intelligent accelerate/decelerate function prevents unnecessary tripping. This model also features additional I/O boards that are easily mounted onto the connection terminal of the motherboard, with each I/O standardised for specific requirements. This makes the iS5 extendable when there is any need for additional I/O, etc.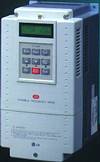 Starvert iS5
The iH is designed for three-phase operation, producing 30 to 55 kW when running from 200 to 230 V, and 30 to 220 kW when operating from 380 to 460 V supply. The inverter, like the iS5, is an IGBT stage that is pulse-width modulated. Control is performed by a high-speed digital signal processor implementing a Volts/Hertz control method, with space vector PWM technology.
LG Industrials space vector PWM technology is being adopted in all LG drives. Said to feature outstanding performance in its control characteristics, it produces little total harmonic distortion, low current ripple low motor temperature rise and better voltage utilisation. Advantages for the end user include higher efficiencies, smoother and more stable operation and higher torque without instability. Options include Dynamic braking units and a communications board offering: RS485, F-Net, ModBus-RTU, DeviceNet and Profibus. The Driveview 2.0 operating software is Windows based.
Suitable applications include: Fan/blower, water/wastewater pump, conveyor, parking system, material handling, industrial washing machines and packaging machines.
Keith Gross, LG Industrial Systems SA
021 948 1452
Further reading:
Polymer linear guides adopted worldwide
Motion Control & Drives
The product range of lubrication-free drylin linear guides is based on the principle of 'gliding instead of rolling'.
Read more...
---
ML compensates for 'cogging' in high-precision linear motion
Beckhoff Automation Motion Control & Drives
Using recorded data, the servo motor software trains a neural network which is ultimately integrated into the control system for current pre-control.
Read more...
---
Drive-based solutions enhance machine efficiency and safety
Bearing Man Group t/a BMG Motion Control & Drives
BMG's electromechanical specialists are able to extend and adjust NORD drive equipment for drive monitoring, drive control and process control.
Read more...
---
Electromagnetic brakes for DC motors
Motion Control & Drives
Mini motor applications utilise DC motor technology because of compactness, low weight, and reliability. Stopping, slowing or holding the position and load of these motors is crucial for many applications, 
...
Read more...
---
New motors for servo drive system
Siemens South Africa Motion Control & Drives
The servo motor thus meets all hygienic conditions and can be used for mixing and stirring, dosing and filling, as well as conveying, packaging and storing a wide variety of end products.       The 
...
Read more...
---
The demand for higher efficiency motors
Motion Control & Drives
With electricity prices increasing rapidly, the justification for adopting more efficient motors is that much greater. To achieve this improved efficiency, such motors are designed to run cooler, which 
...
Read more...
---
Compact drive technology mobilises high-tech CT scanner
Beckhoff Automation Editor's Choice Motion Control & Drives
PC- and EtherCAT-based technology from Beckhoff delivers the desired viewing angles and mm-precise alignment of the X-ray source to the patient.
Read more...
---
Drive-based predictive maintenance solutions
Bearing Man Group t/a BMG Motion Control & Drives
BMG's NORD predictive maintenance solutions offer fast, efficient and comprehensive evaluation of analogue and digital data, to enhance the operational efficiency and safety of machines. The intelligent 
...
Read more...
---
Next-generation motor starters with digital innovation
Schneider Electric South Africa Motion Control & Drives
Schneider Electric has announced the release of the new generation of TeSys Giga series motor starters. The iconic TeSys Giga series has been re-imagined with the latest smart digital innovations to deliver 
...
Read more...
---
Compact planar scanner with air bearing
Horne Technologies Motion Control & Drives
PIglide positioning systems are ideally suited for high-precision applications such as inspection systems, laser marking, microscopy or scanning.
Read more...
---