printer friendly version
Simplifying flowmeter verification testing
April 2002
Maintenance, Test & Measurement, Calibration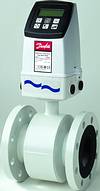 Continuous accuracy measurement - or the ability to accurately carry out verification tests without discontinuation of flow - is becoming the battleground where boundaries are drawn and redrawn by instrumentation manufacturers fighting for supremacy.
Having established a strong base in this field with its patenting of unique insulation and magnetism test principles, Danfoss claims to currently lead the market with its electromagnetic Magflo Verificator. "A fully automatic verification test involves three important components, namely a signal converter, flowmeter insulator and magnetism sensor," Danfoss business unit manager - Motion Controls and Flow, Mick Baugh, explains. "We have developed the Magflo Verificator to the point where it now carries out an entire test, covering all three principles, within 15 minutes of being connected, without interrupting flow or disconnecting any cabling or existing devices such as analog or digital outputs etc."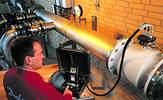 To ensure an accurate measurement, the Verificator must test the whole signal chain in the flowmeter, including sensors, cabling and converters. Starting with power to drive the magnetic field, the Magflo tests all these elements, including continuously stable magnetic behaviour, converting flow velocity to a flow signal, ensuring the flow signal is received correctly without disturbance, ensuring correct connection for accurate flow signal, correct signal processing and calculation and correct flow signal on output.
By comparing the current sensor magnetism with a 'fingerprint' which was determined during initial calibration and stored in Danfoss' unique, patented SENSOR-PROM, the Verificator ensures that magnetism levels are identical to when the device was first calibrated. Flowmeter insulation testing is a 'crosstalk' test of the entire flowmeter, which ensures that the flow signal generated in the sensor is not affected by any external influences. Converter verification checks the whole electronic system, from signal input to flow output. Using the excitation power output generated to drive the sensor's magnetic field, the Verificator simulates flow signals to the converter input. By measuring the converter outputs, it calculates accuracy against defined values.
"This is just another improvement to the Danfoss Continuous Accuracy programme (DCA)," enthuses Baugh. "As we entrench ourselves more and more in the leading position with regard to continuous flow measurement, I have no doubt that the overall benefits of having a flow process not only operates uninterruptedly, but also continuously accurate, will lead to significant growth for Danfoss in this market."
Mick Baugh, Danfoss
011 803 8390
Credit(s)
Further reading:
Humidity generator for probe calibration
Comtest Maintenance, Test & Measurement, Calibration
Portable humidity generator delivers fast, accurate multi-point calibration of humidity probes and loggers.
Read more...
---
Danfoss doubles down on energy efficiency
Danfoss News
Danfoss encourages decision makers to act at COP26.
Read more...
---
An innovative alternative to mechanical seals
Bearing Man Group t/a BMG Maintenance, Test & Measurement, Calibration
BMG's range of Garlock sealing products includes a versatile sealing system that replaces mechanical seals in industrial pump applications.
Read more...
---
Understanding asset reliability for maximum impact in a post-pandemic world
Maintenance, Test & Measurement, Calibration
At the ARC Industry Forum Asia, Anindya Chatterjee, ABB's global head of Value Engineering and Data, gave a presentation that focused on return on asset reliability through information, operations and engineering technologies, powered by machine learning.
Read more...
---
Fluke doubles the troubleshooting power
Comtest Maintenance, Test & Measurement, Calibration
Comtest now offers the Fluke 787B and 789 process meters that double the troubleshooting capabilities of previous versions by combining the power of a safety-rated, digital multimeter and mA loop calibrator into a single, compact test tool.
Read more...
---
Fluke's T6-1000 PRO electrical tester
Comtest Maintenance, Test & Measurement, Calibration
Comtest now offers the Fluke T6-1000 PRO true-RMS electrical tester. It measures voltage up to 1000 V AC and current up to 200 A without test lead contact to live voltage.
Read more...
---
Digitalised oil and gas pipelines
RJ Connect Maintenance, Test & Measurement, Calibration
Moxa's MDS-G4020 series offers a modular platform that can be fitted with fibre interfaces to connect pipeline subsystems to a control centre over long distances.
Read more...
---
Five areas to maximise supermarket efficiencies
Danfoss News
Technical strategies to help supermarkets not only stay ahead of society's emerging demands but even to potentially benefit from them.
Read more...
---
Linux-based condition monitoring platform
Turck Banner Maintenance, Test & Measurement, Calibration
Turck Banner's compact IM18-CCM50 DIN rail control centre for collecting, processing and forwarding condition data to the IIoT can be configured for specific OEM requirements.
Read more...
---
Pyrometer for challenging applications
Instrotech Maintenance, Test & Measurement, Calibration
Instrotech now offers the new Optris CT 4M pyrometer for high-speed applications.
Read more...
---