printer friendly version
Worlds first FireWire data acquisition device
March 2000
Data Acquisition & Telemetry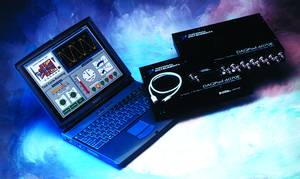 National Instruments has announced the world's first data acquisition device (DAQ) for the IEEE-1394 serial bus (FireWire). The DAQPad-6070E multi- function I/O device connects directly to Windows 98 PCs equipped with an IEEE-1394 serial port or PCI-to-1394 adapter. The device offers engineers and scientists a portable, easily installed and configured solution for their computer-based measurement applications. The DAQPad-6070E comes with the company's NI-DAQ driver software and integrates seamlessly with the company's industry-leading measurement and automation software, including LabView, LabWindows/CVI and ComponentWorks.
The device features:
* 1,25 Msps sampling rate.
* 12 bit A/D resolution.
* 16 analog inputs.
* 2 analog outputs.
* 8 digital I/O lines.
* Two 24 bit counter times.
* Mass termination or BNC-equipped option.
As a FireWire product, the high-performance DAQPad-6070E is hot pluggable and delivers easy plug-and-play configuration. To conform to the FireWire specification, the device must be located within 4,5 m of the bus socket. However, engineers and scientists can daisy-chain up to 16 devices to span a maximum distance of 72 m.
'As a leader in PC-based data acquisition, National Instruments ensures that engineers and scientists are making the fastest, most accurate and affordable measurements possible by delivering products designed to the latest standards and technologies,' said Gavin Dowling of local distributor, Westplex. 'FireWire offers some advantages as an external bus, such as plug-and-play configuration and 10 times the performance of the current USB standard. The advent of FireWire DAQ products provides engineers and scientists more platform options for developing their measurement solutions.'
For more information about IEEE-1394, visit the company's new Technology 2000 - Engineering in the New Millennium website at www.natinst.com/tech2000
Credit(s)
Further reading:
Clip-on indicator with Bluetooth and logging
September 2020, WIKA Instruments , Data Acquisition & Telemetry
Monitor live process values and diagnostic information on any iOS/Android device running the free PPS application, or monitor directly on the display.
Read more...
---
RS Components introduces RX23E-A
July 2020, RS Components SA , Data Acquisition & Telemetry
RS Components has introduced a new series of single-chip devices from Renesas, the RX23E-A microcontrollers (MCUs) which combine an analog front end (AFE) and an MCU core for use in equipment that delivers 
...
Read more...
---
Advanced controller for data acquisition
December 2019, RJ Connect , Data Acquisition & Telemetry
The ioThinx 4530 series is an advanced modular controller product with a unique hardware design, making it an ideal solution for a variety of industrial data acquisition applications. The controller has 
...
Read more...
---
Top data management on the DIN rail
October 2019, Endress+Hauser South Africa , Data Acquisition & Telemetry
The data manager family of Endress+Hauser is growing. To meet the strong demand from the market for a smart, compact DIN rail data manager for mounting in the control cabinet, development of the RSG45 
...
Read more...
---
IoT data logger
October 2019 , Data Acquisition & Telemetry
IMS is known across the globe as a leading industry expert and manufacturer of condition monitoring data loggers and telemetry. The company performs data logger engineering, manufacturing and servicing 
...
Read more...
---
Fieldlogger for data acquisition
June 2019 , Data Acquisition & Telemetry
The Fieldlogger is a great asset to the Novus automation range of products. It is one of the most comprehensive instruments for the acquisition of data recording, and is capable of analog and digital 
...
Read more...
---
Machine vision solutions
Africa Automation Fair 2019 Preview, Westplex , Sensors & Transducers
Westplex specialises in machine vision products and systems for visual inspection, and is a country-wide, one-stop source for a wide range of industrial machine vision products. Westplex represents world 
...
Read more...
---
Barcode reader for complex ­applications
January 2019, Westplex , Sensors & Transducers
Cognex recently launched its new Dataman 470 barcode series. Most manufactured products use a 1-D or 2-D barcode to automate and simplify identification and capturing of data, but users must be able to 
...
Read more...
---
New network function for digital ­indicator
October 2018, Yokogawa South Africa , Data Acquisition & Telemetry
Yokogawa has added a network function to the UM33A digital indicator with alarms. With this network function, a single UM33A digital indicator can receive, process and sequentially display data from up 
...
Read more...
---
Remote monitoring and telemetry at power station water plants
July 2018, Omniflex Remote Monitoring Specialists , Data Acquisition & Telemetry
The wireless ability to manage pumps remotely over long distances is now available using Omniflex's Teleterm M3 Radio RTUs. This full functionality IEC61131 PLC enables both control and wireless communications 
...
Read more...
---