printer friendly version
NI expands FPGA-enabled PXI family
July 2011
PLCs, DCSs & Controllers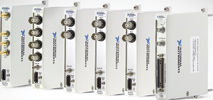 New offering includes industry's fastest 16-bit converter from Analog Devices.
National Instruments has introduced the expansion of its NI FlexRIO product line with six new adapter modules featuring FPGA-based reconfigurable I/O to deliver enhanced functionality for general purpose automated test and high-speed digital communication. The NI FlexRIO family is the industry's first commercial off-the-shelf solution to provide engineers the flexibility of NI LabVIEW technology with user configurable I/O on the PXI platform. The new group of adapter modules includes four general purpose digitisers, a module for high-speed digital I/O and the industry's fastest 16-bit analogue to digital converter from Analog Devices, optimised for modulated communications.
"The Analog Devices AD9467 is the fastest 16-bit A/D converter at 250 MS/s available today," says Tom Gratzek, strategic marketing manager of data converters at Analog Devices. "By combining our high sample rate and resolution with the reconfigurable I/O of NI FlexRIO, engineers and scientists can now attain unparalleled flexibility when deploying algorithms onto acquisition hardware, prototyping communications systems and achieving extremely high-performance measurements."
All NI FlexRIO solutions require two distinct hardware components – an I/O specific adapter module and a PXI-based NI FlexRIO FPGA module, which features a Xilinx Virtex class FPGA. With 15 different NI FlexRIO adapter modules now available, engineers and scientists can directly interface FPGAs to a broad variety of I/O for measurement applications requiring real-time performance, low latency processing and reconfigurable behaviour.
The six new adapter modules feature the following specifications:
* NI 5762: 16-bit, 250 MS/s digitiser, featuring the AD9467 ADC from Analog Devices.
* NI 6587: 16-ch, 1 Gb/s digital I/O module for high-speed LVDS interfaces.
* NI 5731: 12-bit, 40 MS/s general purpose digitiser adapter module.
* NI 5732: 14-bit, 80 MS/s general purpose digitiser adapter module, featuring typical SNR better than 69 dB.
* NI 5733: 16-bit, 120 MS/s high-resolution digitiser adapter module, featuring 37 MHz of alias-free bandwidth.
* NI 5734: 16-bit, 120 MS/s, quad channel, high-resolution digitiser adapter module.
The modules also integrate with the new NI FlexRIO instrument development library, a collection of LabVIEW host and FPGA code, designed to provide capabilities commonly found in instruments such as acquisition engines, DRAM interfaces and trigger logic, along with the associated host APIs. Additionally, the new NI-573xR example instrument driver builds on the code from the instrument development library to create a default FPGA personality and familiar host API for using an NI 573x adapter module as a basic digitiser. Together, these tools decrease the time to first measurement. Both software components are available for download through ni.com/labs.
Unlike other user-programmable FPGA hardware, NI FlexRIO FPGAs can be programmed with LabVIEW graphical system design software and the LabVIEW FPGA module. This approach helps domain experts to target their applications to FPGAs without requiring VHDL knowledge, while still providing an interface to import existing code directly into LabVIEW FPGA.
Further reading:
Modular mid-range PLC series
June 2020, ElectroMechanica , PLCs, DCSs & Controllers
The Delta compact modular mid-range AS series PLCs, available locally from ElectroMechanica (EM), is a high-performance, multi-purpose controller designed for all kinds of automated equipment. The series 
...
Read more...
---
Fishery relies on Siemens process management
December 2019 , PLCs, DCSs & Controllers
The fishery in Steinach, Switzerland, breeds fish species which are under threat so that they can be released into domestic waterways in the canton of St. Gallen. The quality and temperature of the water, 
...
Read more...
---
Meet the Future: Edge Programmable Industrial Controllers
November 2019, Opto Africa Holdings , PLCs, DCSs & Controllers
All controls engineers are familiar with PLCs and PACs (programmable automation controllers). Both have been used and improved over many years, incorporating capabilities that used to be found only in 
...
Read more...
---
Precise control in joining applications
October 2019, ASSTech Process Electronics + Instrumentation , PLCs, DCSs & Controllers
Digiforce is the trusted name when comprehensive monitoring of press-fit, joining, riveting and caulking processes is needed. The models 9306 and 9310 are being successfully used in innumerable applications 
...
Read more...
---
The powerful Festo modular control system CPX-E
Technews Industry Guide: Industrial Internet of Things & Industry 4.0, Festo South Africa , PLCs, DCSs & Controllers
Designed as an EtherCAT master and motion controller with protection to IP20, the powerful automation system CPX-E for factory and process automation with NE21-specific certifications is becoming the 
...
Read more...
---
Rockwell strengthens industrial control system security
July 2019, Rockwell Automation , PLCs, DCSs & Controllers
Communications between industrial control devices have minimal protection today. This leaves them vulnerable to threats like malicious tampering and incidental system changes that can stop production 
...
Read more...
---
Siemens extends the Simine ­portfolio
June 2019, Siemens Digital Industries , PLCs, DCSs & Controllers
Siemens has extended the Simine portfolio for high-pressure grinding mills (HPGR) to include a new controller. Plug-and-play functionality makes the load share controller available for immediate use. 
...
Read more...
---
Schneider Electric announces a new era of control
June 2019, Schneider Electric South Africa , PLCs, DCSs & Controllers
Schneider Electric's new high-end Modicon M580 Ethernet programmable automation controller (ePAC) features redundant processors, native Ethernet, and cybersecurity embedded into its core. It combines 
...
Read more...
---
Selecting the right PLC
June 2019, AC/DC Dynamics , PLCs, DCSs & Controllers
Automation projects, big or small, start with a specification. Here are five factors to consider when choosing a PLC vendor.      
Broad range of devices
The selected brand must have a complete product 
...
Read more...
---
Industrial automation equipment
Africa Automation Fair 2019 Preview, Anytech , PLCs, DCSs & Controllers
Anytech is an industrial automation equipment supplier that has been providing high tech solutions to a wide variety of customers in various industries throughout southern Africa since 1999. High tech 
...
Read more...
---