printer friendly version
Supplying off grid areas with electricity
July 2011
Electrical Power & Protection

Simple system planning with solutions from SMA.
Standalone power systems can be set up easily using the Sunny Island system developed by SMA to make reliable energy supply possible in off-grid areas.
At first glance, standalone power systems appear diverse to cater for the ambient conditions that determine which type of renewable energy source can best be applied for the application. What follows is an overview of the typical applications for solar energy, battery banks and diesel generators. With these we aim to provide an introduction to the technology and offer support for the planning and installation of standalone solar powered electricity installations. The advantages of this approach include:
* Components compatibility.
* System planning in accordance with regulations.
* Easy upgrade to larger energy supply systems.
* Adjustment to meet individual demands.
* Worldwide SMA support.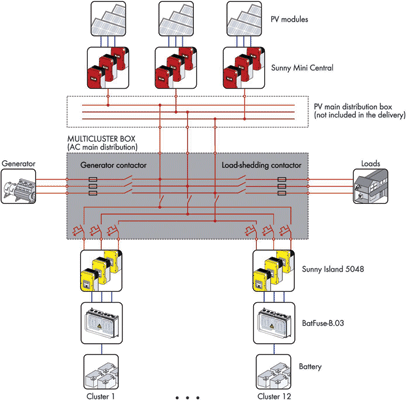 The Sunny Island system
The SMA way to an easy standalone solution
The ideas presented here offer the basics for constructing standalone power systems that cover a diverse range of classes. Whether for free-standing vacation homes, remote farms or entire villages, the configurations proposed ensure simple design and straightforward installation. Individual components are tailored to work optimally together and, together with the Sunny Island battery inverter, ensure a reliable supply of power that can be adjusted to suit local conditions. In step with growing energy demand, additional components can be integrated easily into the system to cope with any additional demand.
The modular construction of Sunny Island provides maximum flexibility for the supply of electricity to off-grid areas. All the components required for the use of solar, wind or hydropower, as well as battery banks or fuel cells can be integrated into the system without difficulty. Subsequently, sets can be adjusted for optimum fit to any geographic peculiarities.
Monitoring from anywhere in the world
A variety of data technology products are available to support monitoring of Sunny Island installations, from Sunny Boy Control for local monitoring to the Internet-based Sunny WebBox data logger.
Standalone energy supply systems are often located in remote regions and only rarely do system operators have the possibility to control them on site. The Internet team of Sunny WebBox together with the Sunny Portal allow operators to check the system from anywhere in the world and to react quickly in the case of a fault.
An innovative application
The Sunny Island system has been used to provide scientific research stations, often located far from the public grid, with an ideal solution to supply the requisite power for base living and for the instrumentation. For stations with high energy demand, systems can be combined easily to ensure supply for large scientific instruments, for instance the telescopes at an astronomic observatory.
For more information contact Ettienne van der Westhuyzen, Current Automation, +27 (0)11 462 4253, ettienne@switches.co.za, www.rectifier.co.za
Further reading:
Power supplies for building automation
June 2020, Phoenix Contact , Electrical Power & Protection
The new Step Power power supplies from Phoenix Contact are specifically tailored to the needs of modern building automation. With their comprehensive approval package, which includes the standard 
...
Read more...
---
Skid-mounted dry-type transformer
June 2020 , Electrical Power & Protection
In a specialised application on a coal mine, Trafo Power Solutions recently supplied a dry-type transformer mounted on a mobile skid. "The harsh environment of a coal mine required us to specially 
...
Read more...
---
Customised transformers for renewables and beyond
June 2020 , Electrical Power & Protection
A focus on application engineering allows Trafo Power Solutions to supply customised dry-type transformers for a range of sectors including renewable energy. "We begin at the proposal stage by engaging 
...
Read more...
---
Electrical certificate of compliance (COC) for instrumentation: non-hazardous installations
June 2020, Everest Equipment & Control , Electrical Power & Protection
An instrument and control installation's scope of work often never makes a request for a certificate of compliance: it is assumed to be an electrical function and hence many installations are non-compliant. 
...
Read more...
---
Five tips to manage energy use while staying at home
May 2020 , Electrical Power & Protection
Covid-19 continues to impact many aspects of our lives. Many are now required to stay at home in an effort to curb the spread of the pandemic. One of the many implications of staying at home will be the 
...
Read more...
---
Holistic approach to energy security
April 2020 , Electrical Power & Protection
As South Africans settle into the routine and inconvenience of load shedding and planning their activities around shifting electricity supply, it is businesses that are taking the biggest hit through 
...
Read more...
---
Save energy costs with highly-efficient Delta VFDs
April 2020, ElectroMechanica , Electrical Power & Protection
Customers can realise significant savings on their total energy costs by replacing older motor starters with energy-efficient Delta variable frequency drives (VFDs), distributed locally by ElectroMechanica 
...
Read more...
---
Utility made easy
April 2020, Schneider Electric South Africa , Electrical Power & Protection
In recognition of the growing demand for reliable power provision, Schneider Electric strives to assist network operators to deliver electricity safely and efficiently. The company's Advanced Distribution 
...
Read more...
---
Specialised transformers for renewable energy projects
April 2020, Zest WEG Group , Electrical Power & Protection
Zest WEG's local transformer manufacturing facility has supplied 36 specialised photovoltaic (PV) transformers to a solar energy generation plant in the Northern Cape. According to sales team leader, 
...
Read more...
---
Meeting the needs of the mining industry
April 2020, Varispeed (Div of Hudaco Trading) , Electrical Power & Protection
Both above and below ground, Varispeed keeps the interests of its customers top of mind, all the time. The company was recently approached by a platinum mine in South Africa to assist with a robust application. 
...
Read more...
---