printer friendly version
Intelligent UPS for industrial applications
July 2011
Electrical Power & Protection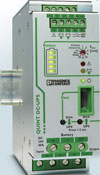 Phoenix Contact has introduced a new UPS solution for high system availability and reliability when the line supply fails. With previous UPS solutions, the buffer time was manually set without the actual battery capacity being known. However, since battery performance decreases with age or at high ambient temperatures, the battery cannot always supply energy for the buffer time that was set and power supply failures result.
The new intelligent Quint UPS-IQ uninterruptible power supply determines all of the relevant battery states – such as a voltage or temperature – to ensure the necessary reliability of the UPS at any time taking into account battery utilisation. Battery management determines the charge state of the battery and then calculates the buffer time that is available, this avoids supply interruptions and premature shut-down of industrial PCs. It also allows service to be planned and ensures energy storage devices are not replaced prematurely.
To calculate the charging current, the UPS communicates with the battery and with the power supply. As a consequence, the battery is charged faster than it would be with conventional UPS systems and the power supply output is controlled. Power supplies with output currents of 5, 10, 20, and 40 A are available for 24 V applications. All modules can be optionally combined with energy storage devices utilising VRLA technology with 1,3 to 38 A.h – or for high ambient temperatures with especially powerful Li Ion batteries. Buffer times of 8 hours with a 5 A load current or 30 minutes with a 40 A load current are achievable.
For more information contact Dereck Stayne, Phoenix Contact, +27 (0)11 801 8200, derecks@phoenixcontact.co.za, www.phoenixcontact.co.za
Credit(s)
Further reading:
Surge protection for electro-mobility
July 2020, Phoenix Contact , IS & Ex
The market for electric cars is growing exponentially and automobile manufacturers are increasingly focusing on electro-mobility. However, surge protection also has a part to play in this technology. 
...
Read more...
---
Power supplies for building automation
June 2020, Phoenix Contact , Electrical Power & Protection
The new Step Power power supplies from Phoenix Contact are specifically tailored to the needs of modern building automation. With their comprehensive approval package, which includes the standard 
...
Read more...
---
Skid-mounted dry-type transformer
June 2020 , Electrical Power & Protection
In a specialised application on a coal mine, Trafo Power Solutions recently supplied a dry-type transformer mounted on a mobile skid. "The harsh environment of a coal mine required us to specially 
...
Read more...
---
Customised transformers for renewables and beyond
June 2020 , Electrical Power & Protection
A focus on application engineering allows Trafo Power Solutions to supply customised dry-type transformers for a range of sectors including renewable energy. "We begin at the proposal stage by engaging 
...
Read more...
---
Electrical certificate of compliance (COC) for instrumentation: non-hazardous installations
June 2020, Everest Equipment & Control , Electrical Power & Protection
An instrument and control installation's scope of work often never makes a request for a certificate of compliance: it is assumed to be an electrical function and hence many installations are non-compliant. 
...
Read more...
---
Simply safe in the IoT environment
May 2020, Phoenix Contact , IS & Ex
Extension of the PLCnext Technology ecosystem with a safety controller.
Read more...
---
Five tips to manage energy use while staying at home
May 2020 , Electrical Power & Protection
Covid-19 continues to impact many aspects of our lives. Many are now required to stay at home in an effort to curb the spread of the pandemic. One of the many implications of staying at home will be the 
...
Read more...
---
Holistic approach to energy security
April 2020 , Electrical Power & Protection
As South Africans settle into the routine and inconvenience of load shedding and planning their activities around shifting electricity supply, it is businesses that are taking the biggest hit through 
...
Read more...
---
Save energy costs with highly-efficient Delta VFDs
April 2020, ElectroMechanica , Electrical Power & Protection
Customers can realise significant savings on their total energy costs by replacing older motor starters with energy-efficient Delta variable frequency drives (VFDs), distributed locally by ElectroMechanica 
...
Read more...
---
Utility made easy
April 2020, Schneider Electric South Africa , Electrical Power & Protection
In recognition of the growing demand for reliable power provision, Schneider Electric strives to assist network operators to deliver electricity safely and efficiently. The company's Advanced Distribution 
...
Read more...
---