printer friendly version
Energy savings with Omron frequency inverters
July 2011
Motion Control & Drives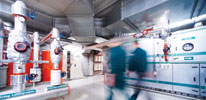 With an annual turn-over of €89 million, the Panasonic Energy Company in Belgium is the biggest producer of alkaline batteries within the Panasonic Group. Recently, the installation of 20 frequency inverters on the heating and air-conditioning systems at the facility made significant advances in energy saving and achieved a considerable reduction in greenhouse gas emissions.
Until recently, all air conditioning units operated year round at full speed, whether work was being done at the factory or not. In terms of new awareness and an initiative to save energy, the first step was to switch off the systems on non-production days. In comparison with previous annual consumption, this yielded an immediate saving of 25% of total energy consumption for the air-conditioning systems. By means of key switches, operators could easily switch off the air conditioning units when certain production departments were not producing. However, the problem remained that there was no intermediate solution and the air conditioning units either worked at full speed, or were switched off. The key switches also had another disadvantage, the enormous peak in energy consumption when all air conditioning units started at full speed simultaneously.
The frequency inverter solution
Omron, a Panasonic preferred supplier for many years, proposed the installation of frequency inverters to control the operating frequency of the air-conditioning system. After consultation, a frequency inverter with four settings (30, 37, 44 and 50 Hz) was chosen and through trial and error the optimum frequency selected. Working with lower frequencies has great advantages: the systems operate quieter; air movement is more controlled and, above all, exponentially less energy is used. In the packaging department alone, the installation of frequency inverters achieved a saving of 109 000 kWh.
Payback
Due to the enormous success of the tests, it was decided to install frequency inverters on all air-conditioning units. Omron inspected the motors and specified the type of frequency inverter accordingly. In total, 20 frequency inverters have been installed with significant saving in annual energy consumption reported. With the original key switch solution, annual consumption was 1,3 MWh, which the frequency inverters have reduced to 0,85 MWh. Energy consumption has been halved in two years and the initial investment costs were recovered completely during this period. Project manager Patrick Neuteleers says, "Not only is Omron saving us money at the plant, but the well-being of our employees has also improved. Previously there were constant complaints about noise and draughts. Following the switch to frequency inverters, these have simply disappeared."
For more information contact Terry McIntosh, Omron Electronics, 086 066 7661, terry_lynn_mcintosh@eu.omron.com, www.industrial.omron.co.za
Credit(s)
Further reading:
BMG's new generation of IE5+ motors
July 2020, Bearing Man Group t/a BMG , Motion Control & Drives
In 1916, BMG and German precision engineers, Getriebebau Nord, entered into a partnership agreement to assemble, distribute and support Nord Drivesystems throughout southern Africa. BMG has made 
...
Read more...
---
Rockwell Automation upgrade for Ghana Water
June 2020, Rockwell Automation , Motion Control & Drives
Over the last five years, Rockwell Automation has been working with Intermerc Ghana in supplying medium-voltage motor control and automation technologies to some of its recent pump upgrade and rehabilitation 
...
Read more...
---
Mobile robots speed production at new smart factory
July 2020, Omron Electronics , IT in Manufacturing
A dozen industrial robots, each in individual workstations or cells, perform different steps in the manufacturing process. However, to attain the high efficiency, safety, and convenience of a modern 
...
Read more...
---
Danfoss addresses the challenges in water and wastewater applications
July 2020, Danfoss , Motion Control & Drives
As the world population rises and people pursue higher standards of living, more water is needed in homes and for the production of food and other products. By 2050, the United Nations projects global 
...
Read more...
---
Incledon launches latest Tekflo couplings
June 2020 , Motion Control & Drives
Incledon, a leading provider of quality fluid conveyance products and solutions, recently launched a new range of universal couplings, adding to its current range of Tekflo-branded products based on quality, 
...
Read more...
---
BMG's specialist solutions for industrial water infrastructure
July 2020, Bearing Man Group t/a BMG , Motion Control & Drives
BMG's solutions for the water, wastewater and sewage sectors encompass the supply of quality branded drive systems, enhanced by the BMG team's technical expertise and installation, condition monitoring, 
...
Read more...
---
BI champions Berntel pneumatic and hydraulic solutions
June 2020 , Motion Control & Drives
Hudaco Group company Berntel is expanding its footprint by offering its extensive range of pneumatic products through the Bearings International (BI) branch network. This, in turn, expands BI's value 
...
Read more...
---
Remote commissioning helps African sugar mills
June 2020 , Motion Control & Drives
Three 1,2 MW ACS880 mill drives and one 355 kW regenerative batch centrifugal drive have been remotely hot commissioned at Illovo Sugar Africa's biggest southern African mills at Nakambala in Zambia and 
...
Read more...
---
Transmission solutions for sugar mills
June 2020, SEW-Eurodrive , Motion Control & Drives
SEW-Eurodrive offers a range of transmission solutions to assist sugar mills cut their costs. The main opportunity in this market segment is not only upgrading old and outdated systems, but the value 
...
Read more...
---
AGVs for automated production
June 2020, SICK Automation Southern Africa , Motion Control & Drives
Automated and flexible production processes are the answer to increasing quantities, smaller batch sizes, and high production speeds. Automated guided vehicle (AGVs) systems and their smaller relatives, 
...
Read more...
---