printer friendly version
Intelligent pumping cuts maintenance
July 2011
Motion Control & Drives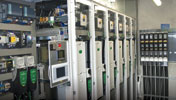 The installation of an AC drive with advanced software tools dramatically cut blockages at an Irish council pumping station.
Control Techniques' IPC Lite software has been fitted to a Commander SK AC drive at a pumping station at Kelly's Bay in North County Dublin. The solution has cut callouts from 'ragging', the fouling of a pump's impeller, from a weekly occurrence to just once since it was installed six months ago.
Ragging is a long-standing nuisance that eats up thousands of hours of maintenance time in sewage pumping stations and wastewater treatment plants around the world. At the Kelly's Bay pumping station, two variable speed drives control the main and standby pumps: "The pumping station would run for a couple of weeks and then we would get three or four call-outs in a week," explains supervisor Jim McGuiness. "So, when it was time to replace one of the existing 15 kW Control Techniques AC drives, Control Techniques' Drive Centre in Newbridge suggested that we had the IPC Lite software loaded. It has worked extremely well, before the software we switched between the two pumps weekly to spread the load from a maintenance point of view. However, since August we have run just the one pump with the IPC Lite software and monitored its performance by telemetry, maintenance costs have reduced dramatically."
Call-outs for blockages at Kelly's Bay took an average of two hours to clear, a significant maintenance burden and one that has been virtually removed. The pump now runs around the clock with IPC Lite providing early warnings of ragging and initiating cleaning routines when required.
IPC Lite is an in-drive solution to ragging that provides early 'predictive' detection of a problem as well as initiating a client-defined cleaning cycle. It measures onboard active current and calculates real torque every millisecond. As soon as it sees a change, remedial action is taken to remove the potential blockage. The cleaning routine is configurable via parameters and a manual cleanse can be triggered by staff anytime if required. To prevent repeated cleaning in the event of a major blockage, the system has a detection of successive cleansing functions with lock-out and alarm indication.
IPC Lite can be tailored to suit individual pumping stations; in this case a level sensor was added to trigger high speed pumping in times of flooding. It also features advanced pressure and flow monitoring to check performance, since even with clean pumps, low flow can indicate other problems.
For more information contact Bill Tedd, Control Techniques, +27 (0)11 462 1740, bill.tedd@emerson.com, www.controltechniques.co.za
Credit(s)
Further reading:
BMG's new generation of IE5+ motors
July 2020, Bearing Man Group t/a BMG , Motion Control & Drives
In 1916, BMG and German precision engineers, Getriebebau Nord, entered into a partnership agreement to assemble, distribute and support Nord Drivesystems throughout southern Africa. BMG has made 
...
Read more...
---
Rockwell Automation upgrade for Ghana Water
June 2020, Rockwell Automation , Motion Control & Drives
Over the last five years, Rockwell Automation has been working with Intermerc Ghana in supplying medium-voltage motor control and automation technologies to some of its recent pump upgrade and rehabilitation 
...
Read more...
---
Danfoss addresses the challenges in water and wastewater applications
July 2020, Danfoss , Motion Control & Drives
As the world population rises and people pursue higher standards of living, more water is needed in homes and for the production of food and other products. By 2050, the United Nations projects global 
...
Read more...
---
Incledon launches latest Tekflo couplings
June 2020 , Motion Control & Drives
Incledon, a leading provider of quality fluid conveyance products and solutions, recently launched a new range of universal couplings, adding to its current range of Tekflo-branded products based on quality, 
...
Read more...
---
BMG's specialist solutions for industrial water infrastructure
July 2020, Bearing Man Group t/a BMG , Motion Control & Drives
BMG's solutions for the water, wastewater and sewage sectors encompass the supply of quality branded drive systems, enhanced by the BMG team's technical expertise and installation, condition monitoring, 
...
Read more...
---
BI champions Berntel pneumatic and hydraulic solutions
June 2020 , Motion Control & Drives
Hudaco Group company Berntel is expanding its footprint by offering its extensive range of pneumatic products through the Bearings International (BI) branch network. This, in turn, expands BI's value 
...
Read more...
---
Remote commissioning helps African sugar mills
June 2020 , Motion Control & Drives
Three 1,2 MW ACS880 mill drives and one 355 kW regenerative batch centrifugal drive have been remotely hot commissioned at Illovo Sugar Africa's biggest southern African mills at Nakambala in Zambia and 
...
Read more...
---
Transmission solutions for sugar mills
June 2020, SEW-Eurodrive , Motion Control & Drives
SEW-Eurodrive offers a range of transmission solutions to assist sugar mills cut their costs. The main opportunity in this market segment is not only upgrading old and outdated systems, but the value 
...
Read more...
---
AGVs for automated production
June 2020, SICK Automation Southern Africa , Motion Control & Drives
Automated and flexible production processes are the answer to increasing quantities, smaller batch sizes, and high production speeds. Automated guided vehicle (AGVs) systems and their smaller relatives, 
...
Read more...
---
Simplifying machine setup
June 2020, Siemens Digital Industries , Motion Control & Drives
Strausak Mikroverzahnungen specialises in the manufacture of high-precision machinery used in the watchmaking and apparatus manufacturing industries. To enable the continued precise machining of parts 
...
Read more...
---