printer friendly version
Dosing system used in solution mining process
July 2011
Valves, Actuators & Pump Control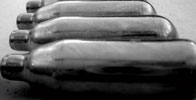 Natural gas stores are essential for reliability of supply with flexible inbound and outbound storage transfer needed to balance the varying demand between summer and winter months.
During the summer when consumption is low, excess volumes from the gas fields, which deliver at a preferably uniform rate, can be stored. During high consumption in winter months, storage caverns quickly provide large additional amounts of natural gas. The proximity of the storage capacity to the consumers is an important prerequisite for high availability.
Growing demand requires enlargement of storage capacity
The Empelde natural gas store with its three caverns has helped ensure reliability of supply for almost three decades. It is part of the gas management infrastructure in northern Germany and is integrated into the transport network of Erdgas Münster Transport and the distribution grid of the enercity grid company.
To meet the growing demand for storage capacities, Gasspeicher Hannover has been upgrading and expanding the plants in Empelde since 2003. Three caverns are currently in use, with expansion to four being planned.
Approximately 100 million cubic metres of natural gas can be stored per cavern at a depth of 1300 to 1700 metres in a salt dome.
Solution mining of a new cavern
Solution mining of a new cavern takes roughly two and a half years and the filling with natural gas half a year. Deep drilling is done in the first step. In the subsequent process fresh water is pumped into the borehole, the salt dissolves and a cavern is created. The generated salt solution is used to flood a disused potassium mine.
The salt solution is transported via a steel pipeline roughly 50 km long. Depending on the solution mining process, the transport rates vary between 250 and 450 cbm/h. To prevent oxygen corrosion in the steel pipeline a 40% sodium hydrogen sulphite solution is added before entry into the pipeline.
The dosing point is located in the connecting line from the brine settling tank to the suction manifold of the brine transport pumps. A sera dosing system CVD2-550.1- C409.2-75e withdraws the medium from a horizontally installed outdoor cylindrical storage tank with a capacity of 20 cbm.
Magnetic flowmeters record the flow rates of the brine and the oxygen-binding sodium hydrogen sulphite. The regulation of the electronically controlled sera dosing pumps takes place proportionally to the volume. A metering device for the measurement of the free oxygen monitors the proper function of the dosing system.
Once the cavern has reached its planned capacity, natural gas is pumped into the cavern and the salt solution is completely displaced from the cavity. The cavern is now available for storage operation.
Technical benefits
The CVD2 dosing system from sera is already designed for the upcoming expansion of the storage capacities in Empelde. Apart from its technical values and the Profibus connection, it stands as the right choice thanks to its modular design, ease of expansion, the defined interfaces and the variety of optional accessories. The CVD2 is a technically advanced solution that combines maximum application flexibility and adaptability with the economic advantages of a standardised series product.
Further reading:
Sustainability through packaging efficiency
July 2020, Valve & Automation , Valves, Actuators & Pump Control
There is probably no other term that has been used and interpreted in recent years in so many ways as the term 'sustainability'. Originating from forestry, today the principle of sustainability is comprehensively 
...
Read more...
---
Flow switches from Honsberg
July 2020, GHM Messtechnik SA , Valves, Actuators & Pump Control
Honsberg has introduced the FF series flow switch that offers a large switching value selection as well as a wide housing spectrum with a valve seat design. Additionally, the FF series is low maintenance, 
...
Read more...
---
Valves for pump protection
July 2020, Valve & Automation , Valves, Actuators & Pump Control
Thyssenkrupp Steel Europe has opted for Schroeder pump protection valves during the recent overhaul of Unit 4 of its power station in Duisburg. The valves that were installed previously from another supplier 
...
Read more...
---
Stafsjö MV standard knife gate valve
July 2020, Valve & Automation , Valves, Actuators & Pump Control
Do you want to try the MV performance? The MV is an all-round valve with a proven global track record both on dry solids and wet fluids. The valve's ideal internal clearances lower friction and make it 
...
Read more...
---
Advanced pump control
July 2020, Instrotech , Valves, Actuators & Pump Control
Factory automation continues to develop year on year and pumps are increasingly required to supply real-time operating data to control networks so that their performance can be monitored and adjusted 
...
Read more...
---
Festo online configurator tool simplifies sizing of process valves
April 2020, Festo South Africa , Valves, Actuators & Pump Control
From manually operated to automated process valves, the new configurator tool for process valves from Festo makes selecting the right solution easy and less time-consuming.
Read more...
---
Early detection of faults in BMW's light metal die casting
April 2020, Macsteel Fluid Control , Valves, Actuators & Pump Control
Sliding gate valves from Schubert & Salzer optimise process reliability.
Read more...
---
All around the turbine
April 2020, Valve & Automation , Valves, Actuators & Pump Control
At the heart of a power station are the steam turbines, which serve as generators or mechanical drives for pumps und compressors. For their operation, a network of valves is built around the turbines. 
...
Read more...
---
Monoblock for sampling and injection processes
March 2020, WIKA Instruments , Valves, Actuators & Pump Control
WIKA's new monoblock has been designed to meet the requirements of the process industry. It is especially well suited to applications in natural gas and aggressive media. The compact design integrates 
...
Read more...
---
Digital transformation enables new solutions for valves and pumps
March 2020 , Valves, Actuators & Pump Control
With the emergence of IIoT-enabled remote management solutions, process industry end users can begin to take full advantage of remote monitoring, analysis, and management services provided by valve and pump suppliers or third-party service providers.
Read more...
---