printer friendly version
The Jim Pinto Column: The changing landscape of work
July 2011
News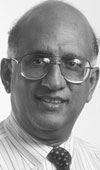 Crowdsourcing – digital meritocracy
Crowdsourcing is the act of outsourcing tasks, traditionally performed by an employee or contractor to an undefined, large group of people or community (a 'crowd'), through an open call. The concept of crowdsourcing depends essentially on the fact that because it is an open call, it gathers those who are most fit to perform tasks, solve complex problems and contribute with the most relevant and fresh ideas.
As the amount of digital work increases and the amount of physical work decreases, our notions of employment and 'work' change profoundly. Digital work does not require roads and factories; it requires computers and an Internet connection – equipment that people have access to almost anywhere. The needs for offices, supervisors and rigid employment arrangements disappear.
As technology improves, companies will be able to access the perfect person for a given job – the one who will do the job the best, enjoy it the most or do it the fastest. All these factors combine in a way that will change the landscape of work.
Current hiring processes typically involve online research about candidates on sites like LinkedIn and Facebook. Articles, portfolios, presentations and papers by potential job candidates are increasingly found online. Internet companies like oDesk and Elance rate workers based on past work rather than on what college they attended.
Individuals become their own companies, responsible for marketing themselves, negotiating their rates and deciding which work to pursue. There will be less wage 'stickiness' (this is what I am used to being paid) and people with unique skills will be paid what those skills are worth in the open market. Everyone who is capable of doing good work will have access to as many jobs as are available. And they can pick and choose.
This new 'digital meritocracy' is evolving quickly. The rise of digitally distributed work will reverse the trend of urbanisation (where the jobs were) over the next few decades. There will be a global decrease in unemployment. This extrapolation is counter-intuitive – but consider this: Google, Amazon and other high-tech companies are actually pushing for new jobs with more human involvement. These kinds of jobs did not exist before.
The operator paradox
Operator interfaces, annunciators and alarm systems in large automation and processing plants have evolved from legacy systems. 'Enhanced' with a plethora of new features and functions available just by clicking software settings, effective management is often overlooked.
Most process plants keep trying to train operators to cope with the challenges of continually increasing safety and efficiency requirements. In the United States and developed countries, the shortage of experienced operators is compounded by the retirement of an ageing workforce. In Second and Third World countries, which is where growth is occurring today, skilled operators are simply not available.
So, when the term 'operator interface' is used, who is the operator? And where does one find enough good operators to operate the system? And how long does it take to train them?
Traditionally, operators build knowledge and experience through handling normal production as well as abnormal emergencies and events. They learn how to cope with abnormal situations and emergencies through similar past experiences.
What is needed now is for the system to 'learn' continuously from operator experiences, normal and abnormal, and that this learning should remain in the system minimising its dependence on experienced human operators.
The operator paradox is this: Improved effectiveness comes not just from training operators to use increasingly more complex systems, but also from developing systems that adapt effectively to maximise throughput with minimal operator involvement. If operators cannot be trained to use the system, the system must adapt to the needs of available operators.
These are the future landscapes of work.
Jim Pinto is an industry analyst and commentator, writer, technology futurist and angel investor. His popular e-mail newsletter, JimPinto.com eNews, is widely read (with direct circulation of about 7000 and web-readership of two to three times that number). His areas of interest are technology futures, marketing and business strategies for a fast-changing environment, and industrial automation with a slant towards technology trends.
Further reading:
Emerson publishes 2019 Social Responsibility Report
July 2020, Emerson Automation Solutions , News
Emerson combines industry-leading technology and innovation to make a positive impact on employees, customers and communities around the world.
Read more...
---
FIRST Lego League goes from strength to strength
July 2020 , News
FIRST (for inspiration and recognition of science and technology) is an international organisation that aims to generate an interest in mathematics, science and technology through the use of robotics 
...
Read more...
---
Aguru announces successful Safe-Trace Contact Tracing trial at Adcock Ingram Critical Care
July 2020 , News
Aguru Business Solutions (Aguru), a company specialising in automation and digital transformation advisory and project management services, has successfully completed a Proof of Concept (PoC) trial of 
...
Read more...
---
From the editor's desk: Coronavirus pulls the trigger on digital transformation
July 2020, Technews Publishing (SA Instrumentation & Control) , News
The general consensus among economists is that the disruption to global markets caused by the coronavirus pandemic is going to result in economic upheaval of proportions not seen since the disastrous 
...
Read more...
---
Siemens South Africa joins forces with the National Ventilator project community in response to the COVID-19 pandemic
June 2020, Siemens Digital Industries , News
Siemens has been a long-standing partner of the Council for Scientific and Industrial Research (CSIR) in South Africa and have cooperated in various field of research, including manufacturing and mining. 
...
Read more...
---
Endress+Hauser Switzerland turns 60
June 2020, Endress+Hauser South Africa , News
The Swiss sales centre of Endress+Hauser is celebrating its 60th anniversary. Active in Switzerland since 1960, today the global leader in measurement instrumentation, services and solutions for industrial 
...
Read more...
---
How investing in a niche market placed Yokogawa aboard the International Space Station
June 2020, Yokogawa South Africa , News
While the world was abuzz with excitement over the revival of U.S. manned spaceflight, another equally promising space endeavour flew under the radar. On 20 May, the H-II Transfer Vehicle (HTV-9), affectionately 
...
Read more...
---
Siemens and Bentley Systems build digital twin for Indonesian petrochemical complex
June 2020, Siemens Digital Industries , News
Siemens and Bentley Systems will develop the first petrochemical digital twin in Indonesia for Chandra Asri, the country's largest integrated petrochemical complex. With over 27 year footprint, the latter 
...
Read more...
---
Hitachi ABB Power Grids commences operations
June 2020, ABB South Africa , News
In accordance with the agreement signed on 17 December 2018, Hitachi and ABB have announced the completion of all required procedures as planned and the formation of Hitachi ABB Power Grids Ltd. on 1 
...
Read more...
---
Zest grows Africa base with local partners
June 2020, Zest WEG Group , News
"The key to sustainable growth in Africa is partnering with locally owned companies which have proven track records, are technically sound, have strong market knowledge and a business culture aligned 
...
Read more...
---